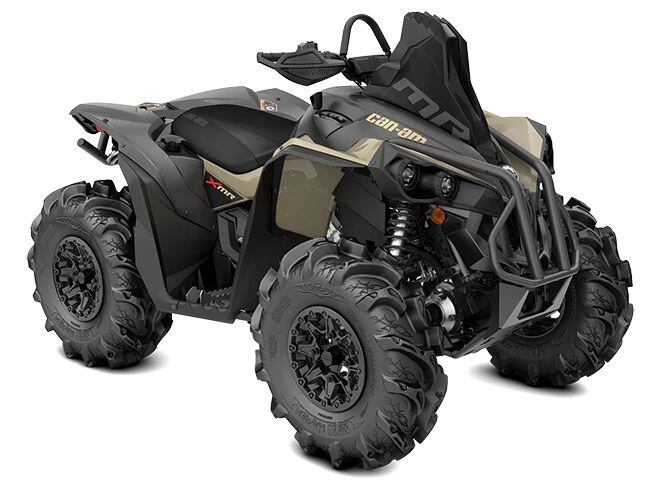 2022 Can-Am Renegade X MR 650. (Can-Am/)
Ups
Excellent Rotax power, mechanical locking front differential, compact and sporty ergonomics
Downs
Built specifically for mud; it's pretty much a fish out of water everywhere else
Verdict
If mud bogging and swamp riding make you smile, welcome to hog heaven!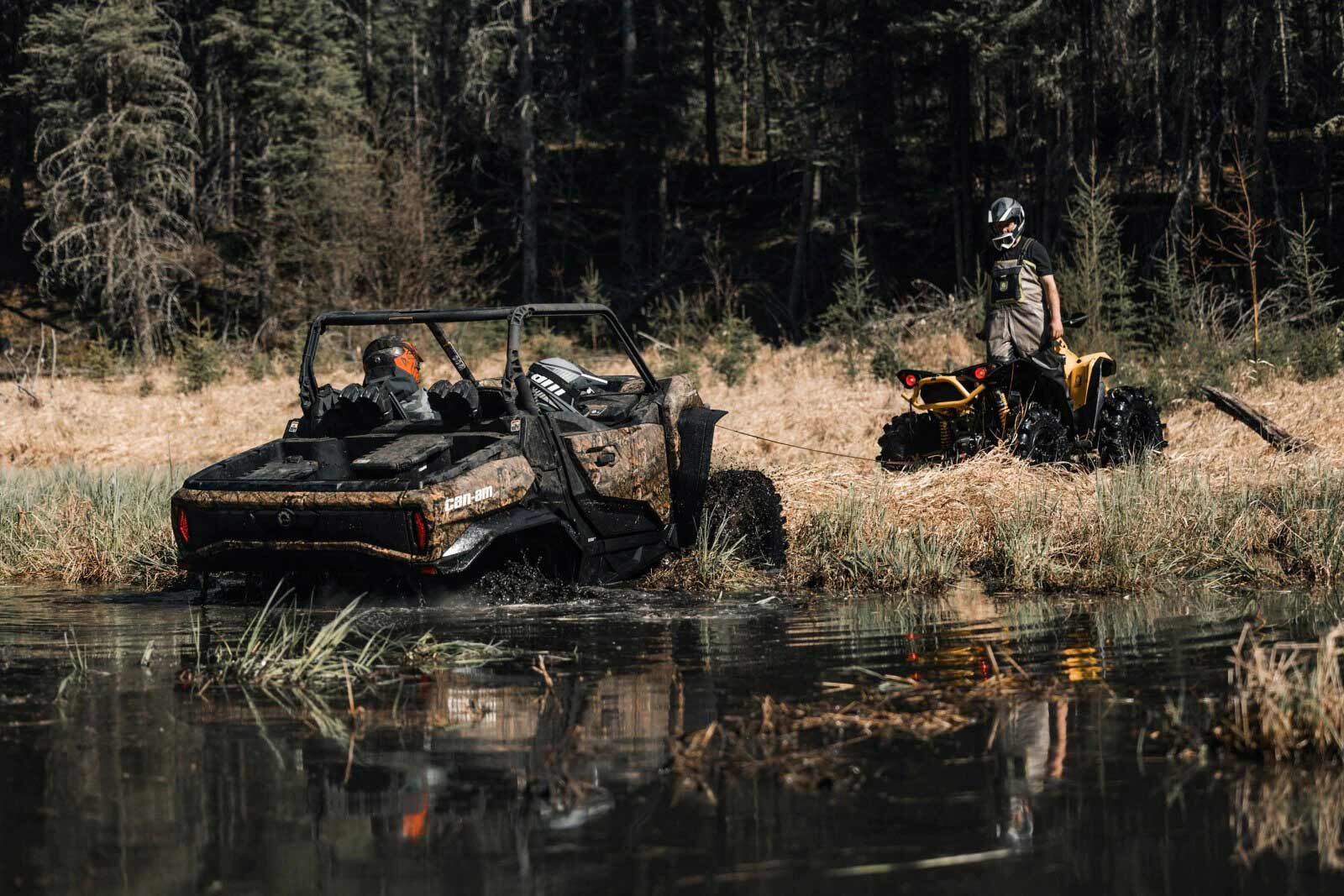 You can get this model with a 1,000cc V-twin, but the Rotax 650 is plenty powerful. (Can-Am/)
Overview
Designed for extreme muddy terrain, the Renegade X MR 650 gets mud-specific features like a snorkel, powerful Rotax V-twin engine, aggressive tires, and a mechanically lockable front differential. Standard battle armor includes massive front and rear bumpers, full skid plate protection, hand guards, and meaty footpegs for superior boot grip when the going gets wet. Beadlock wheels? It's got them too. It doesn't come with a winch, but it's prewired for the brand of your choice. If you need more mud-slinging capability than this, check out the Renegade X MR 1000R.
Updates for 2022
There are no significant changes this year, but we're still reeling from one major change that happened in 2021—Visco-4Lok. This front differential system finally gives the rider the ability to mechanically lock the front differential for true four-wheel-drive performance. Every mud machine should have it.
Pricing and Which One to Buy
2022 Can-Am Renegade X MR 650 MSRP: $12,599
This is the only 650cc class ATV in the 2022 Renegade lineup, but it's not the only Renegade designed solely for mud riding. Check out the Renegade X MR 1000R if you're looking for even more extreme mud performance. This model is only available in a Desert Tan and Carbon Black color combination.
Powertrain: Engine, Transmission, and Performance
This middleweight Rotax V-twin engine packs a mighty punch and rumble once you release the 62 ponies from the corral. Throttle response is manageable down low, thanks to Intelligent Throttle Control (iTC). The CVT transmission includes high and low speed operation, as well as standard engine-braking. Selectable 2WD and 4WD also includes Lock 4WD with Can-Am's recently introduced Visco-4Lok front differential. Visco-4Lok permits the ability to mechanically lock the front differential for true 4WD performance, even at maximum rpm.
Handling: Steering and Suspension
It's designed for superior traction in mud, but not high-speed cornering. Fox 1.5 Podium shocks are adjustable and provide a healthy amount of wheel travel. Tri-Mode Dynamic Power Steering performs flawlessly in mud and allows the rider to select the required level of power steering assistance.
Brakes
Dual 214mm disc brakes with twin-piston hydraulic calipers stop the front wheels, while the rear is slowed with a single 214mm disc brake and twin-piston caliper.
Ergonomics: Comfort and Utility
The Renegade is a more compact machine when compared to the more utilitarian-focused Can-Am Outlander, but it still provides plenty of room to move around. Large footwells include aggressive footpegs for maximum boot traction in wet conditions. All controls are located easily within arm's reach.
Payload/Towing
Cargo storage is limited to 35 pounds on a small rear rack as this is a sport-focused 4×4 ATV. The Renegade X MR 650 will tow a respectable 1,300 pounds.
Electronics
A 4.5-inch digital display provides speedometer, tachometer, odometer, trip- and hourmeters, gear position, 4×4 indicator, temperature, engine lights, electronic fuel gauge, and clock information. A DC outlet is located on the console. An anti-theft security system is standard, and the Renegade is prewired for a winch. There is 240 watts' worth of halogen lighting divided between four projector beam headlights.
Warranty and Maintenance Coverage
MSRP includes a six-month factory warranty. Extended terms up to 36 months are available for purchase through B.E.S.T.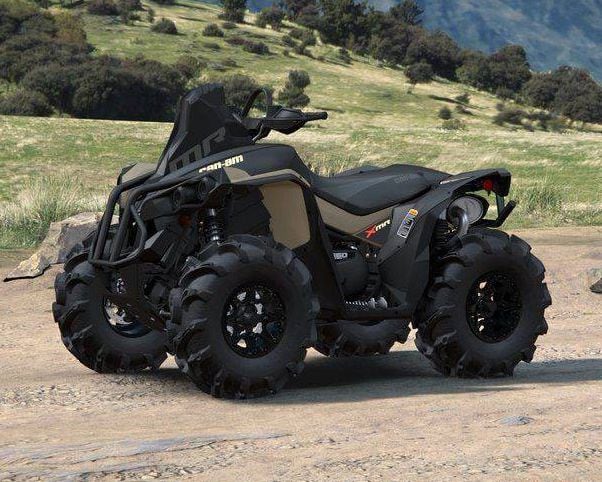 Snorkeled intakes and 28-inch ITP Mega Mayhem mud tires are mud hole ready. (Can-Am/)
2022 Can-Am Renegade X MR 650 Specs
| | |
| --- | --- |
| MSRP: | $12,599 |
| Engine: | Liquid-cooled, snorkeled Rotax V-twin |
| Displacement: | 650cc |
| Bore x Stroke: | N/A |
| Compression Ratio: | N/A |
| Transmission: | CVT |
| Claimed Horsepower: | 62 hp |
| Claimed Torque: | N/A |
| Fuel System: | EFI w/ Intelligent Throttle Control |
| Steering: | Tri-Mode Dynamic Power Steering |
| Drivetrain: | Selectable 2WD / 4WD / Lock 4WD with Visco-4Lok front Differential |
| Front Suspension: | Arched double A-arms w/ sway bar, Fox 1.5 Podium shocks |
| Rear Suspension: | Torsional trailing arm independent, Fox 1.5 Podium shocks |
| Front Brakes: | Hydraulic 2-piston calipers, dual 214mm discs |
| Rear Brakes: | Hydraulic 2-piston caliper, 214mm disc |
| Wheels, Front/Rear: | Cast aluminum beadlock; 12 in. |
| Tires, Front/Rear: | ITP Mega Mayhem; 28×8-12 / 28×10-12 |
| Length: | 83.0 in. |
| Width: | 50.0 in. |
| Height: | 56.0 in. |
| Wheelbase: | 51.0 in. |
| Rear Rack Capacity: | 35 lb. |
| Towing Capacity: | 1,300 lb. |
| Seat Height: | 35.3 in. |
| Ground Clearance: | 12.0 in. |
| Turning Radius: | N/A |
| Claimed Dry Weight: | 865 lb. |
| Fuel Capacity: | 5.4 gal. |
| Warranty: | 6-month; extended up to 36 months through B.E.S.T. |
| Minimum Operator Age: | 16 years |
| Availability: | Now |
| Contact: | can-am.brp.com/off-road/us/en/models/all-terrain-vehicles/renegade.html#x-mr-650 |