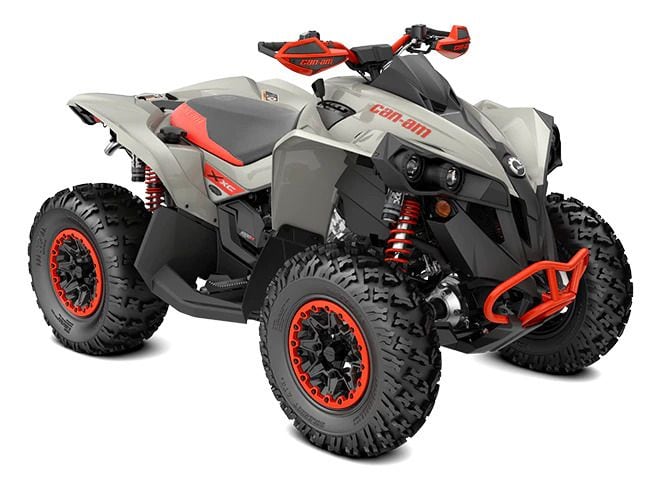 The 2022 Can-Am Renegade X XC 850. (Can-Am/)
Ups
Excellent performance, killer suspension, lighter than Polaris Scrambler 850, still looks great
Downs
Not much protection from mud, Renegade 1000 is only ~$1,300 more, Polaris Scrambler 850 is more comfortable for all-day rides, not much room for cargo
Verdict
The Can-Am Renegade 850 is an amazing performer that's guaranteed to be a blast on any trail.
Overview
Can-Am's Renegade 850 takes the 854cc Rotax V-twin engine and places it in the aggressive, sport-quad-influenced chassis and bodywork. This is a four-wheel-drive ATV that offers extreme performance.
Updates for 2022
There are no changes for the 2022 Renegade 850.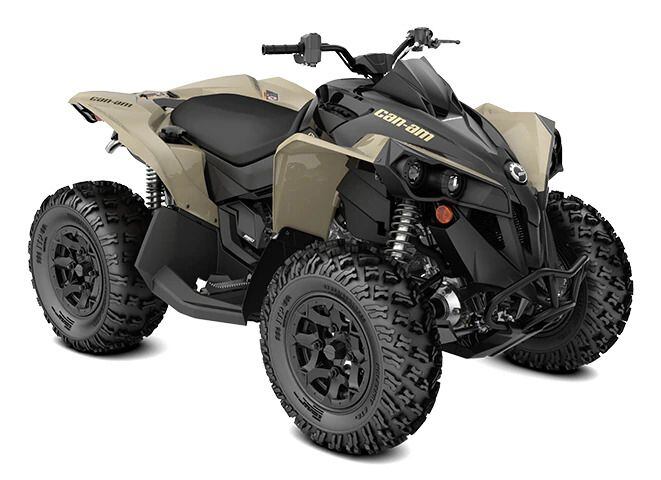 The 2022 Can-Am Renegade 850. (Can-Am/)
Pricing and Which One to Buy
2022 Can-Am Renegade 850 MSRP: $10,499
2022 Can-Am Renegade X XC 850 MSRP: $13,199
To us, the $2,700 delta between the Renegade 850 and Renegade X XC 850 is handily made up for given the added features. Frankly, it's worth it for the addition of Tri-Mode Dynamic Power Steering and upgrade to the Fox RC2-spec suspension alone. The beadlock wheels, graphics, and other accessories are just an added benefit. It's a no-brainer for those who want to retain a factory warranty or don't want the hassle of upgrading on their own, or those who just want the best 850cc-engine Renegade available.
Powertrain: Engine, Transmission, and Performance
Although it lurks in the shadow of the 1,000cc Rotax engine, the Renegade 850′s powerplant is no slouch. In fact, it's snappy enough that we don't recommend it for younger or less experienced riders. The 78 hp is no joke, and in a sub-700-pound machine it's a recipe for a genuine ripper.
Transmission duty comes by way of Can-Am's tried-and-true CVT with high, low, neutral, park, and reverse gears. Engine-braking is standard on the Renegade 850. It's a good transmission that works well to maximize the Rotax's outputs. Be wary of belt wear though.
Handling
The Renegade is the closest thing to a sport ATV that's available with 4WD. The one characteristic that outshines the Rotax's power is the Renegade's handling capabilities. This is likely the best-handling ATV with 4WD, especially with the X XC's Fox Podium 1.5 RC2 suspension. There's a reason the Renegade is always seen at MX and cross-country races.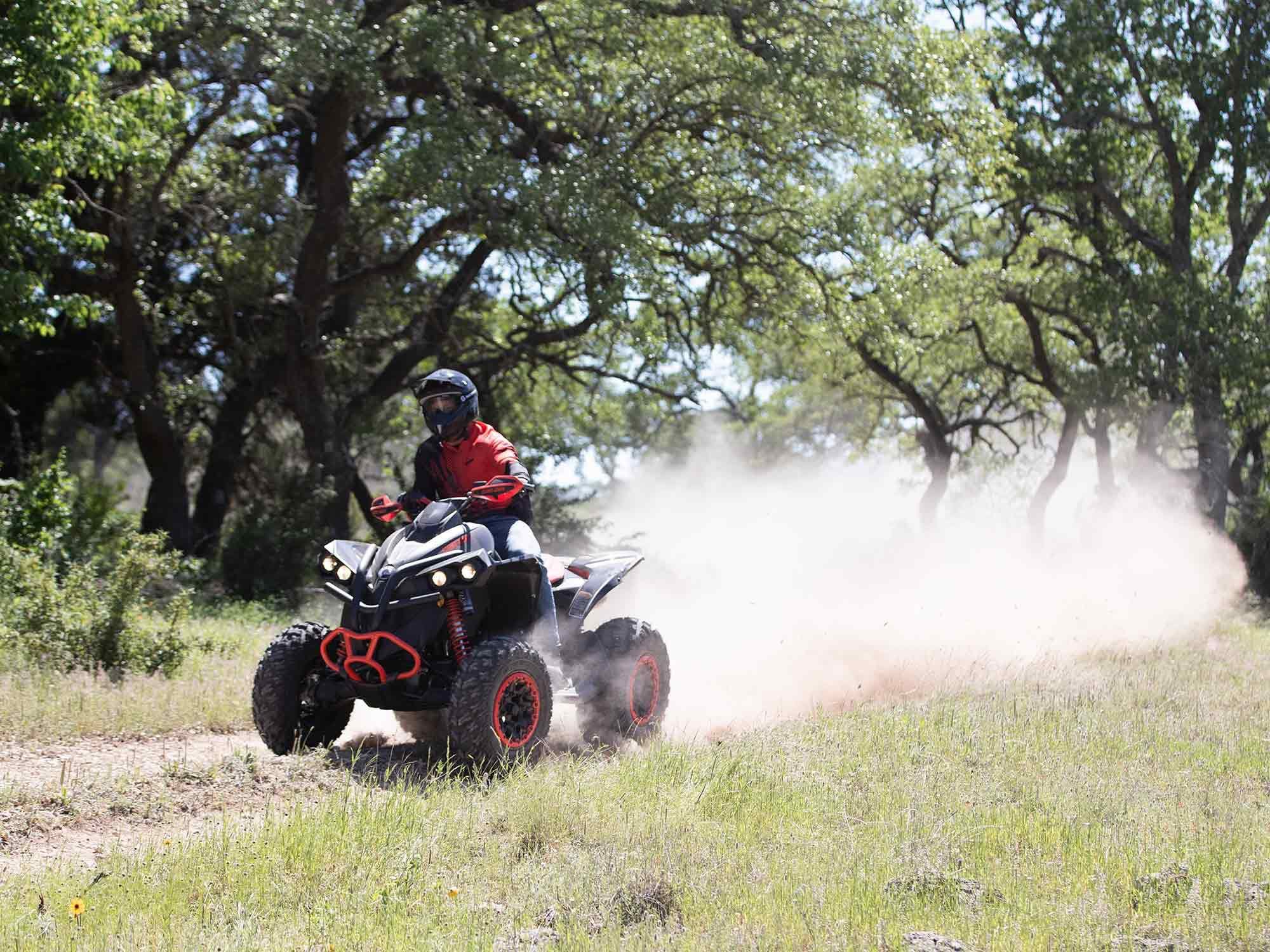 The 2022 Can-Am Renegade X XC 850. (Can-Am/)
Brakes
Both the Renegade 850 and X XC 850 use dual 214mm discs with hydraulic twin-piston calipers up front and a single 214mm disc with a hydraulic twin-piston caliper in the rear. It's a good system that will provide long braking life and more than enough stopping power for the 850-class powerplant.
Ergonomics: Comfort and Utility
The Renegade 850 is generally a comfortable machine for the majority of riders, however it lacks long-range comfort when compared to its main rival, the Polaris Scrambler 850. Part of this is the Renegade's more hardcore sporting nature, and part is simply due to the fact that the Polaris rides softer. Still, the Renegade's seat is comfortable, but the seating position emulates a sport quad.
Payload/Towing
The Renegade 850 is rated to hold 35 pounds on its tiny rear rack. It's not much, but a cooler or small cargo bag/box will fit with some creativity. Meanwhile, the 1,300-pound towing capacity is stout, and those using the Renegade to pull a trailer will find that when in 4WD it does a fair job of pretending it's a utility ATV.
Electronics
All Renegade 850s get plenty of tech and electronics for the given intention. A 4.5-inch digital display indicates the speedometer, tachometer, odometer, tripmeter and hourmeter, gear position, 4×4 indicator, temperature, engine lights, and electronic fuel gauge and clock. There's a DC outlet in the console, a standard 15-amp connector in the back, and Can-Am's RF Digitally Encoded Security System (D.E.S.S.) anti-theft system keeps the Renegade safe. Winch prewiring is standard, and lighting is provided by four 60-watt fender-mounted projector beam headlamps along with a taillight and brake light out back. Tri-Mode Dynamic Power Steering (DPS) is available only on the X XC 850.
Warranty and Maintenance Coverage
The Renegade 850 and Renegade X XC 850 come with a standard six-month BRP limited warranty.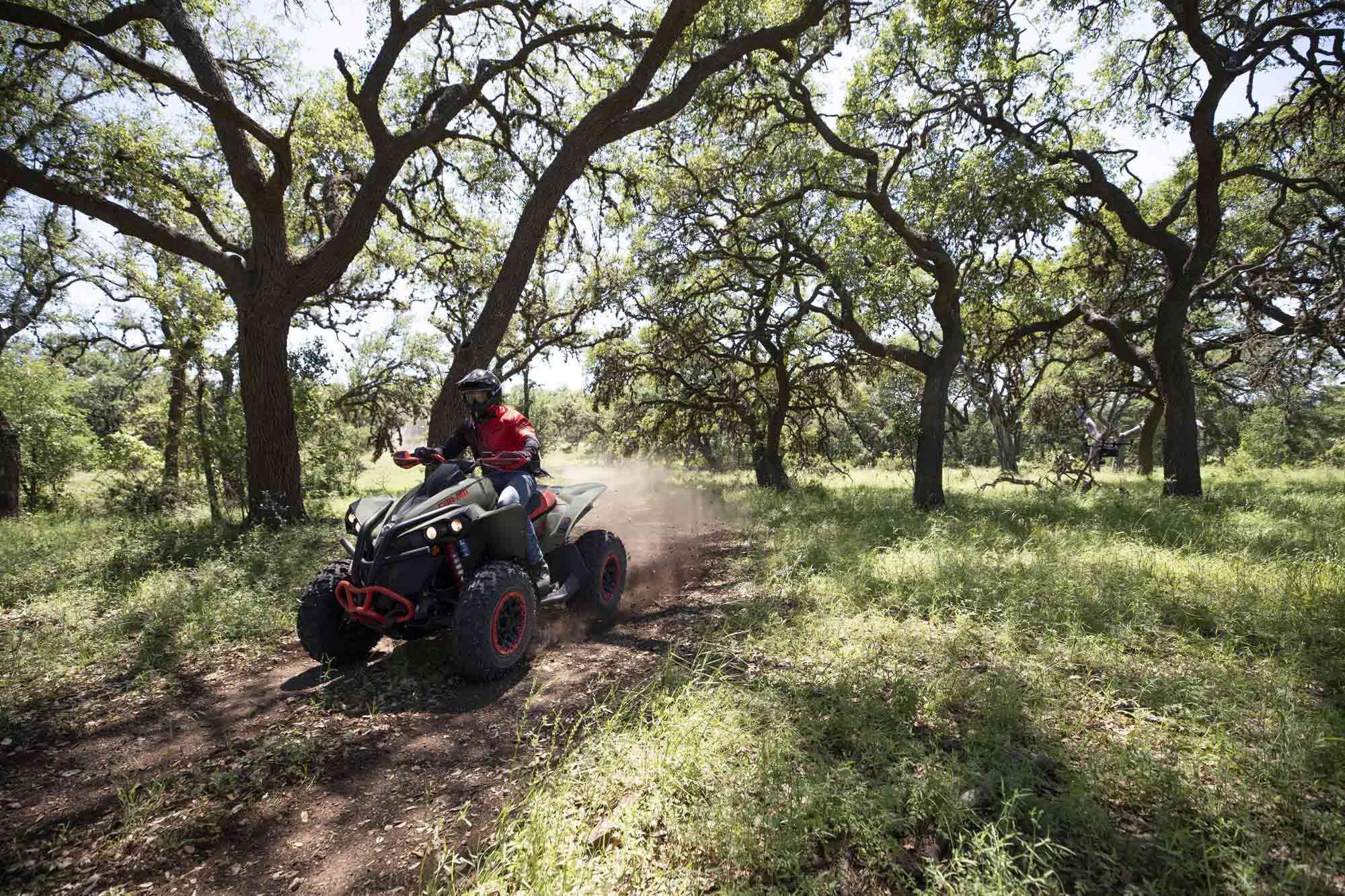 The 2022 Can-Am Renegade X XC 850. (Can-Am/)
2022 Can-Am Renegade 850 and Renegade X XC 850 Specs
MSRP:
$10,499–$13,199
Engine:
Rotax SOHC, liquid-cooled, four-stroke twin-cylinder
Displacement:
854cc
Bore x Stroke:
N/A
Compression Ratio:
N/A
Transmission:
Automatic CVT w/ high/low range, reverse; park
Claimed Horsepower:
78 hp
Claimed Torque:
N/A
Fuel System:
EFI
Steering:
Manual (850) / Electric Power Steering (X XC)
Drivetrain:
Selectable 2WD/4WD w/ Visco-Lok automatic locking front differential
Front Suspension:
Arched double A-arms w/ front sway bar, Fox 1.5 Podium shocks (850) / Fox 1.5 Podium RC2 shocks (X XC); 9.2 in. travel
Rear Suspension:
Torsional Trailing arm Independent (TTI), Fox 1.5 Podium shocks (850) / Fox 1.5 Podium RC2 shocks (X XC); 9.9 in.
Front Brakes:
Dual 214mm discs, 2-piston calipers
Rear Brakes:
214mm disc, 1-piston caliper
Wheels, Front/Rear:
Cast aluminum (850) / cast aluminum beadlock (X XC); 12 in.
Tires, Front/Rear:
ITP Holeshot ATR; 25×8-12 / 25×10-12
Length:
86.0 in.
Width:
48.0 in.
Height:
49.0 in.
Wheelbase:
51.0 in.
Rack Capacity:
35 lb.
Towing Capacity:
1,300 lb.
Seat Height:
34.5 in.
Ground Clearance:
10.5 in.
Turning Radius:
N/A
Claimed Dry Weight:
681 lb. (850) / 686 lb. (X XC)
Fuel Capacity:
5.4 gal.
Warranty:
6-month limited BRP warranty
Availability:
Now
Contact:
can-am.brp.com/off-road/us/en/models/all-terrain-vehicles/renegade.html#renegade
can-am.brp.com/off-road/us/en/models/all-terrain-vehicles/renegade.html#x-xc