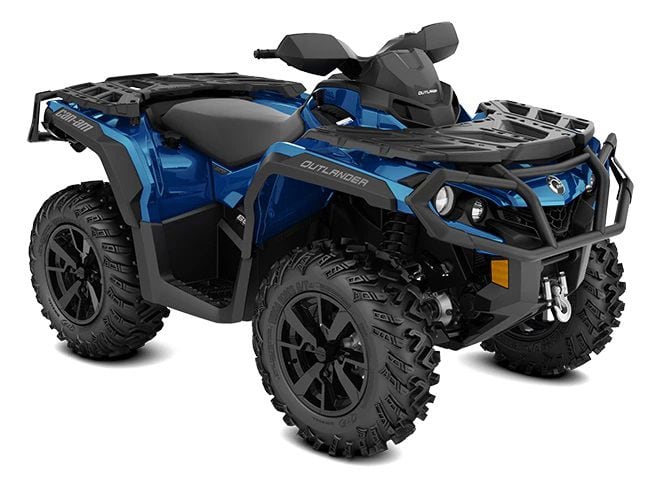 There's something for everybody in the 2022 Can-Am Outlander 650 lineup. (Can-Am/)
Ups
Rotax power and sound, configurations for every riding taste and use, mechanically and visually strong
Downs
Rotax engine can run hot, knowing the Outlander 850 and 1000 exist
Verdict
Few machines are better do-it-all solutions than the Outlander 650. With something for every riding style and level of hardware, nearly everyone can find joy in the Outlander.
Overview
The Can-Am Outlander 650 lineup comes in a wide range of trims: Outlander 650, Outlander DPS 650, Outlander XT 650, Outlander Mossy Oak Edition 650, Outlander X MR 650. We've ridden the prior year's Mossy Oak Edition extensively up in New Hampshire and found little fault with the machine and execution. There's bigger, badder Outlanders, but the 650 suits a wide variety of riders well and comes in priced well given its capabilities.
Updates for 2022
Visco-4Lok is now part of the Outlander X MR 650 package, a very welcome addition that allows riders to choose when the front differential is fully locked or when the machine is left to its own devices.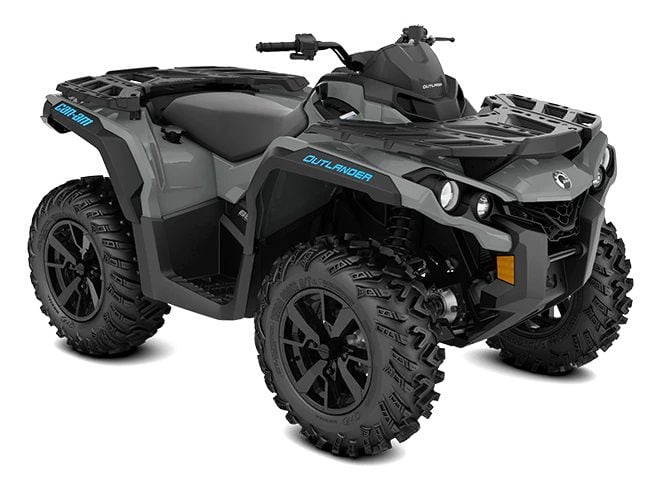 The 2022 Can-Am Outlander XT 650 is an excellent machine for work or play. (Can-Am/)
Pricing and Which One to Buy
2022 Can-Am Outlander 650 MSRP: $8,999
2022 Can-Am Outlander DPS 650 MSRP: $9,999
2022 Can-Am Outlander XT 650 MSRP: $10,999
2022 Can-Am Outlander Mossy Oak Edition 650 MSRP: $11,649
2022 Can-Am Outlander X MR 650 MSRP: $11,299
You really can't go wrong with any of the Outlander 650 models. That said, these aren't light machines, and we wholeheartedly recommend at least stepping up to the Outlander DPS 650, as the addition of Can-Am's fantastic Tri-Mode Dynamic Power Steering is extremely helpful especially at low speeds. That said, our pick of the litter is the Outlander XT 650. We like the factory-backed winch, bumpers, and hand guards, and are absolute suckers for the Oxford Blue plastics.
Powertrain: Engine, Transmission, and Performance
Can-Am's 650cc Rotax V-twin engine is still strong today. With 62 hp and a throaty exhaust note, it's bound to please. Power delivery is linear and the machine accelerates hard. It's even a fuel-efficient engine, as we were able to get more than 50 miles on a half tank in our somewhat aggressive riding test. The one detriment is that the Rotax can run a bit hot.
Power runs through Can-Am's continuously variable transmission, which has the usual high, low, neutral, reverse, and park gears. It works well but some riders have reported it can be prone to belt slipping at low speeds over rough terrain. We recommend using low range as much as possible.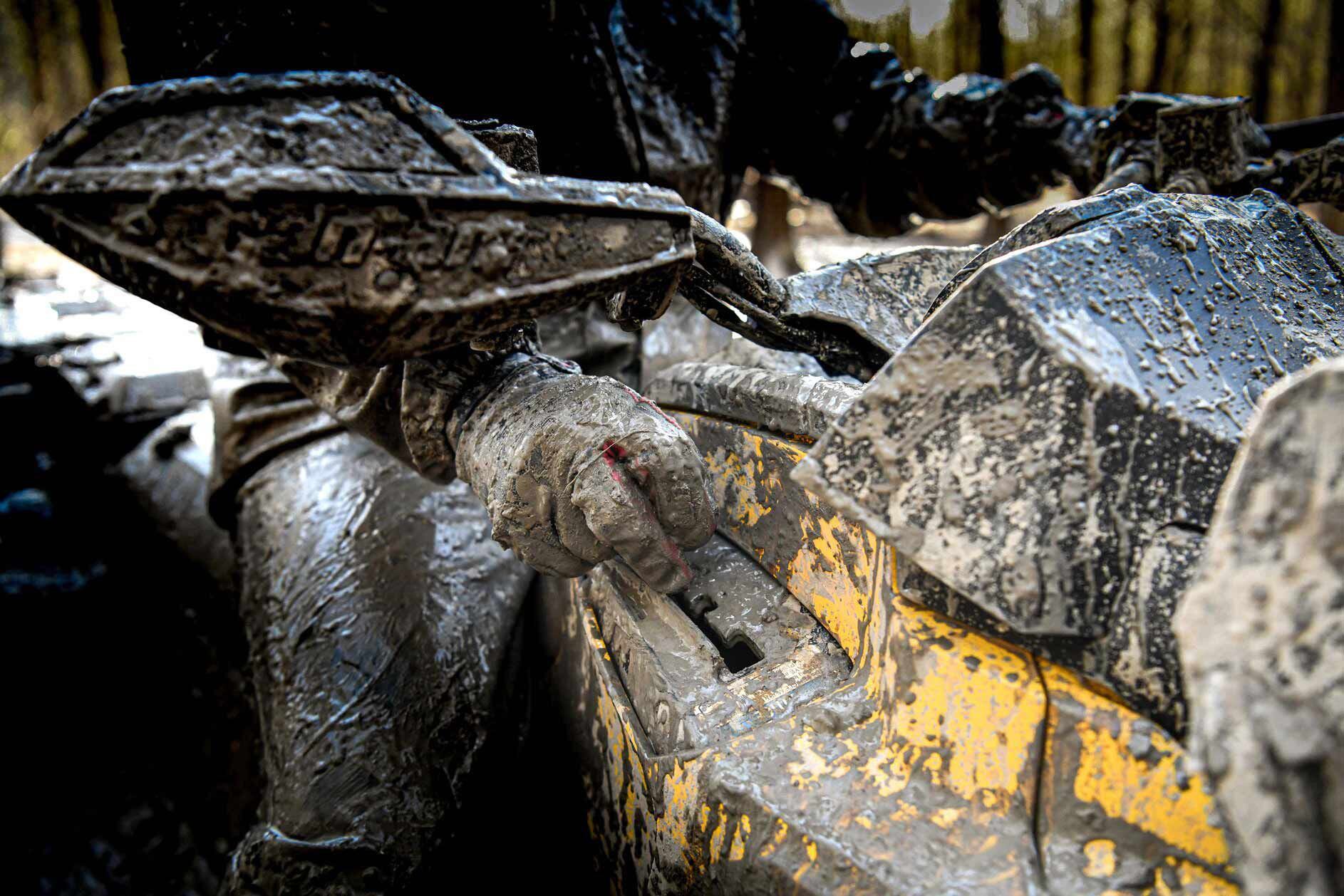 Can-Am's CVT makes sure the Rotax's power actually gets sent to the rear or all four tires. (Can-Am/)
Handling
The Outlander 650 is no Renegade, but it still handily keeps up with much sportier machines on all but the tightest and most technical trails. A well-tuned and sorted chassis is a big part of this. For what most assume to be a full-on work quad, the Outlander is a blast on the trails. The back end comes around easily and predictably, and it corners better than anyone would expect.
In our experience Tri-Mode Dynamic Power Steering is a fantastic unit, allowing the Outlander Mossy Oak Edition 650 we recently tested to steer in 4WD as if it was still in 2WD. We expect keeping the front differential fully locked by way of the new Visco-4Lok on the Outlander X MR 650 would alter this, but the Visco-Lok QE auto-locking front differential performed flawlessly in our use. We never so much as worried about the machine getting stuck.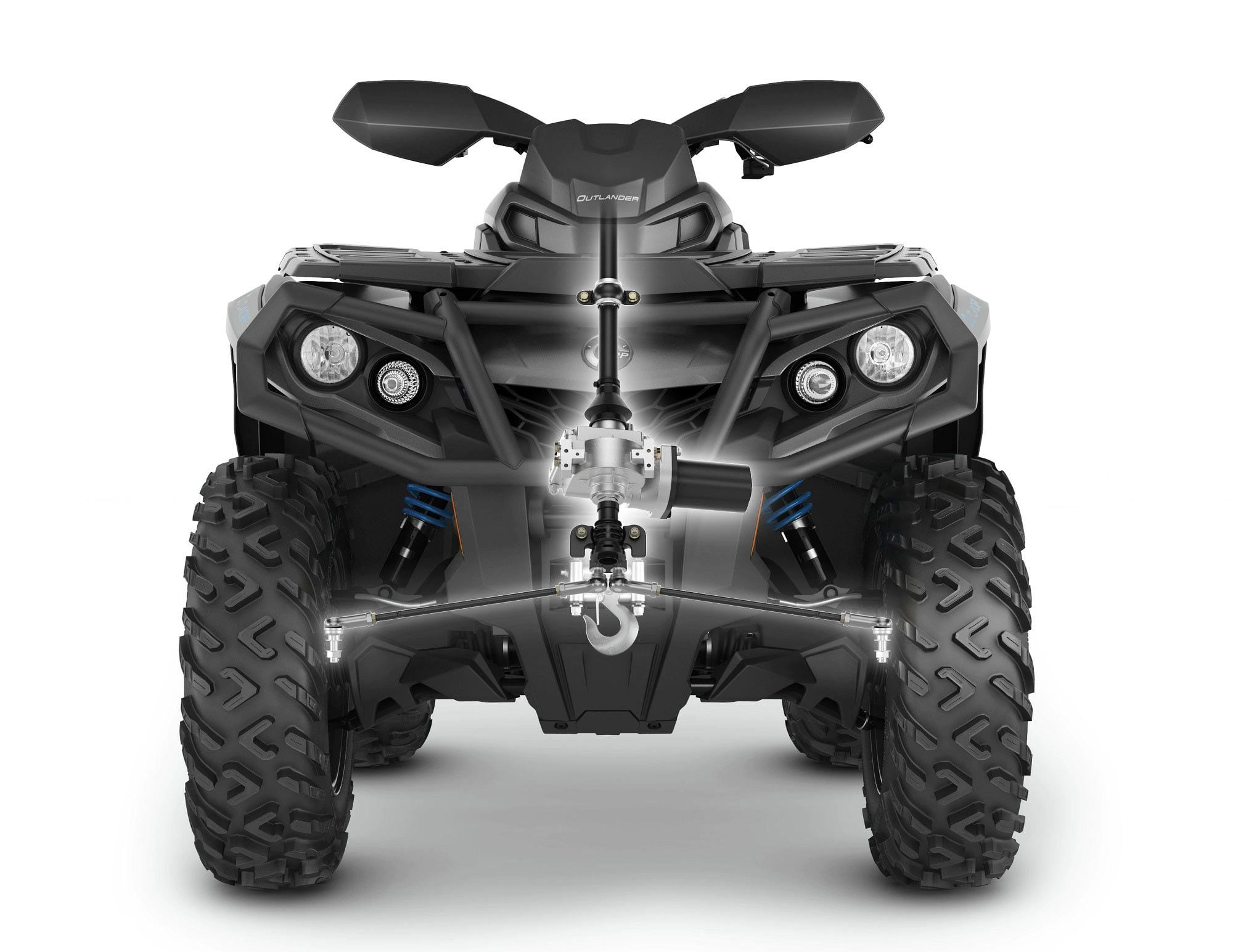 Can-Am's Tri-Mode Dynamic Power Steering is a fantastic EPS unit. (Can-Am/)
Brakes
Dual 214mm disc brakes with hydraulic twin-piston calipers up front and a single 214mm disc brake with a hydraulic twin-piston caliper out back handle stopping duty. The system provides more than enough stopping power for every situation short of hauling the Outlander down from high speeds, when the machine can be slightly unstable as it comes to a stop. We don't love the single lever for controlling front and rear brakes, but less experienced riders will find it to be an easy-to-use system.
Ergonomics: Comfort and Utility
Although not as comfortable on an all-day ride as comparable Polaris models, the Outlander 650 is nice to ride. Ergonomics are solid and everything is placed so that riders of nearly every size will find it easy to spend time on, though those in the higher height and weight percentiles may find it slightly smaller than ideal. Still, 99 percent of users will enjoy spending time on the Outlander.
Utility is good for a machine of this function, and we really like the supplemental front bumpers available on some of the higher trims. Additionally, the racks are useful and have a good, grippy texture to them. There's a small storage compartment out back, which Can-Am claims to be "dry storage," though it didn't prove watertight in our testing.
Payload/Towing
The Outlander 650 has a strong towing capacity of 1,650 pounds.
Electronics
Can-Am Outlander 650 models come with nice tech to make it feel like the luxury machine it is. There's a big, clear 4.5-inch digital display with the speedometer, tachometer, odometer, trip- and hourmeters, gear position, 4×4 indicator, temperature, engine lights, electronic fuel gauge, and clock. Additionally, a lighter-type DC outlet hides in the console, and there's a 15-amp standard connector in the back. Lighting comes from twin 60-watt projectors and dual 55-watt reflectors with taillight and brake lights out back. Some Outlander 650s come with a winch, and those not equipped are prewired for one. Can-Am's RF Digitally Encoded Security System (D.E.S.S.) comes on some models, and affords security and multiple keys for throttle and speed limitation purposes.
Warranty and Maintenance Coverage
The 2022 Can-Am Outlander 650 lineup comes with a standard six-month BRP limited warranty.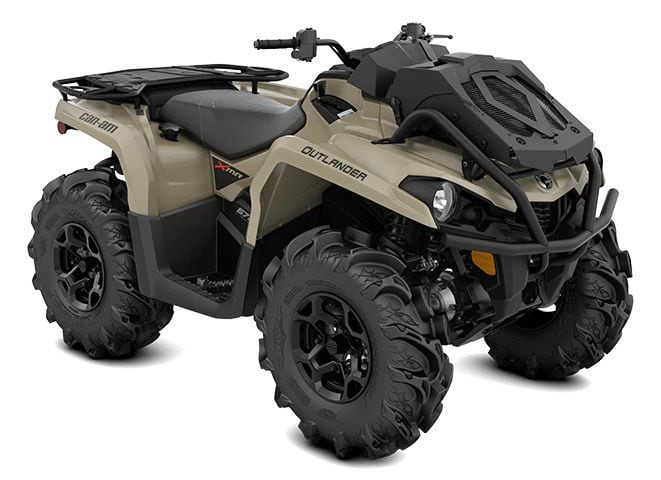 Those seeking mud performance would do well to look at the Outlander X MR 650. (Can-Am/)
2022 Can-Am Outlander 650 Specs
| | |
| --- | --- |
| MSRP: | $8,999–$11,649 |
| Engine: | Rotax SOHC, liquid-cooled, four-stroke twin-cylinder / snorkeled (X MR) |
| Displacement: | 650cc |
| Bore x Stroke: | 82.0 x 62.0mm |
| Compression Ratio: | N/A |
| Transmission: | Automatic CVT w/ high/low range, reverse; park |
| Claimed Horsepower: | 62 hp |
| Claimed Torque: | N/A |
| Fuel System: | EFI |
| Steering: | Manual (base) / Tri-Mode Dynamic Power Steering (all other models) |
| Drivetrain: | Selectable 2WD/4WD w/ Visco-Lok QE auto-locking front differential (all other models) / Selectable 2WD/4WD/Lock 4WD w/ Visco-4Lok front differential (X MR) |
| Front Suspension: | Arched double A-arms w/ front sway bar, oil shocks; 9.2 in. travel |
| Rear Suspension: | Torsional Trailing arm Independent, oil shocks; 9.9 in. travel |
| Front Brakes: | Dual 214mm discs, 2-piston calipers |
| Rear Brakes: | 214mm disc, 1-piston calipers |
| Wheels, Front/Rear: | Steel, 12 in. (base) / cast aluminum, 14 in. (DPS, XT) / cast aluminum, 12 in. (Mossy Oak, X MR) |
| Tires, Front/Rear: | Carlisle ACT; 26×8-12 in., 26×10-12 in. (base, Mossy Oak) / ITP Terracross; 26×8-14 in., 26×10-14 in. (DPS, XT) / ITP Mega Mayhem; 28×8-12 in., 28×10-12 in. (X MR) |
| Length: | 86.0 in. (base, DPS, XT, Mossy Oak) / 88.0 in. (X MR) |
| Width: | 48.0 in. (base, DPS, XT, Mossy Oak) / 48.5 in. (X MR) |
| Height: | 49.5 in. (base, DPS, XT, Mossy Oak) / 50.5 in. (X MR) |
| Wheelbase: | 51.0 in. |
| Rack Capacity: | 100 lb. front (base, DPS, XT, Mossy Oak); 200 lb. rear (all models) |
| Towing Capacity: | 1,650 lb. |
| Ground Clearance: | 11.0 in. (base, DPS, XT) / 12.0 in. (Mossy Oak) / 11.75 in. (X MR) |
| Turning Radius: | N/A |
| Claimed Dry Weight: | 749 lb. (base, DPS, XT, Mossy Oak) / 874 lb. (X MR) |
| Fuel Capacity: | 5.4 gal. |
| Warranty: | 6-month limited BRP warranty |
| Availability: | Now |
| Contact: | can-am.brp.com/off-road/us/en/models/all-terrain-vehicles/outlander |