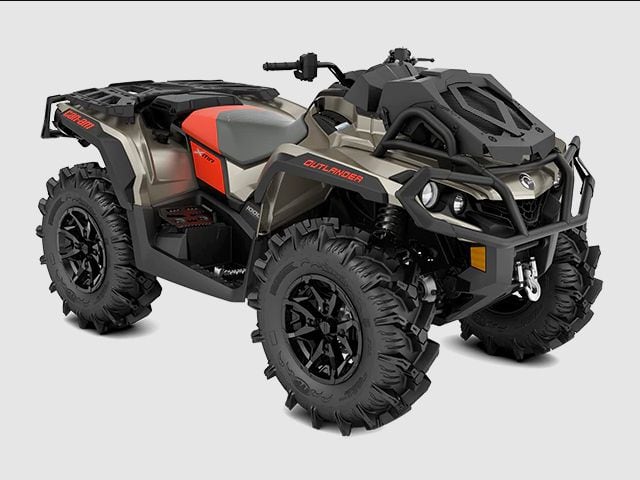 2022 Can-Am Outlander X MR 1000R, Liquid Titanium and Magma Red, MSRP $14,499. (Can-Am/BRP/)
Ups
The most powerful ATVs Can-Am offers with 91 hp Rotax engines, premium features on every model, intelligent throttle control with adjustable riding modes
Downs
Pricing starts at $10,999, halogen headlights instead of LEDs, only two of the four trims have a fully locking front differential
Verdict
There are four Outlander 1000R trim levels, so the model offers something for everyone. The 1000R series of vehicles sets the engine performance bar at 91 hp, giving consumers looking for extra engine grunt something to purchase. If maximum power tops your list of requirements for a 4WD ATV, you have arrived.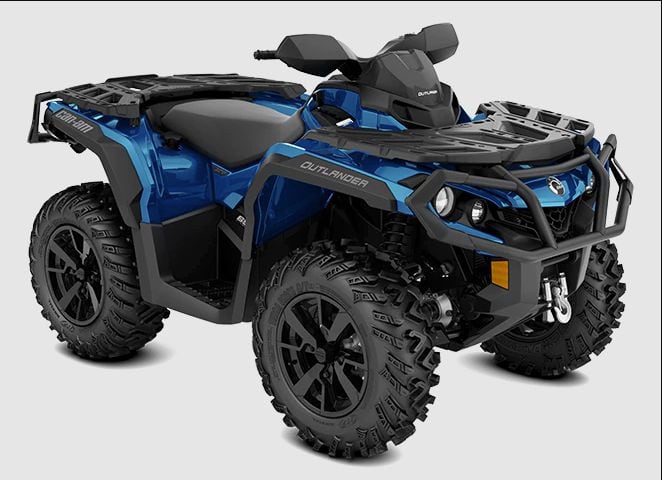 2022 Can-Am Outlander XT 1000R, Oxford Blue, MSRP $12,749. (Can-Am/BRP/)
Overview
This buyer's guide highlights each model's 1000R trim level—the Outlander XT 1000R, Outlander XT-P 1000R, Outlander X XC 1000R, and mud-specific Outlander X MR 1000R. The common denominator between them is the 91 hp Rotax V-twin engine. Each ATV includes the various options that make up the X appearance package: matching colors, bumpers, aluminum wheels, and hand guards.
Updates for 2022
No major changes for the Outlander aside from various color option upgrades for the new year.
Pricing and Which One to Buy
2022 Can-Am Outlander XT 1000R MSRP: $12,749
2022 Can-Am Outlander XT-P 1000R MSRP: $14,649
2022 Can-Am Outlander X XC 1000R MSRP: $14,899
2022 Can-Am Outlander X MR 1000R MSRP: $14,499
Which one you should buy depends on your use case. The Outlander X MR 1000R is perfect for those who spend the majority of their riding time in deep mud. It is longer than the other single-seat models because it uses the same chassis as the two-seat Max Outlander. Sealed storage replaces the second seat and the wheelbase is stretched to 59 inches. It also includes snorkeled air intakes, an elevated radiator, a 3,500-pound winch, Fox 1.5 podium shocks, 30-inch ITP mud tires on 14-inch aluminum wheels, and is one of the two models listed here with Can-Am's Visco-4Lok front differential. The X XC is a great hit-any-trail kind of quad with its aluminum front bumper and top brace, aluminum skid plates, aluminum A-arm protectors, Fox 1.5 Podium QS3 shocks, and 26-inch ITP Terracross tires on 14-inch cast aluminum beadlock wheels. The XT trim gets you on a 1000R quad for the least amount of money, but still includes a 3,500-pound winch, heavy-duty front and rear bumpers, hand guards, and cast aluminum wheels. But if you were to ask us, we'd point toward the XT-P. It's a bit cheaper but still comes with the Fox 1.5 Podium QS3 shocks, full-wrap handguards, factory beadlock wheels, a 3,500-pound winch, and our favorite feature: the Visco-4Lok fully locking front differential.
Powertrain: Engine, Transmission, and Performance
Each of these ATVs includes Can-Am's 976cc, 91 hp V-twin Rotax engine. It's the largest-displacement engine available on any Can-Am ATV. Each Outlander 1000R model has an automatic CVT transmission with standard engine-braking technology. The transmission includes high- and low-range and well as park, neutral, and reverse. Select 2WD and 4WD from a bar-mounted rocker switch, and 4WD operation includes Visco-Lok QE automatic locking differential on the Outlander XT 1000R and Outlander X XC 1000R. The Outlander X MR 1000R and Outlander XT-P receive upgraded 4WD performance with the fully lockable Visco-4Lok front differential.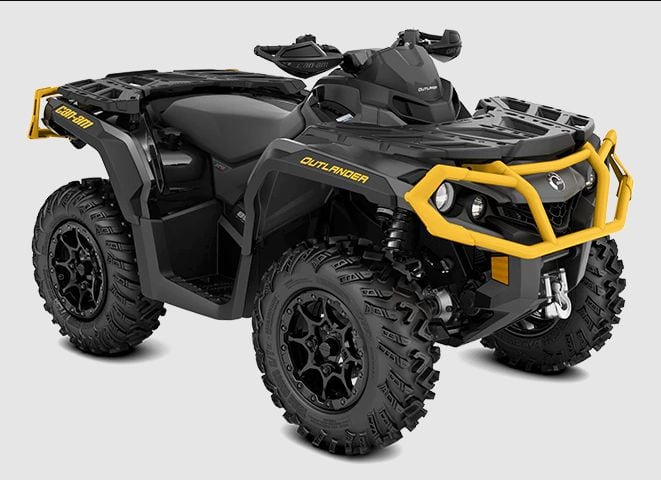 2022 Can-Am Outlander XT-P 1000R, Iron Gray with Black and Neo Yellow, MSRP $14,649. (Can-Am/BRP/)
Handling
The 1000R engine makes each of these ATVs the heaviest in their trim. Despite that, Can-Am has done a good job to minimize the large feel of these powerful ATVs with dynamic power steering, intelligent throttle control, and Fox Podium suspension components. Note that the Outlander XT is the only one in the 1000R lineup that doesn't include the Fox suspension components, but it still includes the same 9.2 inches of suspension travel up front and nearly 10 inches at the rear. The package comes together to create a vicious trail weapon that handles quite well despite its power.
Brakes
Braking is handled in the form of dual 214mm front disc brakes with twin-piston hydraulic calipers and a single rear 214mm disc brake with twin-piston hydraulic caliper.
Ergonomics: Comfort and Utility
All the seats are about the same. You get a generously padded saddle that narrows toward the front, good for a long day's ride. Handlebars are high and wide, a good neutral setting that most riders will find comfortable. Each includes mudguards and fender flares as standard. Footwells are large and protective. Only the Outlander X MR includes wide-body plastics that stretch out further to add extra mud protection.
Each ATV, except for the Outlander X XC, comes with a 3,500-pound front-mounted winch as standard. All include a 5.4-gallon fuel tank and a 5.7-liter rear storage compartment.
Payload/Towing
The Outlander XT and XT-P include both front and rear racks. They can handle 100 pounds and 200 pounds, respectively. The Outlander X XC and X MR do away with the front racks, including only the 200-pound-rated rear rack.
Each ATV is rated for 1,650 pounds of towing with the standard rear receiver hitch.
Electronics
While dated looking, Can-Am includes 4.5-inch digital displays on the Outlander XT 1000R. It's not a TFT multicolored display, but it gets the job done. The Outlander X XC, XT-P, and X MR 1000R models all get a larger 7.6-inch display. Speedometer, tachometer, odometer, trip- and hourmeters, gear position, 4×4 indicator, temperature, engine status lights, electronic fuel gauge, and clock are all present on the rider's dash cluster.
Warranty and Maintenance Coverage
Can-Am includes a six-month limited warranty with every Outlander ATV. Extended warranty options are available at time of purchase.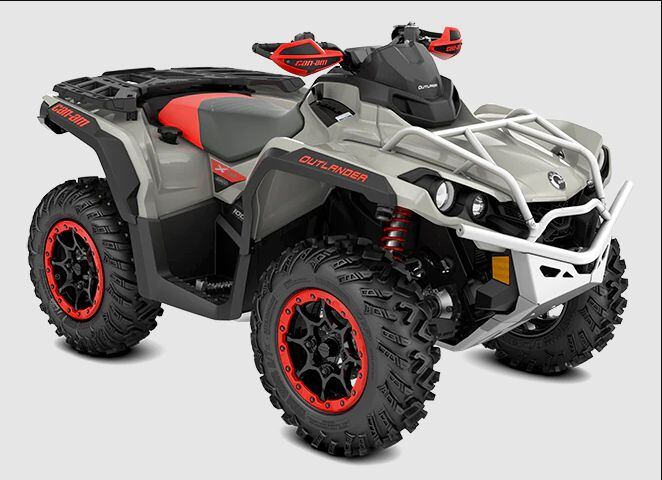 2022 Can-Am Outlander X XC 1000R, Chalk Gray and Magma Red, MSRP $14,899. (Can-Am/BRP/)
2022 Can-Am Outlander XT 1000R Specs
| | |
| --- | --- |
| MSRP: | $12,749–$14,899 |
| Engine: | Rotax liquid-cooled V-twin |
| Displacement: | 976cc |
| Bore x Stroke: | N/A |
| Compression Ratio: | N/A |
| Transmission: | CVT w/ high/low (extra low in X MR) range, reverse; park, standard engine-braking |
| Claimed Horsepower: | 91 hp |
| Claimed Torque: | N/A |
| Fuel System: | EFI |
| Steering: | Tri-mode Dynamic Power Steering |
| Drivetrain: | Selectable 2WD/4WD w/ Visco-Lok QE auto-locking front differential (XT, X XC) / Selectable 2WD/4WD w/ Visco-4Lok fully locking front differential (XT-P, X MR) |
| Front Suspension: | Arched double A-arms w/ front sway bar with oil shocks (XT), Fox 1.5 Podium shock (all other models); 9.2 in. travel |
| Rear Suspension: | Torsional Trailing arm Independent with oil shocks (XT), Fox 1.5 Podium shock (all other models); 9.9 in. travel |
| Front Brakes: | Dual 214mm discs, 2-caliper pistons |
| Rear Brakes: | 214mm disc, 2-caliper piston |
| Wheels, Front/Rear: | Cast aluminum (XT, X MR) / beadlock (XT-P, X XC); 14 in. |
| Tires, Front/Rear: | ITP Terracross; 26×8-14, 26×10-14 (XT, XT-P, X XC) / ITP Cryptid; 30×9-14 (X MR) |
| Length: | 86.0 in. / 97.0 in. (X MR) |
| Width: | 48.0 in. / 50.0 in. (X MR) |
| Height: | 49.5 in. / 51.5 in. (X MR) |
| Wheelbase: | 51.0 in. / 59.0 in. (X MR) |
| Storage Capacity: | 5.7-gal. rear storage |
| Front/Rear Rack Capacity: | 100 lb. (no front rack on X XC, X MR)/200 lb. |
| Towing Capacity: | 1,650 lb. |
| Seat Height: | 34.5 in. (XT, XT-P, X XC) / 36.75 in. (X MR) |
| Ground Clearance: | 11.0 in. (XT, XT-P, X XC) / 13.0 in. (X MR) |
| Turning Radius: | N/A |
| Claimed Dry Weight: | 826 lb. (XT, XT-P, X XC) / 1,014 lb. (X MR) |
| Fuel Capacity: | 5.4 gal. |
| Warranty: | 6-month limited w/ extended terms for purchase |
| Minimum Operator Age: | 16 |
| Availability: | Now |
| Contact: | can-am.brp.com |