2022 Can-Am Maverick X3 DS Turbo front view in Octane Blue color. (Can-Am/)
Ups
Cheapest Maverick X3, long-travel Fox Podium QS3 suspension, LED lighting, trophy truck-inspired trailing-arm rear suspension, 30-inch Maxxis Carnivore tires, large two-piston disc brakes, lockable front differential, and the same two- and four-seat race-inspired chassis that all X3 models share.
Downs
Uses a previous-generation Rotax ACE 900cc triple-cylinder engine producing 120 hp. No roof. High horsepower being pushed through a CVT gearbox has to be driven accordingly or frequent belt changes will be needed. Smaller 4.5-inch gauge display paired with a lower-powered 650W magneto.
Verdict
There's a pile of reasons to like this trim. It represents a bargain for those not looking for the new 200 hp machine that can demand a much higher price and is more complex. You're getting virtually everything else the more powerful trims offer at a discounted price: the same chassis, suspension, interior cockpit, lighting, and safety features. If you're not ripping the largest dunes or hucking turbo tracks, this might be a smart way to spend your money.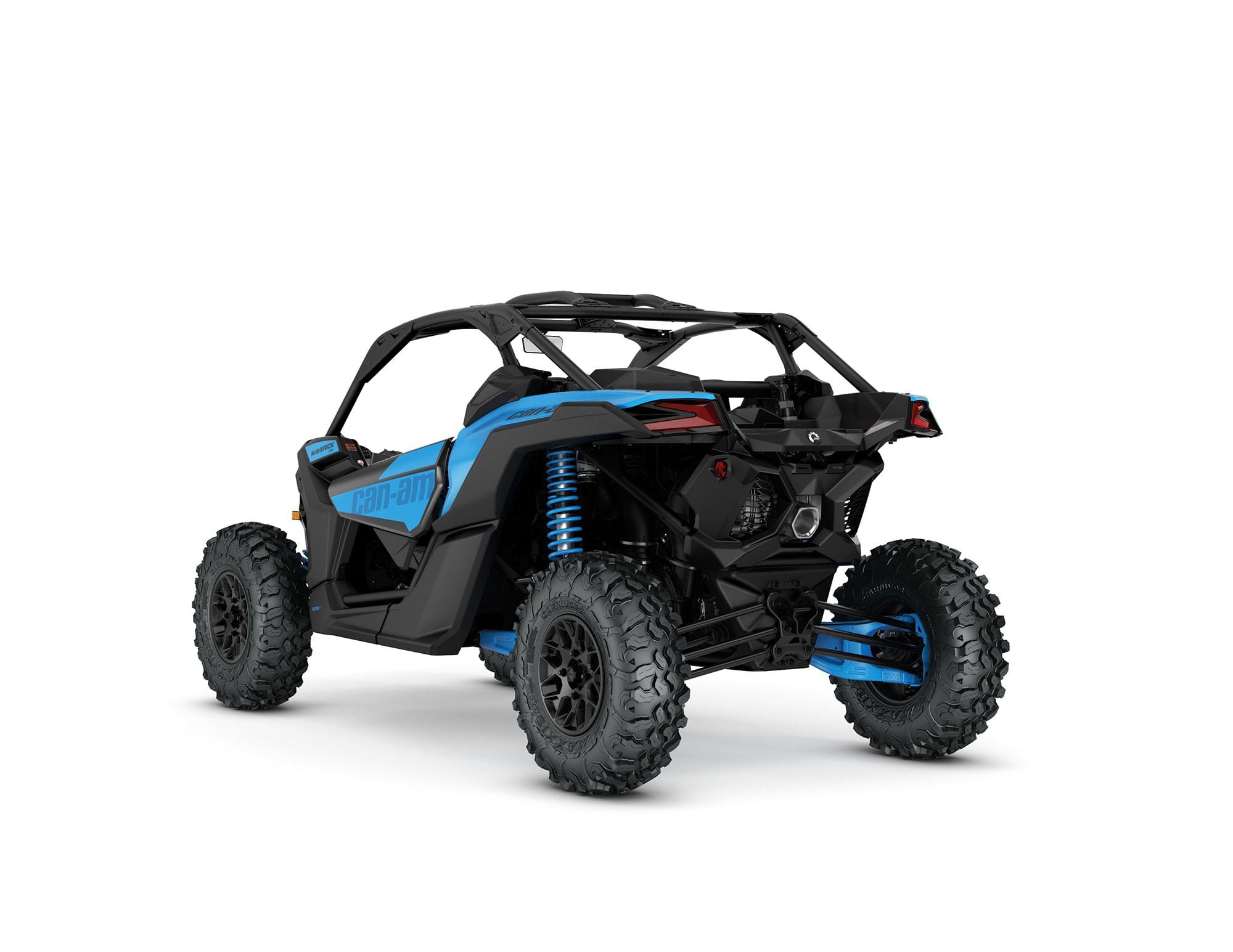 2022 Can-Am Maverick X3 DS Turbo rear view in Octane Blue color. (Can-Am/)
Overview
The Maverick X3 DS Turbo and Maverick X3 Max DS Turbo represent the cheapest way to enter the pure sport market with Can-Am's showroom. The 120 hp Rotax engine pairs well with a recently refreshed QRS-X CVT transmission and exclusive Smart-Lok drivetrain technology. Aggressive styling and geometry result in a light, nimble, and stable sports car-like vehicle.
Updates for 2022
While Can-Am has refreshed some of the Maverick X3 models for 2022, the X3 DS Turbo remains virtually unchanged aside from a small price increase by $1,000.
Pricing and Which One to Buy
2022 Can-Am Maverick X3 DS Turbo MSRP: $19,9992022 Can-Am Maverick X3 Max DS Turbo MSRP: $22,999
Grab the one with the number of seats your group requires.
Powertrain: Engine, Transmission, and Performance
The Rotax ACE 900cc three-cylinder turbocharged engine comes in a few different flavors. The X3 DS Turbo uses the weakest 120 hp version, which is still one of the most powerful entry-level pure sport side-by-side powerplants. A Can-Am Quick Response System X CVT transmission offers two forward gears, a reverse gear, neutral, and park. A high-airflow system helps to keep temps down while speeds are up.
Handling
Fox 2.5 Podium QS3 piggyback shocks offer compression damping adjustment on the front axle, and both compression damping and bottom-out control on the rear axle. All four corners generate a total of 20 inches of available suspension travel each, resulting in 14 inches of ground clearance for the two-seater model and 13 inches for the four-seater model. A rear trailing-arm suspension geometry is accented by aggressive front double A-arms. The Maverick X3 is widely considered one of the best handling side-by-sides on the market.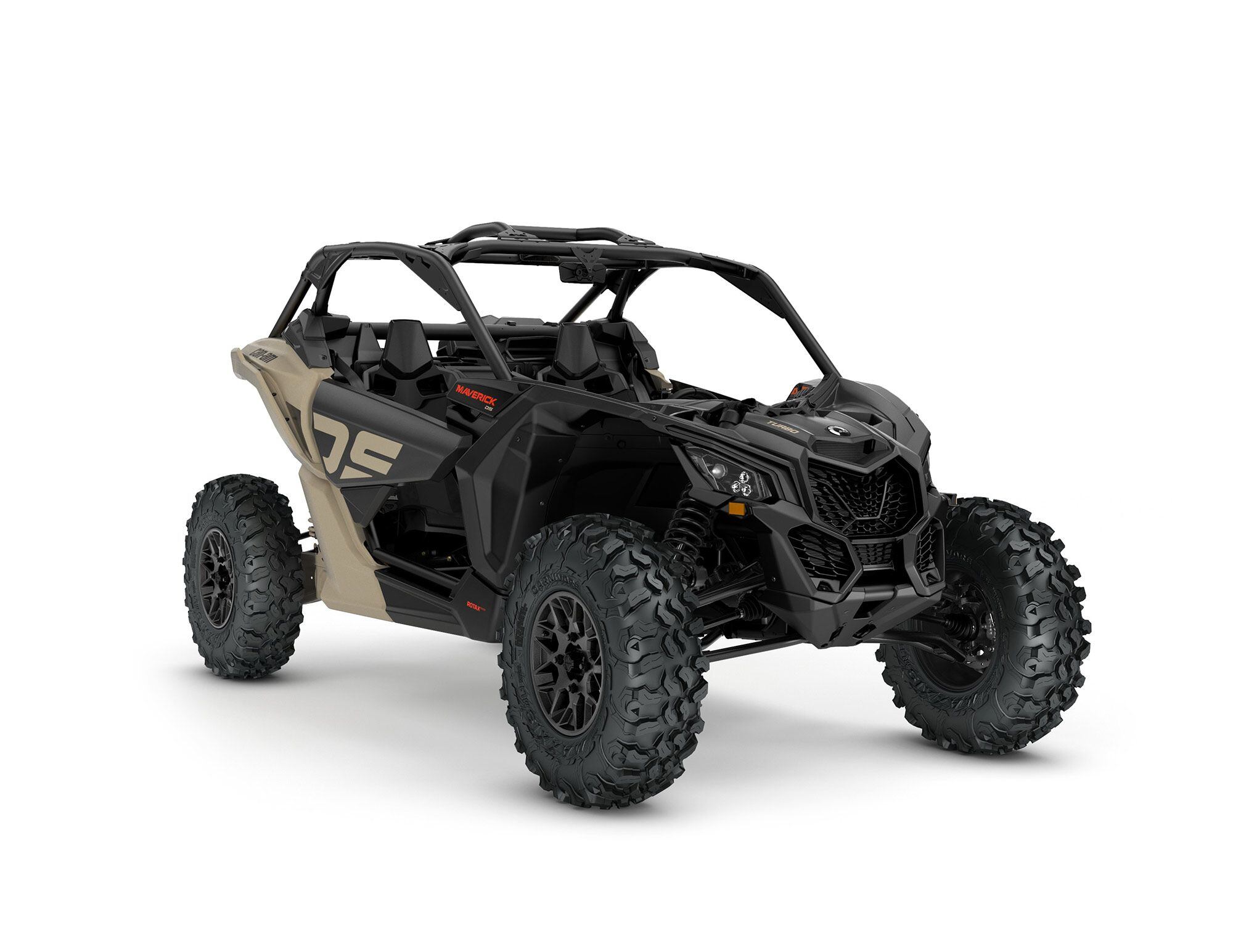 2022 Can-Am Maverick X3 DS Turbo front view in Desert Tan and Carbon Black color. (Can-Am/)
Brakes
Two-piston calipers clamp 262mm discs up front. The same calipers pair with 248mm discs in the rear. Braking is strong and resists fade. While braking modulation could be better, it's still an excellent system for the price.
Ergonomics: Comfort and Utility
The Maverick X3 platform feels like a performance automobile with its low and flat seating position. Visibility is acceptable and legroom is spacious. Front seats are four-way adjustable and easily converted to five-point harnesses. Large bolsters keep you planted in your seat while navigating challenging terrain. Cockpit controls are all within an arm's length and easy to manipulate on the fly. Quarter doors open from the front.
Payload/Towing
Rear rack capacity is rated at 150 pounds. The Maverick X3 lineup goes without a towing hitch receiver.
Electronics
LED lighting, 650-watt magneto, and a 4.5-inch-wide digital gauge display make up the bulk of the Maverick X3 DS Turbo's electrical system. Speedometer, tachometer, odometer, trip- and hourmeters, fuel, gear position, Sport and Eco mode, seatbelt and 4×4 indicator, front and rear diff lock indicators, diagnostics, clock, battery voltage, engine temperature, and DPS mode are all controlled via soft-touch keypad. A lighter-type 12-volt outlet allows for mobile device charging or running an air pump.
Can-Am's radio-frequency digitally encoded security system allows for keyless start/stop via a dash-mounted button.
Warranty and Maintenance Coverage
Every Maverick comes with a six-month limited warranty. Extended warranty options can be added at time of purchase.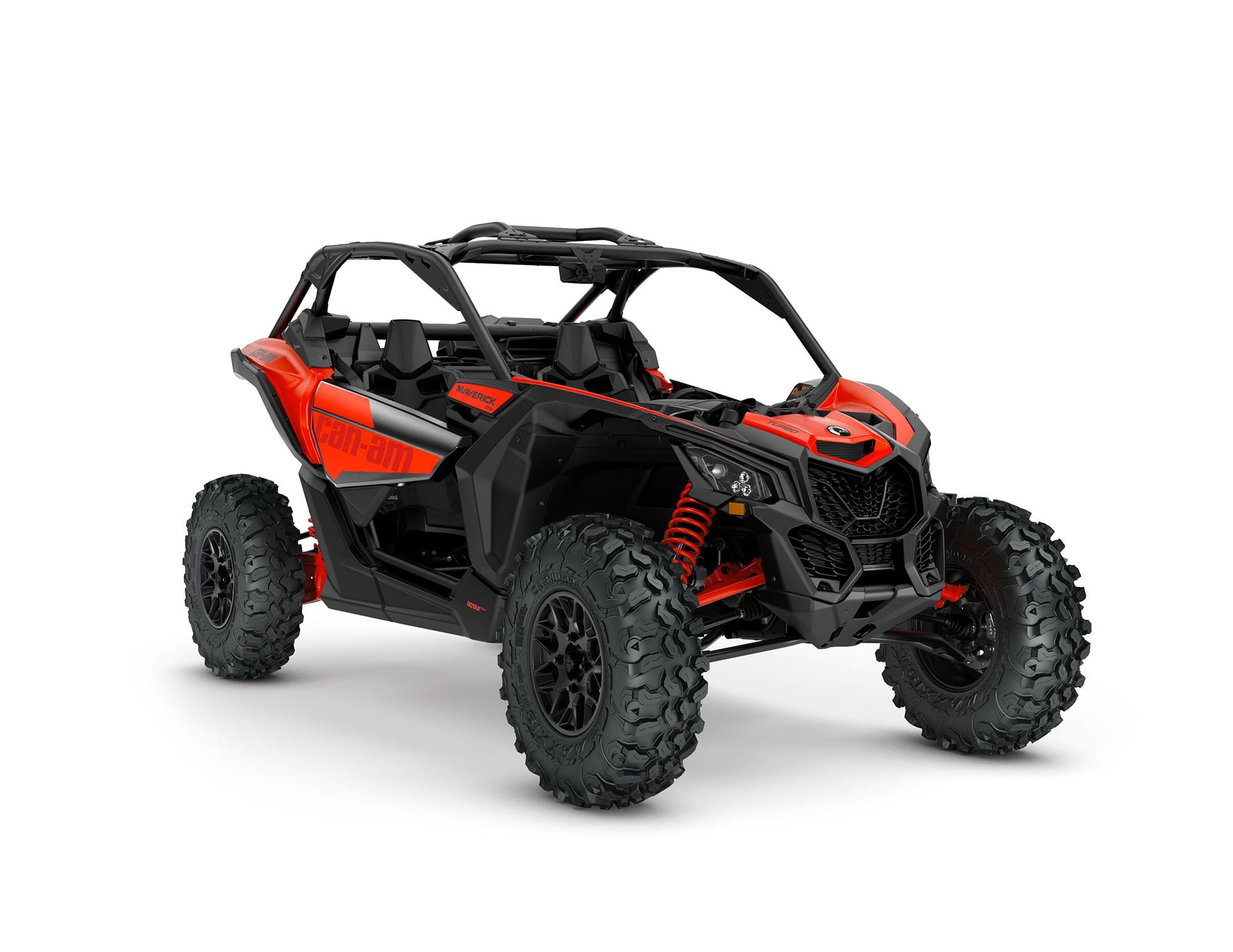 2022 Can-Am Maverick X3 DS Turbo front view in Can-Am Red color. (Can-Am/)
2022 Can-Am Maverick X3 DS Turbo Specs
| | |
| --- | --- |
| MSRP: | Starting at $19,999 |
| Engine: | Rotax ACE liquid-cooled three-cylinder, turbocharged |
| Displacement: | 900cc |
| Bore x Stroke: | N/A |
| Compression Ratio: | N/A |
| Transmission: | Quick Response System X (QRS-X) CVT w/ high airflow, high/low range, reverse; park |
| Claimed Horsepower: | 120 hp |
| Claimed Torque: | N/A |
| Fuel System: | Intelligent Throttle Control (iTC) w/ EFI |
| Steering: | High-torque Tri-Mode Dynamic Power Steering (DPS) |
| Drivetrain: | 2WD/4WD w/ front diff lock/4WD Trail Activ/4WD Trail w/ Smart-Lok |
| Front Suspension: | Double A-arms w/ sway bar, Fox 2.5 Podium Piggyback shocks w/ QS3 compression adjustment; 22.0 in. travel (2-seat) / 20.0 in. travel (Max) |
| Rear Suspension: | 4-link Torsional Trailing-arm X (TTX) w/ sway bar, Fox 2.5 Podium Piggyback shocks w/ QS3 compression adjustment and bottom-out control; 22.0 in. travel (2-seat) / 20.0 in. travel (Max) |
| Front Brakes: | Dual 262mm discs, hydraulic 2-piston calipers |
| Rear Brakes: | Dual 248mm discs, hydraulic 2-piston calipers |
| Wheels, Front/Rear: | Cast aluminum, black; 14 in. |
| Tires, Front/Rear: | Maxxis Carnivore; 30×10-14 |
| Length: | 132.0 in. (2-seat) / 164.0 in. (Max) |
| Width: | 64.0 in. |
| Height: | 65.4 in. (2-seat) / 65.8 in. (Max) |
| Wheelbase: | 102.0 in. (2-seat) / 135.0 in. (Max) |
| Bed Capacity: | 200 lb. (2-seat) / 150 lb. (Max), w/ LinQ quick-attach system |
| Towing Capacity: | N/A |
| Max Seating Capacity: | 2 (2-seat) / 4 (Max) |
| Ground Clearance: | 14.0 in. (2-seat) / 13.0 in. (Max) |
| Turning Radius: | N/A |
| Claimed Dry Weight: | 1,481 lb. (2-seat) / 1,726 lb. (Max) |
| Fuel Capacity: | 10.5 gal. |
| Warranty: | 6-month limited warranty |
| Availability: | Now |
| Contact: | can-am.brp.com |
Want to stay up to date on the latest UTV Driver news and reviews? Sign up for our weekly newsletter!