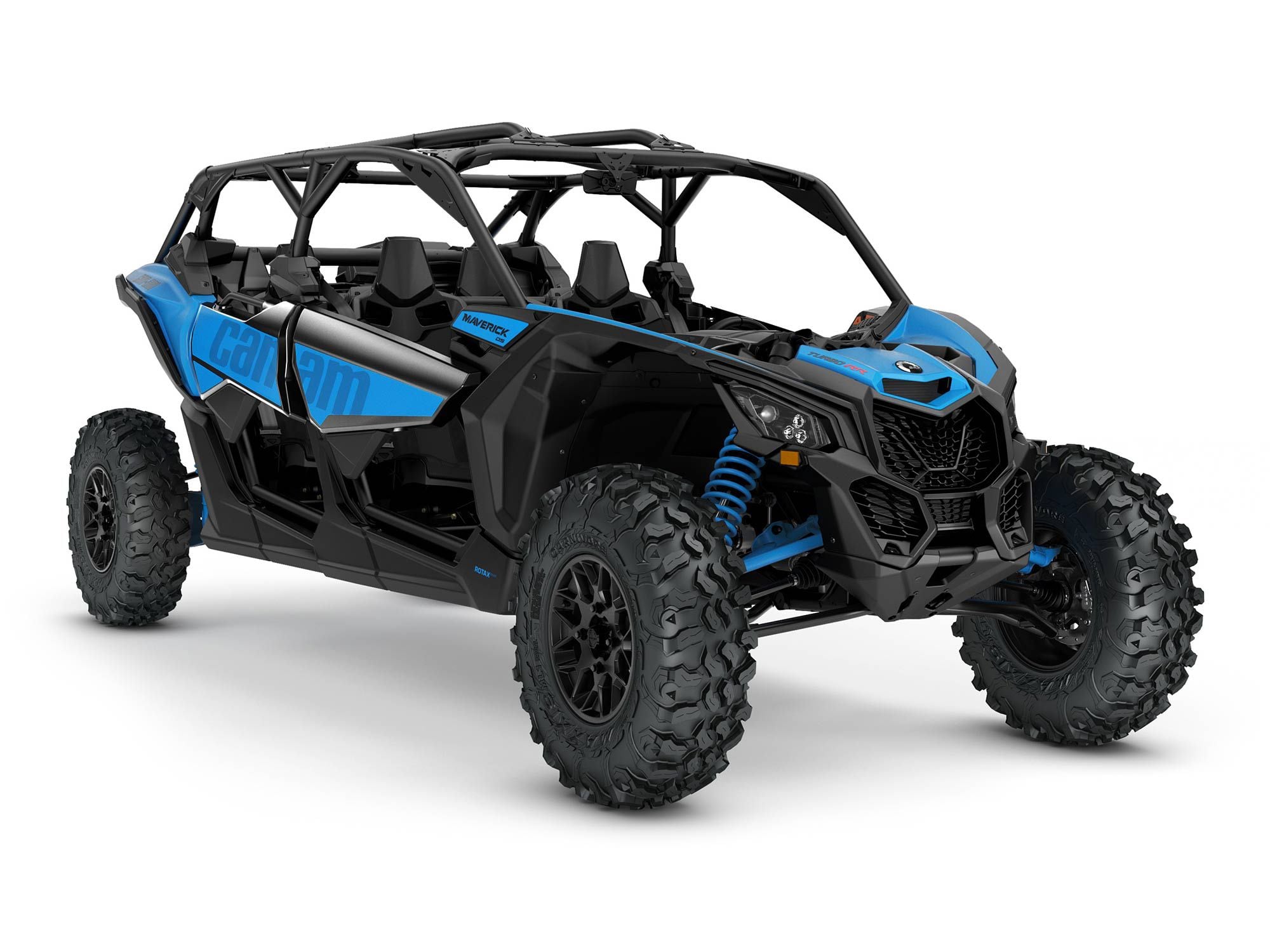 2022 Can-Am Maverick X3 Max DS Turbo RR front view in Octane Blue color. (Image Source: Can-Am/BRP/)
Ups
Adjustable Fox 2.5 Podium QS3 and RC2 suspension smooths out the gnarly stuff. Low sports car seating ergonomics. Class-leading 200 hp, turbocharged Rotax A.C.E. engine. Full Can-Am Smart-Lok differential drive mode technology. Large tires, full LED lighting package, and full underbody skid plate all standard.
Downs
Even with the elevated price, a roof still isn't standard kit. No infotainment system. No USB charging ports. Only quarter doors. The cheaper non-X models still use the older 4.5-inch digital dash display.
Verdict
The entry-level 200 hp Maverick X3 trim level is nearly all you'd ever need to rip over almost any terrain that you'd point this machine toward. It goes without the luxuries of the more expensive models, but still remains expensive itself with a $2,000 increase over the base Maverick X3 DS Turbo for the non-X trim, and a $5,900 hike for the X model with its upgraded Fox RC2 shocks and larger 7.5-inch digital dash screen.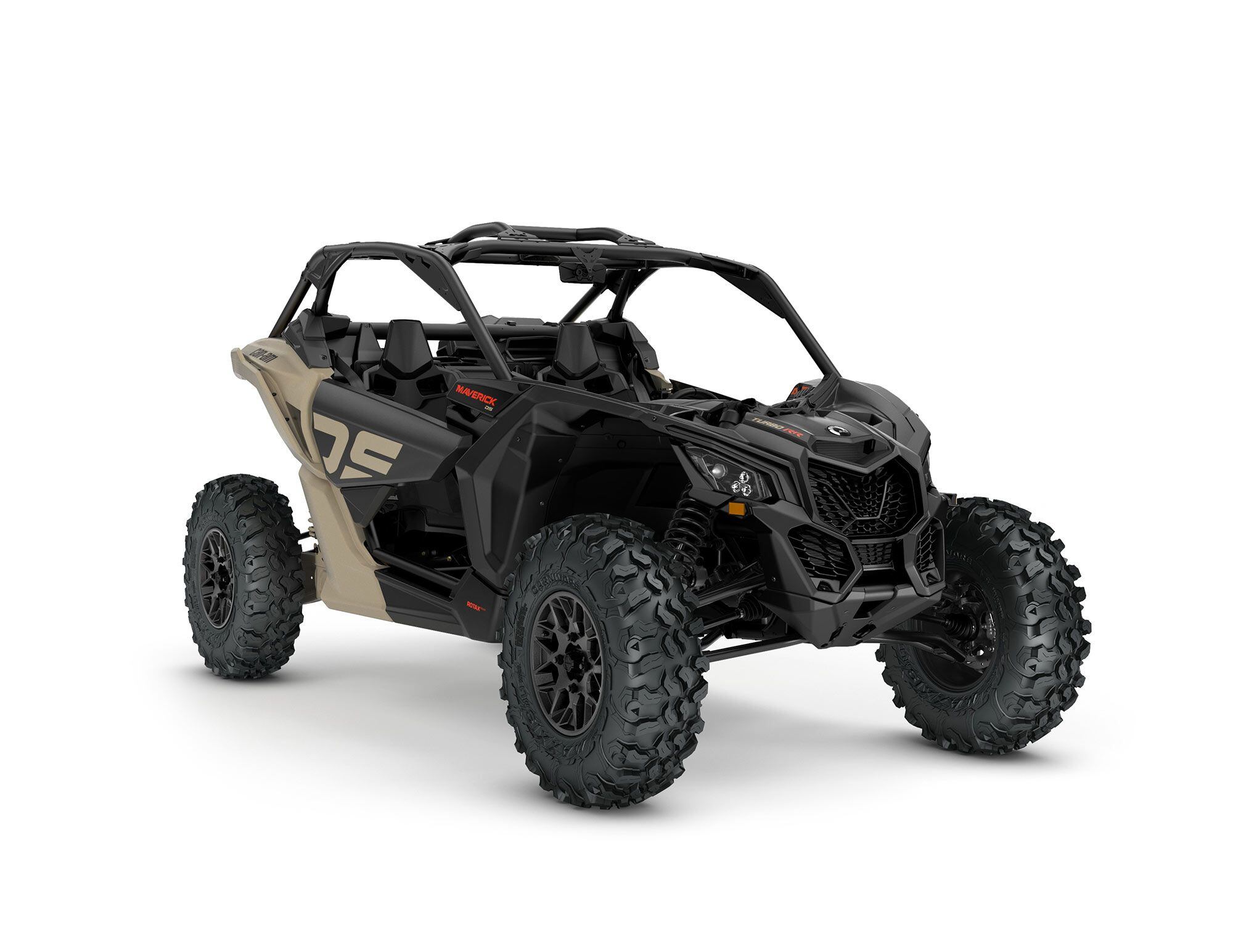 2022 Can-Am Maverick X3 X DS Turbo RR front view in Desert Tan, Carbon Black and Can-Am Red color. (Image Source: Can-Am/BRP/)
Overview
The 2022 Can-Am Maverick X3 X DS Turbo RR/Max slot into the lineup just above the base 120 hp Maverick X3 DS Turbo. You're getting upgraded suspension components, larger digital dash display, a more powerful magneto, and an additional 80 hp from the 900cc Rotax A.C.E engine.
Updates for 2022
Class-leading 200 hp from the 900cc Rotax A.C.E triple-cylinder turbocharged engine. This is up 5 hp from the previous year's 195 mark. Octane Blue has been removed as a color option for the two-seater model but remains for the four-seater.
Pricing and Which One to Buy
2022 Can-Am Maverick X3 DS Turbo RR MSRP: $21,9992022 Can-Am Maverick X3 Max DS Turbo RR MSRP: $24,9992022 Can-Am Maverick X3 X DS Turbo RR, MSRP: $25,8992022 Can-Am Maverick X3 Max X DS Turbo RR, MSRP: $28,599
Pick the one that fits your budget and has the number of seats your group of riders requires. We'd have the X3 X DS Turbo RR because we don't have any friends and plan on just sending it.
Powertrain: Engine, Transmission, and Performance
Can-Am has squeezed an additional 5 hp from the 900cc Rotax A.C.E three-cylinder turbocharged engine for 2022, now rated at a class-leading 200 hp. All that power spins up the same QRS-X CVT transmission and is controlled by an advanced Smart-Lok drivetrain system. Four modes provide manual or computer-assisted traction to either the rear axle or all four wheels. The Maverick X3 DS Turbo RR and its X variant sit near the top of the pure sport side-by-side market in terms of unadulterated performance.
Handling
The advanced Fox 2.5 Podium RC2 piggyback shocks provide dual-speed compression and full rebound adjustment on all four corners for the X model, while Fox 2.5 Podium QS3 shocks adorn the corners of the regular Turbo RR trim. Out back, you'll also get bottom-out control for both systems. Double A-arm geometry up front works in conjunction with a four-link torsional trailing-arm system in the rear to provide trophy-truck levels of handling. Each end of the Maverick X3 uses a sway bar to help control body roll during evasive maneuvers. Industry-leading suspension technology combines with a lightweight chassis and race-inspired cockpit resulting in an aggressive machine ready to sprint.
Maxxis Carnivore 30-inch-tall tires wrap 14-inch aluminum wheels (with factory beadlocks on the X trim) to put all that power to the ground.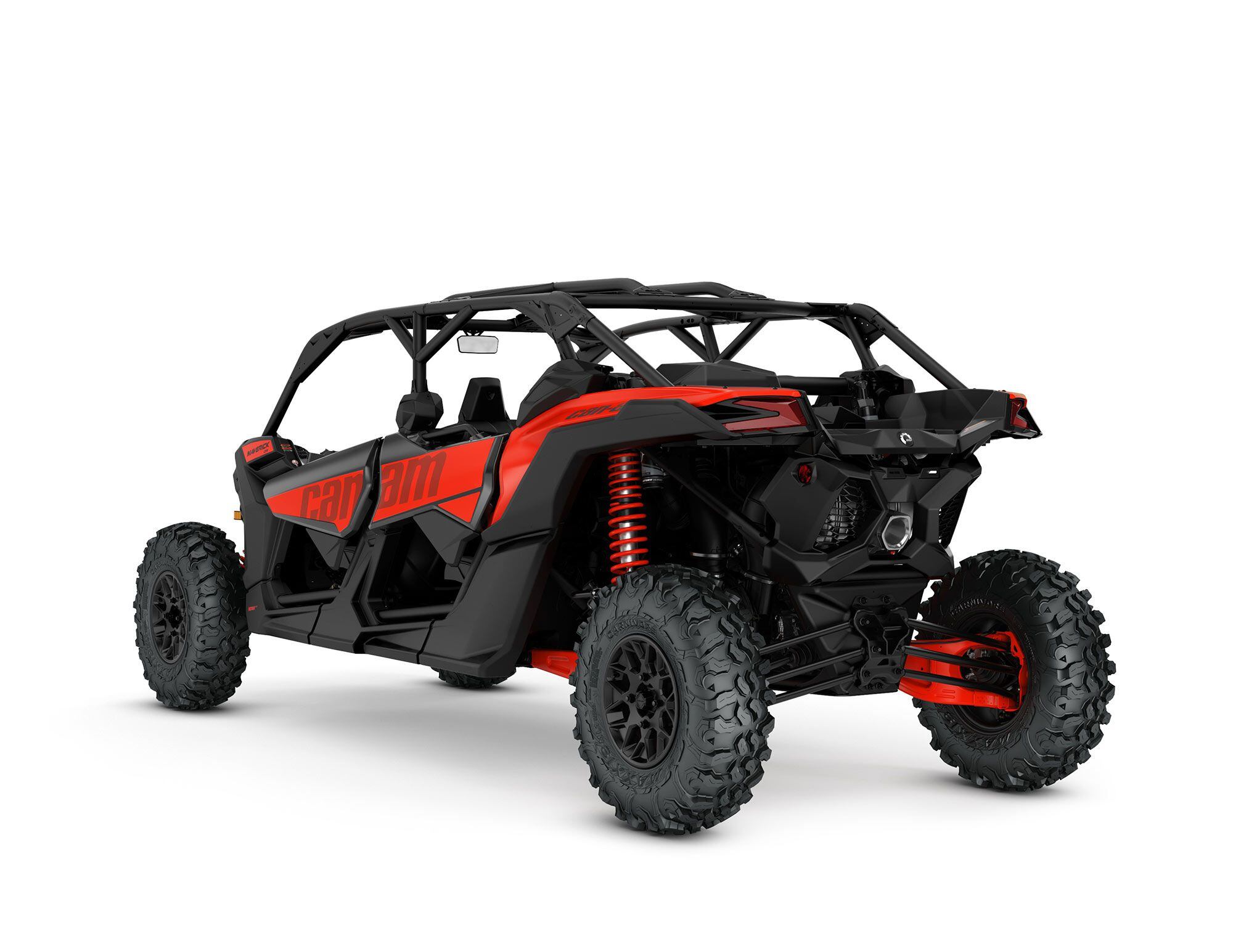 2022 Can-Am Maverick X3 Max DS Turbo RR rear view in Can-Am Red color. (Image Source: Can-Am/BRP/)
Brakes
Front dual 262mm vented disc brakes are accented by rear dual 248mm vented disc brakes. Twin-piston hydraulic calipers wrap all four discs to bring the Maverick X3 down from speed in a hurry. Taming 200 ponies in a machine that weighs 500 pounds less than a Suzuki Samurai means having a braking system that's up for anything. These brakes meet or exceed what's necessary for weekend trail riding or hitting the occasional amatuer race circuit.
Ergonomics: Comfort and Utility
Low-slung highly bolstered seats give four directions of adjustment to nail that perfect position and dial in forward visibility. A race-inspired cockpit feels aggressive with sharp lines, flat-bottom steering wheel, and large driver-centric digital gauge display. Quarter doors open from the front, working in conjunction with the D-shaped steering wheel, to ease ingress and egress. Each seat and its surrounding bodywork is prepped for five-point harnesses. Rear seats in the four-seater Max model lose the adjustability that front row presents, but still allow for five-point harnessing.
Payload/Towing
The rear rack is rated to hold 200 pounds of gear with the LinQ quick-attach system. There is no rear hitch receiver. Can-Am has included a simple tow hook for rear recoveries.
Electronics
The non-X trim retains the smaller 4.5-inch digital display from previous-generation X3 machines. On the X3 X DS Turbo RR, an upgraded 7.5-inch digital display sits directly in front of the steering wheel to provide vehicle metrics. This is not a full-color screen that most other brands are moving to. Speedometer, tachometer, odometer, trip- and hourmeters, fuel, gear position, Sport and Eco modes, seatbelt and 4×4 indicator, front and rear diff lock indicators, diagnostics, clock, battery voltage, engine temperature, and DPS mode are monitored from within the vehicle's digital display.
Full LED lighting wraps the side-by-side, powered by an 850-watt magneto that's ready to work with all your future energy-hungry modifications.
Warranty and Maintenance Coverage
Every Maverick vehicle comes with a standard six-month limited warranty. Extended warranty options are available at time of purchase.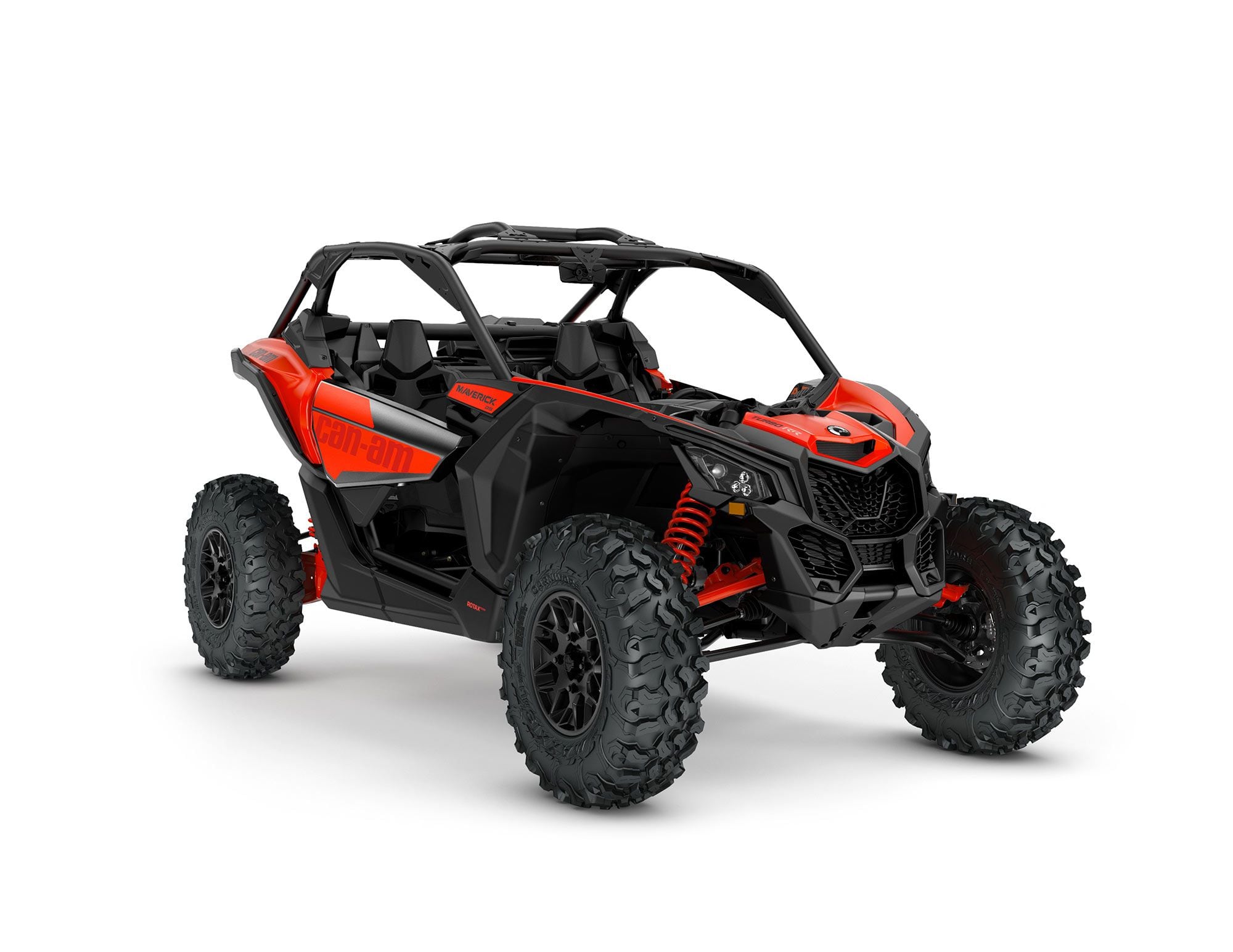 2022 Can-Am Maverick X3 X DS Turbo RR front view in Can-Am Red color. (Image Source: Can-Am/BRP/)
2022 Can-Am Maverick X3 X DS Turbo RR Specs
| | |
| --- | --- |
| MSRP: | Starting at $21, 999 |
| Engine: | Rotax A.C.E. (Advanced Combustion Efficiency) turbocharged liquid-cooled three-cylinder |
| Displacement: | 900cc |
| Bore x Stroke: | N/A |
| Compression Ratio: | N/A |
| Transmission: | PDrive primary and Quick Response System X (QRS-X) CVT w/ high airflow, high/low range, reverse; parking |
| Claimed Horsepower: | 200 hp |
| Claimed Torque: | N/A |
| Fuel System: | Intelligent Throttle Control (iTC) w/ EFI |
| Steering: | High-torque Tri-Mode Dynamic Power Steering (DPS) |
| Drivetrain: | 2WD/4WD w/ front diff lock/4WD Trail Activ/4WD Trail w/ Smart-Lok |
| Front Suspension: | Double A-arms w/ sway bar, Fox 2.5 Podium piggyback w/ QS3 compression adjustment (DS, DS Max) / w/ RC2 dual-speed compression and rebound adjustments (X DS, XDS Max); 20 in. travel |
| Rear Suspension: | 4-link Torsional Trailing-arm X (TTX) w/ sway bar, Fox 2.5 Podium piggyback w/ QS3 compression adjustment (DS, DS Max) / w/ RC2 dual-speed compression and rebound adjustments (X DS, X DS Max) and bottom-out control; 20 in. travel |
| Front Brakes: | Dual 262mm ventilated disc brakes, hydraulic 2-piston calipers |
| Rear Brakes: | Dual 248mm ventilated disc brakes, hydraulic 2-piston calipers |
| Wheels, Front/Rear: | Cast aluminum (DS, DS Max) / cast aluminum beadlock, black (X DS, X DS Max) ; 14 in. |
| Tires, Front/Rear: | Maxxis Carnivore; 30×10-14 in. |
| Length: | 132.0 in. (2-seat) / 164.0 in. (4-seat) |
| Width: | 64.0 in. |
| Height: | 65.4 (DS) / 65.7 in. (X DS) / 65.8 (DS Max) / 66.0 in. (X DS Max) |
| Wheelbase: | 102.0 in. (2-seat) / 135.0 in. (4-seat) |
| Rear Rack Capacity: | 200 lb. (2-seat) / 150 lb. (4-seat) |
| Towing Capacity: | N/A |
| Max Seating Capacity: | 2 (DS, X DS) / 4 (Max) |
| Ground Clearance: | 14.0 in. (2-seat) / 13.0 in. (4-seat) |
| Turning Radius: | N/A |
| Claimed Dry Weight: | 1,481 lb. (DS) / 1,501 lb. (X DS) / 1,726 lb. (DS Max) / 1,766 lb. (X DS Max) |
| Fuel Capacity: | 10.5 gal. |
| Warranty: | 6-month limited warranty |
| Availability: | Now |
| Contact: | can-am.brp.com |