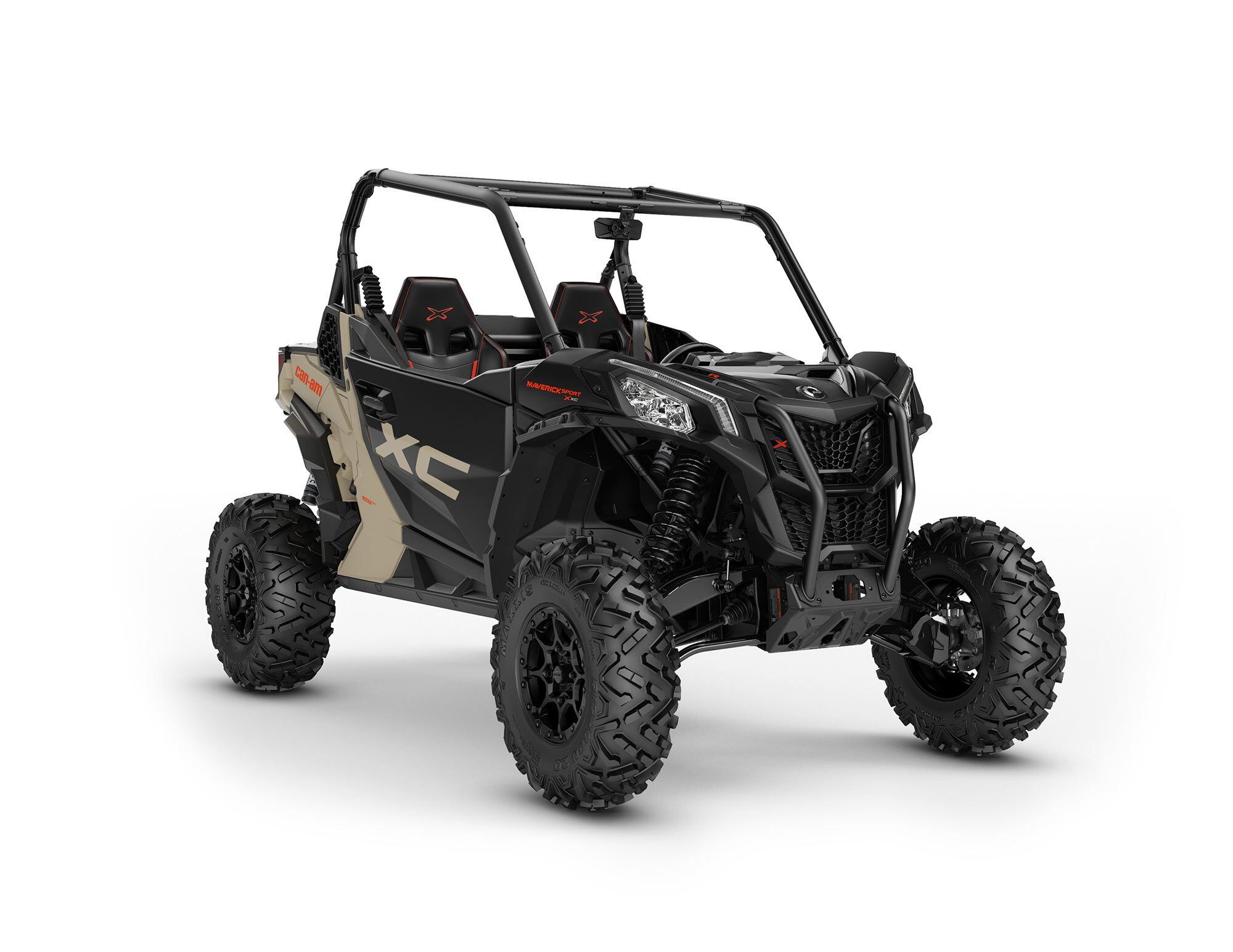 2022 Can-Am Maverick Sport X XC, with "XC" standing for cross-country. Shown in Desert Tan and Carbon Black color. (Image Source: Can-Am/BRP/)
Ups
Uniquely outfitted for specific terrain. Each comes with the 100 hp Rotax 1000R engine. Large 29-inch or 30-inch-tall tires are available for each trim package. Premium suspension components provide the best handle across the Maverick Sport lineup. Smart-Lok with 4WD Trail Activ mode is standard.
Downs
No standard roof. Can be hard to find these more specialized model trims. By focusing more on one type of riding terrain, overall performance is decreased across all terrain. No four-seater chassis offered.
Verdict
For those riding the same local terrain, the Maverick Sport X trims make a ton of sense. Buyers get more ground clearance, better suspension, and more intelligent off-road drive modes to conquer the trail ahead of them. All this added Maverick Sport performance comes at a price, however, as these premium-tier trim packages all start above $20,000.
Overview
The XC, MR, and RC Maverick Sport X trims are purpose built for the terrain you're most likely to encounter. They do away with the initial customization required when purchasing a more generic trim level machine, letting buyers go straight for the black trails at their local OHV park. Note that the XC trim goes without a winch and color-matched frame components that are found on the MR and RC trims. The XC does include a central rearview mirror, as does the RC, but the MR goes without.
Updates for 2022
No major upgrades for the 2022 model year.
Pricing and Which One to Buy
2022 Can-Am Maverick Sport X XC, MSRP: $20,599
2022 Can-Am Maverick Sport X MR MSRP: $21,499
2022 Can-Am Maverick Sport X RC MSRP: $21,899
Deciding which performance trim package to buy depends solely on where you're riding. We typically hit tight, technical, rocky trails, so we'd probably reach for the XC. If you live in mud country, then grab the MR and don't look back. If you're frequenting places like Moab, then you'll probably want the RC in your fleet.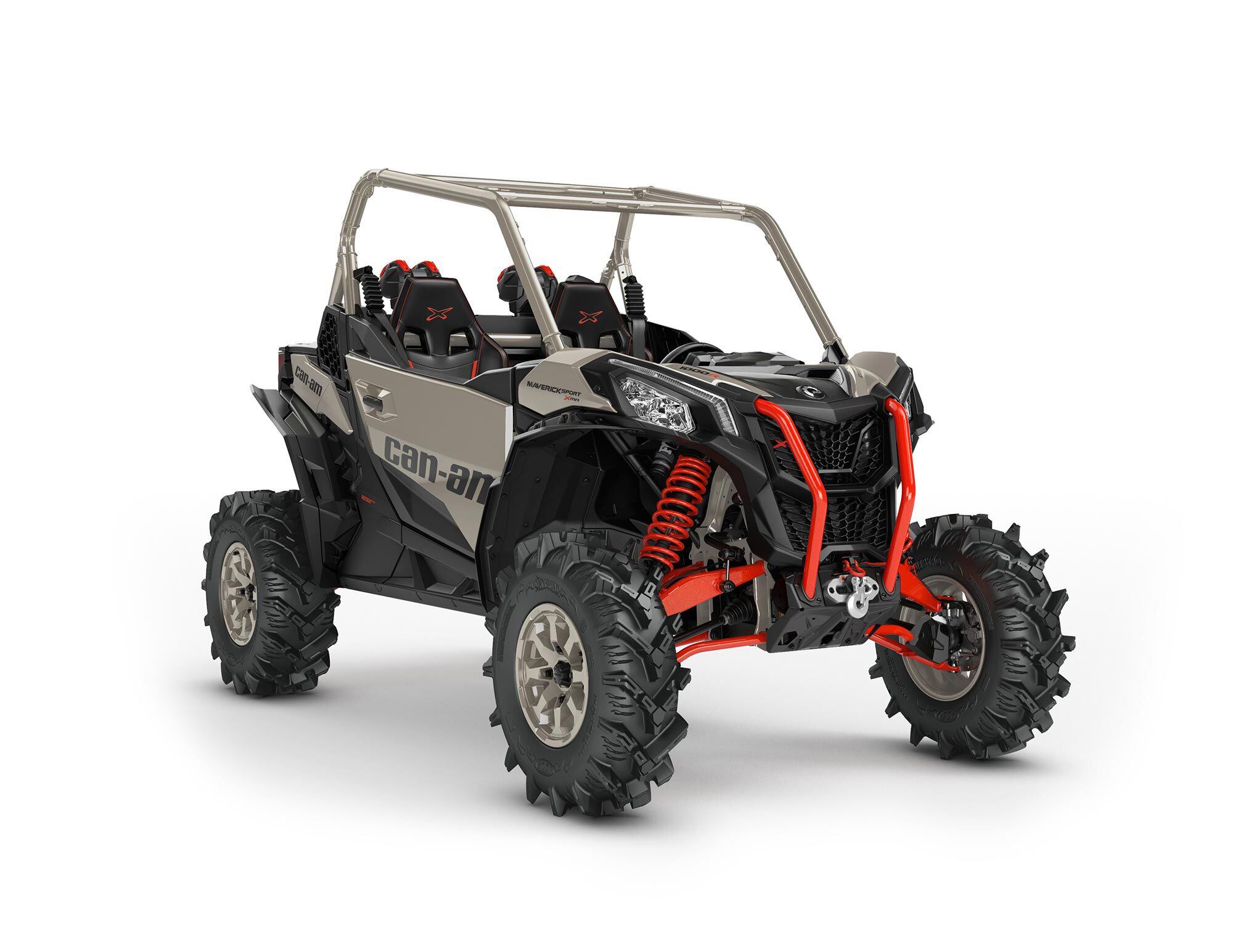 2022 Can-Am Maverick Sport X MR, with "MR" standing for mud-rated. Shown in Liquid Titanium and Magma Red color. (Image Source: Can-Am/BRP/)
Powertrain: Engine, Transmission, and Performance
Each model trim is powered by the naturally aspirated Rotax 1000R 976cc V-twin engine producing 100 hp. Electronic driving modes allow on-the-fly adjustment to refine power delivery to the quick-response CVT transmission. Electronic drive belt protection works to reduce belt wear across two forward gears and reverse.
Smart-Lok technology works to increase traction across the front axle while the differential is unlocked. A true locking front differential is also standard for when the going gets tough.
Handling
Fox 2.5-inch Podium QS3 Piggyback shocks sit on all four corners across all three rigs to provide excellent handling characteristics at all speed levels. Simple damping adjustments allow for precise control depending on how you attack your favorite trails. Front and rear sway bars keep body roll in check but do limit total articulation on more technical routes. Power steering assists in smoothing out bump steer and helps to reduce driver fatigue over longer days behind the wheel.
Brakes
At each corner 220 millimeter disc brakes bring speeds down quickly. Twin-piston calipers work all four discs to limit brake fade under even the most demanding descents. While brake feel isn't race-spec, it's adequate for weekend warriors.
Ergonomics: Comfort and Utility
Vehicle comforts are sparse but adequate. With a focus more on utility, the Maverick Sport goes without that premium feel you'll get with more luxurious side-by-side models. Nevertheless, the bolstered bucket seats keep both driver and passenger in place, limit hot spots, and provide adequate forward visibility. Steering wheel and interior controls are all within an arm's reach and, for the most part, seem intuitively designed. The Maverick Sport X machines are built for tackling trails, not showing off at a car show.
Payload/Towing
The rear cargo area is rated at 300-pound capacity. The 2-inch hitch receiver is rated for 1,500 pounds of towing capacity.
Electronics
Main electronics are controlled from a 7.6-inch digital dash display with a keypad. Speedometer, tachometer, odometer, trip- and hourmeters, fuel, gear position, Sport and Eco modes, seatbelt and 4×4 indicator, front and rear diff lock indicators, diagnostics, clock, battery voltage, and engine temperature are all available within the system settings.
Warranty and Maintenance Coverage
Each vehicle comes with a six-month BRP limited warranty. Extended options are available at time of purchase.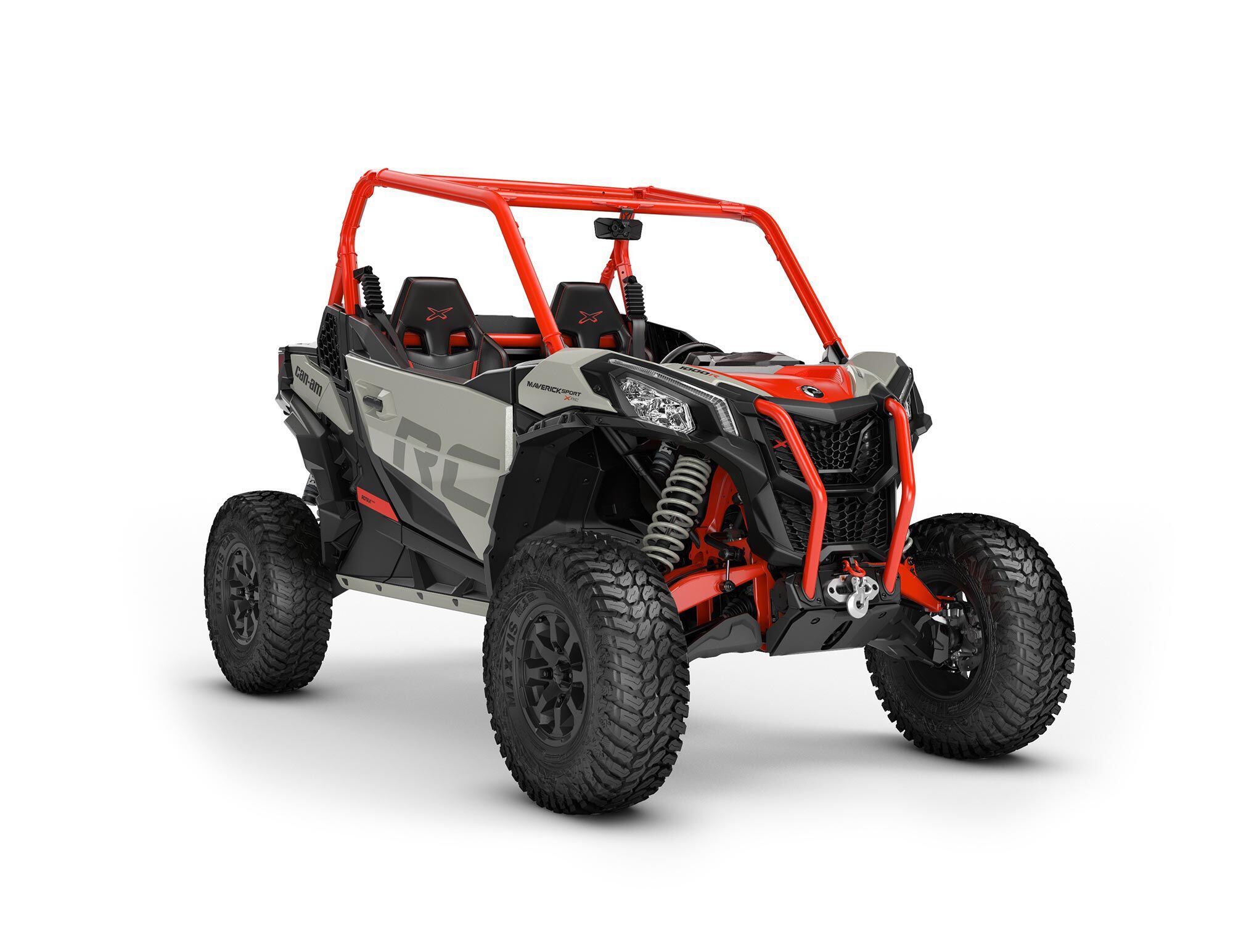 2022 Can-Am Maverick Sport X RC, with "RC" standing for rock crawler. Shown in Chalk Gray and Magma Red color. (Image Source: Can-Am/BRP/)
2022 Maverick Sport X XC, MR, RC Specs
| | |
| --- | --- |
| MSRP: | Starting at $20,599 |
| Engine: | Rotax liquid-cooled V-twin (XC, RC) / Rotax liquid-cooled V-twin w/ strategically positioned engine air intake (MR) |
| Displacement: | 976cc |
| Bore x Stroke: | N/A |
| Compression Ratio: | N/A |
| Transmission: | Quick Response System (QRS) CVT w/ high-airflow ventilation, Electronic Drive Belt Protection w/ extra-low/high range, reverse; parking (XC, RC) / Quick Response System (QRS) CVT w/ high-airflow ventilation, strategically positioned CVT air intakes and exhausts, lower gearing ratio and Electronic Drive Belt Protection (MR); w/ extra-low/high range, reverse; parking |
| Claimed Horsepower: | 100 hp |
| Claimed Torque: | N/A |
| Fuel System: | Intelligent Throttle Control (iTC) w/ EFI |
| Steering: | Dynamic Power Steering (DPS) |
| Drivetrain: | 2WD/4WD w/ front diff lock/4WD Trail Activ/4WD Trail (XC) / 2WD/4WD w/ front diff lock/4WD Mud/4WD Trail (MR) / 2WD/4WD w/ front diff lock/4WD Rock/4WD Trail (RC); w/ Smart-Lok |
| Front Suspension: | Arched double A-arms w/ sway bar, Fox 2.5 Podium Piggyback w/ QS3; 14.8 in. travel |
| Rear Suspension: | Arched TTA w/ sway bar, Fox 2.5 Podium Piggyback wi/ QS3; 14.8 in. travel |
| Front Brakes: | Hydraulic 2-piston calipers, dual 220mm discs |
| Rear Brakes: | Hydraulic 2-piston calipers, dual 220mm discs |
| Wheels, Front/Rear: | Cast aluminum; 14 in. beadlock (XC) |
| Tires, Front/Rear: | Maxxis Bighorn 2.0; 29×9-14, 29×11-14 (XC) / ITP Cryptid; 30×9-14, 30×11-14 / Maxxis Liberty; 30×10-14, 30×10-14 (RC) |
| Length: | 122.0 in. |
| Width: | 64.0 in. |
| Height: | 74.25 in. |
| Wheelbase: | 90.6 in. |
| Bed Capacity: | 300 lb. |
| Towing Capacity: | 1,500 lb. |
| Max Seating Capacity: | 2 |
| Ground Clearance: | 14.0 in. (XC) / 15.0 in. (MR, RC) |
| Turning Radius: | N/A |
| Claimed Dry Weight: | 1,428 lb. (XC) / 1,617 lb. (MR) / 1,593 lb. (RC) |
| Fuel Capacity: | 10.0 gal. |
| Warranty: | 6-month BRP limited warranty |
| Availability: | Now |
| Contact: | can-am.brp.com |