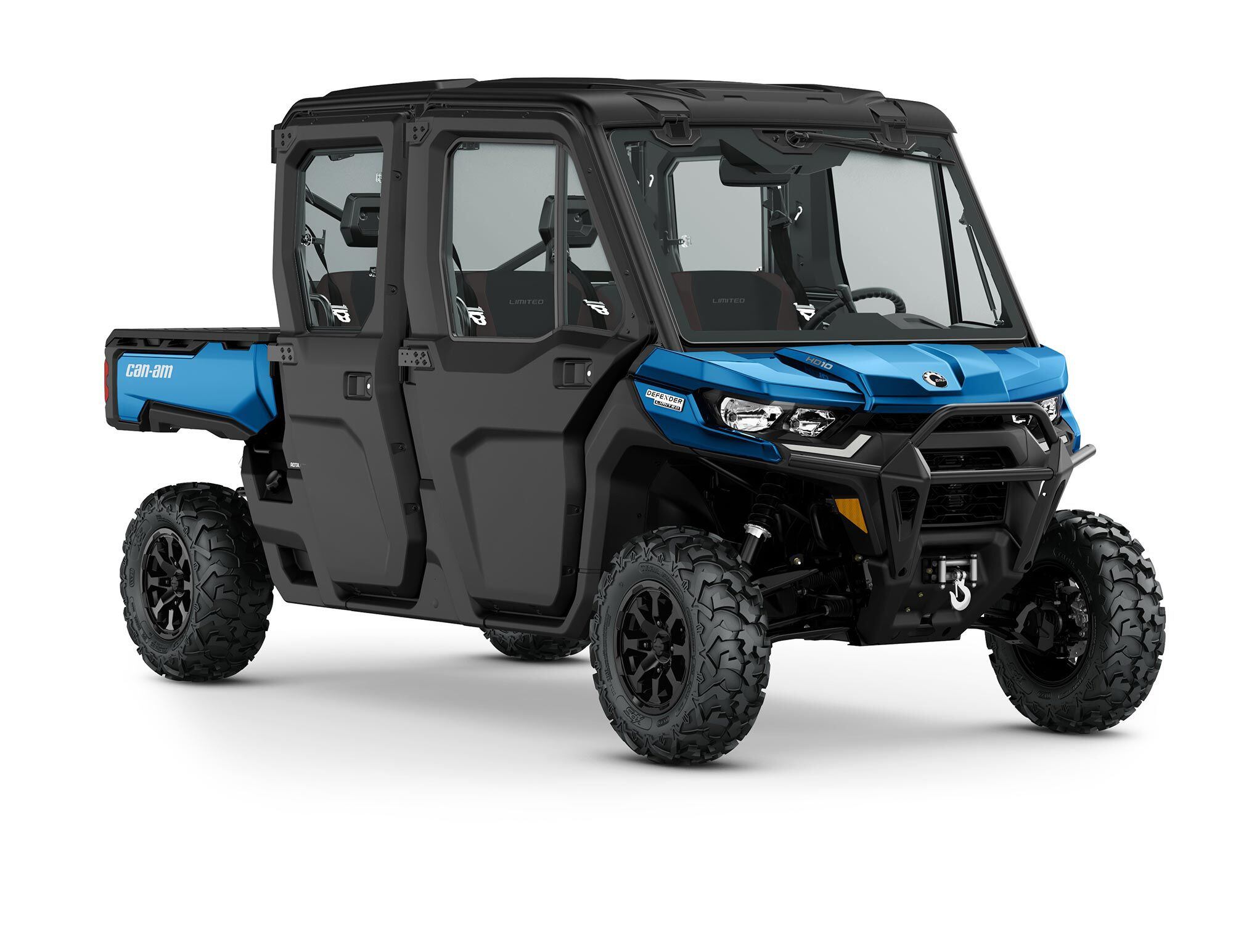 The 2022 Can-Am Defender Max Limited in Oxford Blue (Can-Am/)
Ups
Fully sealed cab, heating and air conditioning, strong engine, great ride—as far as utility UTVs go, this one definitely checks all the boxes.
Downs
No factory audio and no upgraded shock options for the Defender Limited.
Verdict
For those in harsh climates, the work must still go on. The Defender Limited offers a fully sealed cab with roll-up windows and a factory HVAC system. With onboard heating and air conditioning, passengers can cruise in total comfort. The extra amenities do come with a penalty, however, as the Limited models sport a payload rating that is 300–400 pounds less than the lower-trim models. Still, the increase in comfort is more than worth the price of admission.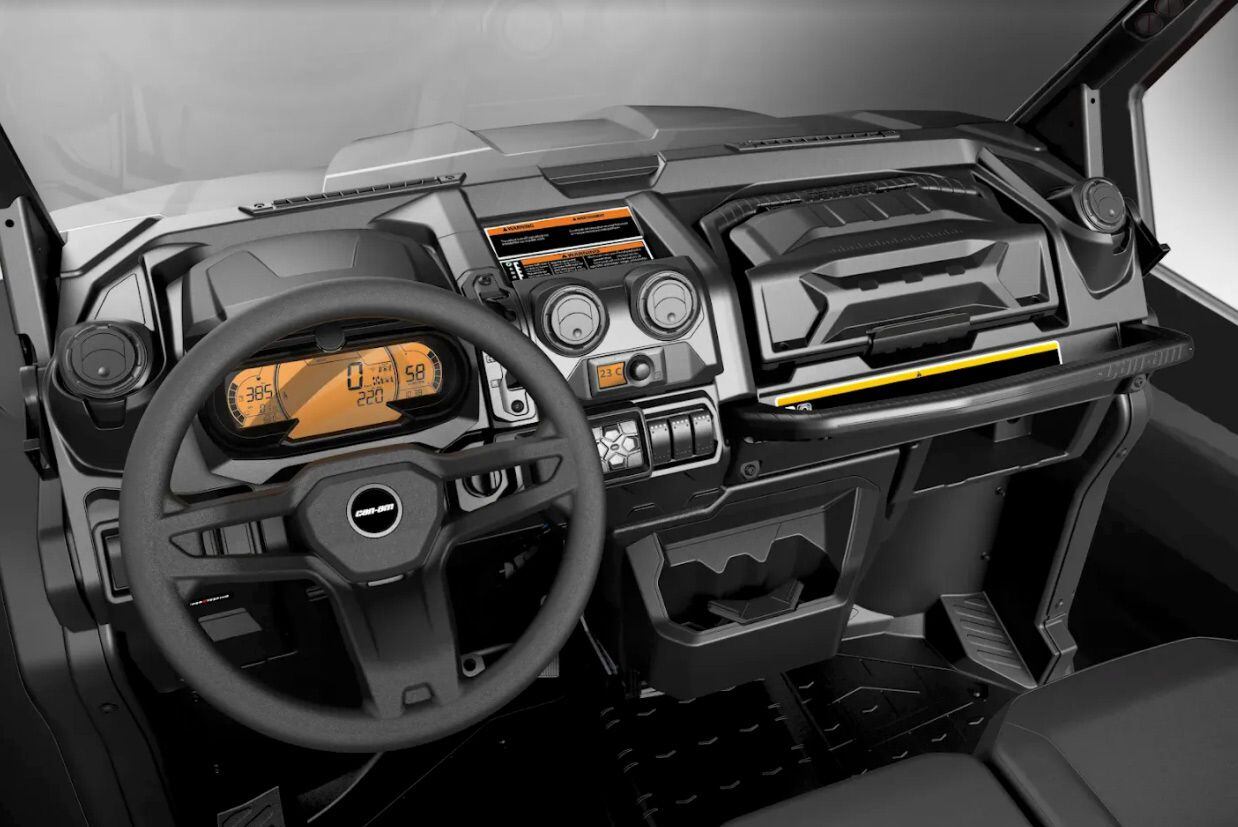 Limited models receive a nicely trimmed interior complete with a fully functional heating and air conditioning system and sealed cab with hard doors and power windows. (Can-Am/)
Overview
Available in three-seat or six-seat (Max) configurations, the Defender Limited is the range-topping luxury trim for those who want to be comfortable while they work in the outdoors. Limited models come with a full hard roof with a liner and interior dome light, a fully sealed cab with opening doors, power windows, and a tilting (in three positions) glass windshield, and more. The Limited piles on the amenities that make the Defender more livable in extreme weather, and also offers occupants a reprieve from the outside elements, keeping the interior much cleaner when the cab is closed up.
Updates for 2022
Nothing new for '22 when it comes to Defender Limited and Defender Max Limited. This trim gets the range-topping HD10 engine, rated at 82 hp and 69 pound-feet of torque. Two other Defender engines saw changes this year, but the HD10 did not.
Pricing and Which One to Buy
The 2022 Can-Am Defender Limited (three-seat) model starts at $26,099, not including Can-Am's $250 commodity surcharge or any dealer fees. Six-seat Max Limited models start at $28,799. For the nearly $15,000 upcharge over the Defender base model, here is what you get:
• HD10 Rotax 82 hp V-twin engine (base model produces 52 hp)
• 65 in. wide with arched A-arms (base is 62 in. wide)
• LED Signature lighting
• 14 in. cast aluminum wheels
• Versa-Pro bolster bench seat with reinforced Limited seat skin and adjustable driver seat
• HMWPE (High Molecular Weight Polyethylene) full skid plate
• 4,500 lb. (2,014kg) winch
• XT front bumper
• Full hard roof with liner and interior dome light
• Full doors with windows which open electrically
• Full-glass three-position tilt-up windshield with wiper/washer kit
• Rear glass window
• Full hard roof with liner and interior dome light
• Auto heating and air-conditioning (HVAC) climate system
• 7.6 in. digital display with keypad
• Brake holding mechanism (parking brake)
• Panoramic mirror
• Mossy Oak Break-Up Country camo water-dipped option
If you live where the temperature is either freezing, boiling, or both, the Limited will make time spent behind the wheel much more enjoyable.
Powertrain: Engine, Transmission, and Performance
The Defender Limited models use the range-topping HD10 Rotax V-twin. It produces 82 hp and 69 pound-feet of torque from its 976cc of displacement. This puts it in close competition with the Polaris Ranger XP 1000 NorthStar, which is also rated at 82 hp from an engine of similar size. Note that the AC system will also cause some parasitic drag and power loss when in use, so sporty driving is best done with the AC off.
The Defender Limited uses a CVT belt-driven transmission to put power to the ground. An electronically controlled 4WD system comes standard, and offers turf mode for turning on soft surfaces. The Limited model gets Can-Am's basic Visco-Lok front differential, unlike the X MR models that get the higher-end Smart-Lok differential.
Handling
Defender Limited models ride on 27-inch Maxxis Bighorn 2.0 tires and twin-tube, gas-charged shocks. With 10 inches of suspension travel available from both ends, the Defender rides well for its intended purpose. The cab adds an extra layer of isolation and comfort to the Defender's ride, but also detracts from its handling prowess slightly.
Brakes
Each corner gets 220mm discs, with twin-piston calipers at the front and single-piston (three-seat) or twin-piston (Max) calipers at the rear.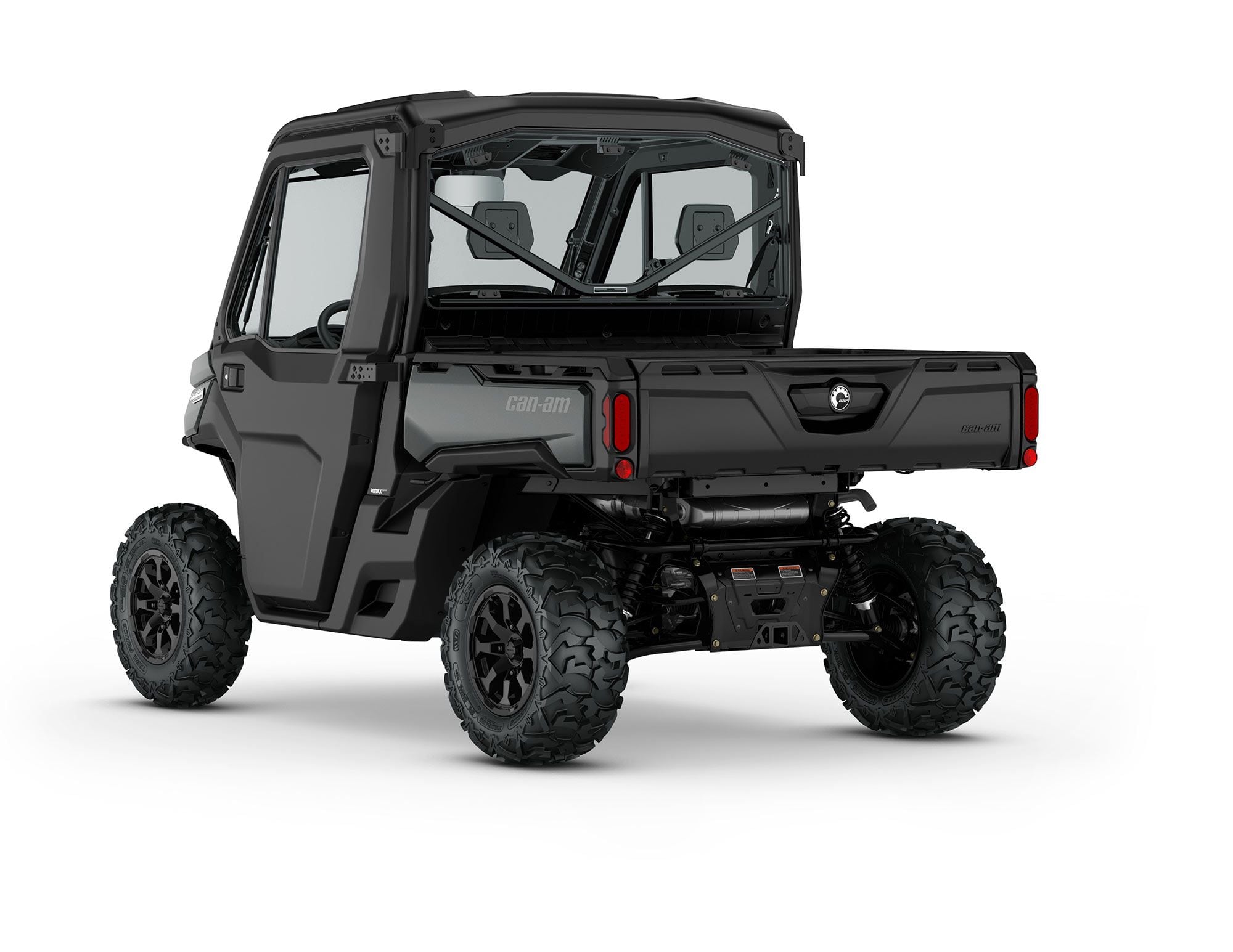 With a 1,000-pound-capacity dump bed, the Defender Limited will not shy away from work or play. (Can-Am/)
Ergonomics: Comfort and Utility
The Defender Limited's full doors open in suicide fashion, making ingress and egress easy. The push-button-operated windows are a neat feature as well. The Defender's sweet dash-mounted toolbox is a nice addition, and can now be locked inside the cab for added security. The ability to leave the HVAC system running while you're working means the world to some, and we can see why. Having some reprieve from the heat on 100-degree (and hotter) days is a nice feature.
Max models remain the storage master, with swing-up seats that allow easy access to a massive floor pan that can now be sealed with a door on either end. When it comes to carrying cargo, the Defender Max Limited is king, as long as it doesn't go over the 1,300-pound payload limit.
Payload/Towing
Three-seat Defender Limited models have a bed capacity of 1,000 pounds, a max tow rating of 2,500 pounds, and a payload limit of 1,200 pounds. Six-seat Defender Max Limited models have a bed capacity of 1,000 pounds, a max tow rating of 2,500 pounds, and a payload limit of 1,300 pounds. California models have a 600-pound bed capacity.
Electronics
Neither model has a fancy electronics suite, but they do come with Can-Am's upgraded 7.6-inch digital display with keypad. This handles all of the standard vehicle instrumentation duties. The HVAC system has an automatic climate control function as well.
Warranty and Maintenance Coverage
One-year limited warranty is standard, with up to 30 months via an optional B.E.S.T. Can-Am extended warranty.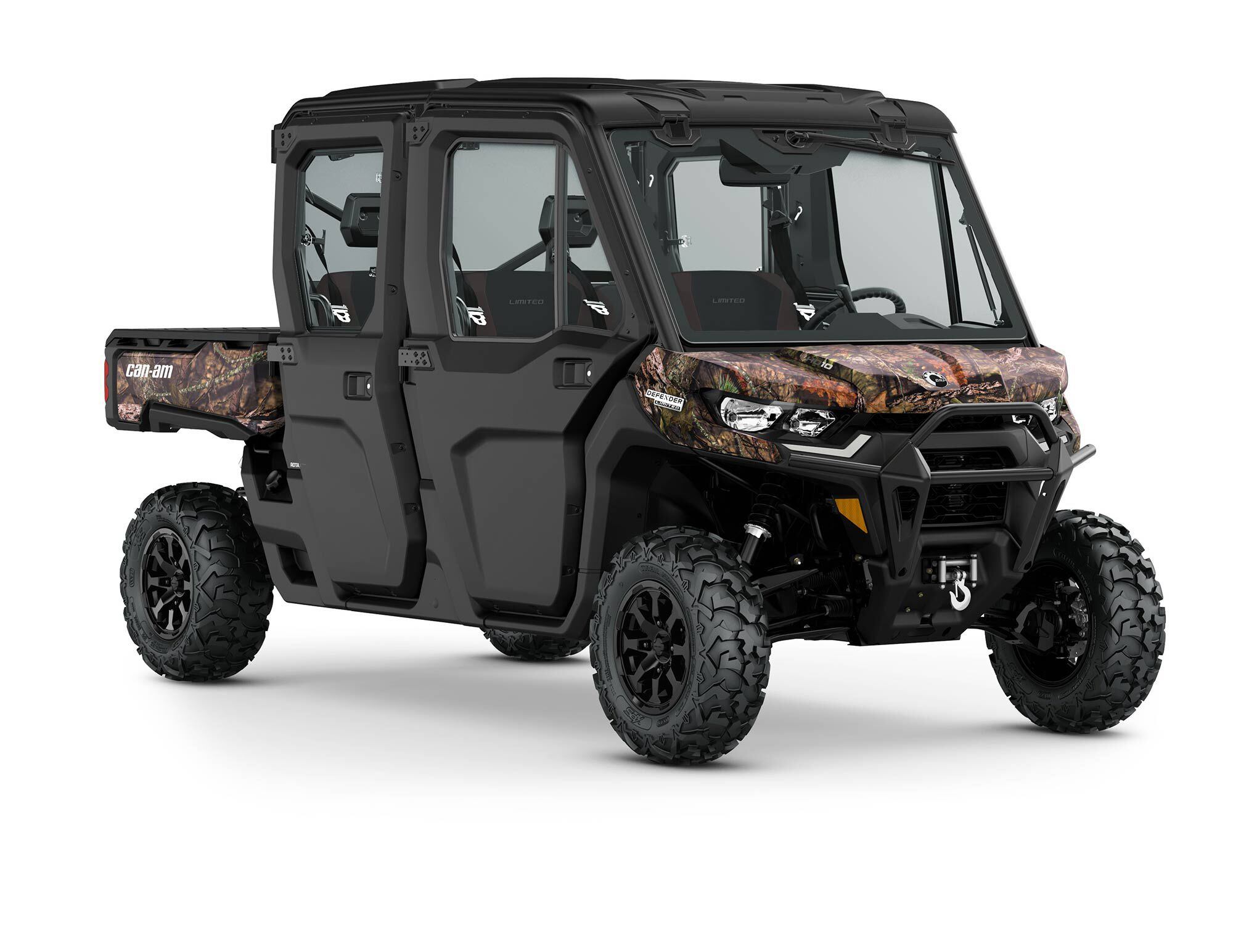 Defender Limited and Max Limited models are available in this Mossy Oak Break-Up Country camo water-dipped option. (Can-Am/)
2022 Can-Am Defender Limited/Max Limited Specs
| | |
| --- | --- |
| MSRP: | $26,099 (3-seat) / $28,799 (Max) |
| Engine: | Liquid-cooled Rotax HD10 V-twin |
| Displacement: | 976cc |
| Bore x Stroke: | 91.0 x 75.0mm |
| Compression Ratio: | N/A |
| Transmission: | Pro-Torq CVT w/ Quick Response System (QRS), extra low/high range, reverse; park |
| Claimed Horsepower: | 82 hp |
| Claimed Torque: | 69 lb.-ft. |
| Fuel System: | Intelligent Throttle Control w/ EFI |
| Steering: | Dynamic Power Steering (DPS) |
| Drivetrain: | Selectable Turf mode/2WD/4WD w/ Visco-Lok auto-locking front differential |
| Front Suspension: | Arched double A-arms w/ sway bar, twin-tube gas shocks; 10.0 in. travel |
| Rear Suspension: | Arched Torsional Trailing Arm (TTA) w/ sway bar, twin-tube gas shocks; 10.0 in. travel |
| Front Brakes: | Hydraulic 2-piston calipers, 220mm discs |
| Rear Brakes: | Hydraulic 1-piston calipers (3-seat) / hydraulic 2-piston calipers (Max), 220mm discs |
| Wheels, Front/Rear: | Aluminum; 14 in. |
| Tires, Front/Rear: | Maxxis Bighorn 2.0; 27×9-14 / 27×11-14 |
| Length: | 126.0 in. (3-seat) / 158.0 in. (Max) |
| Width: | 65.0 in. |
| Height: | 79.0 in. |
| Wheelbase: | 83.0 in. (3-seat) / 115.5 in. (Max) |
| Bed Capacity: | 1,000 lb./600 lb. (CA-only) |
| Towing Capacity: | 2,500 lb. |
| Max Seating Capacity: | 3 / 6 (Max) |
| Ground Clearance: | 12.0 in. |
| Turning Radius: | N/A |
| Claimed Dry Weight: | 1,928 lb. (3-seat) / 2,337 lb. (Max) |
| Fuel Capacity: | 10.6 gal. |
| Warranty: | 1 year BRP limited warranty |
| Availability: | Now |
| Contact: | can-am.brp.com |