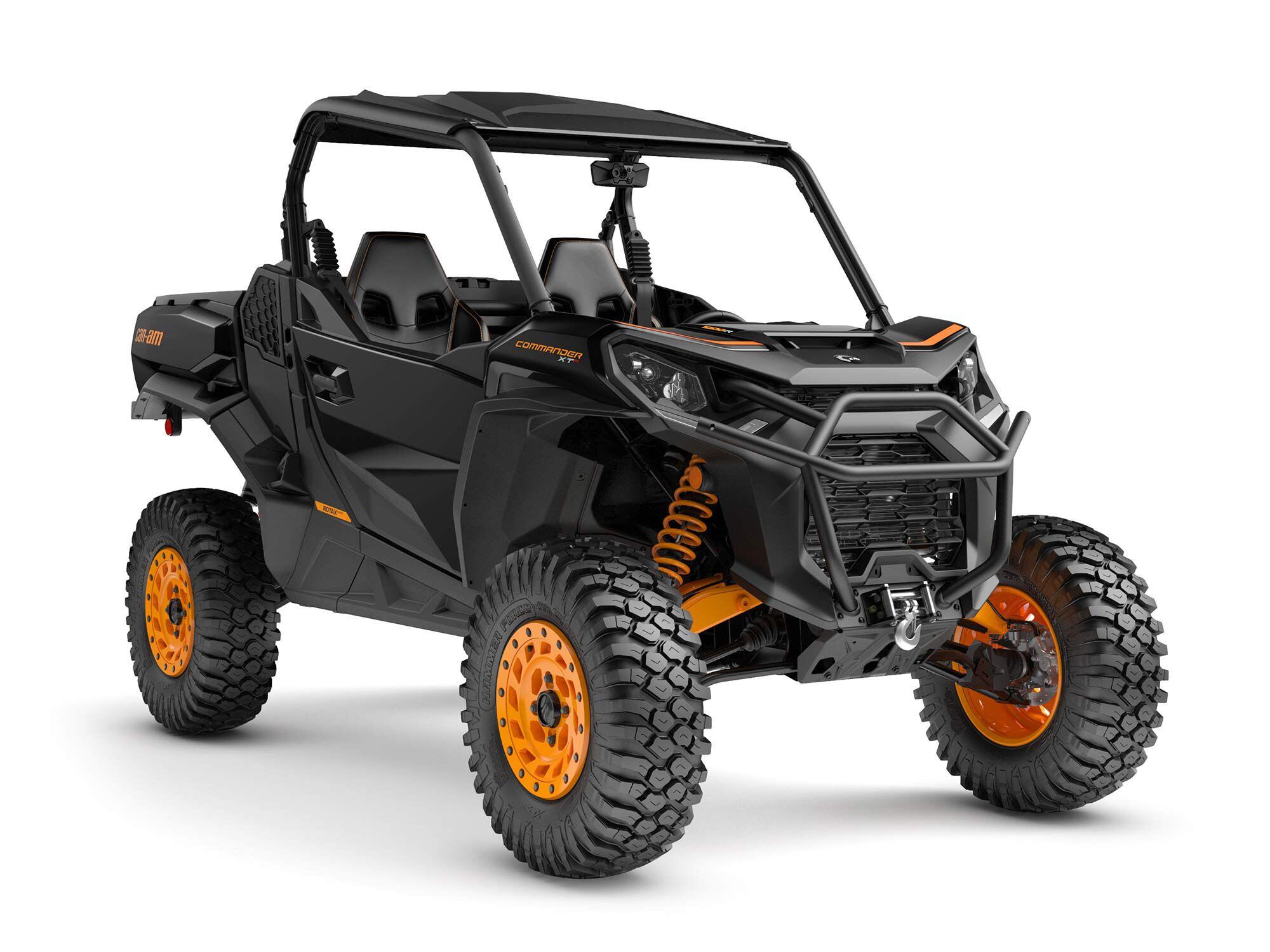 The 2022 Can-Am Commander XT-P sits at the top of the company's sport-utility side-by-side offerings, with a long list of upgrades over the base model and 100 horsepower from a 976cc v-twin. (Can-Am/)
Ups
More suspension travel than the base Commander DPS, aluminum wheels, a roof panel, up to 15 inches of suspension travel, arched A-arms.
Downs
The 700 model makes do with less suspension travel and horsepower, but saves $4,200 over the 1000R.
Verdict
The Can-Am Commander XT and XT-P take the Commander line into the realm of a premium side-by-side, offering cosmetic and functional features far beyond the base model's. Despite increased travel and performance, they retain their hard-working ethos.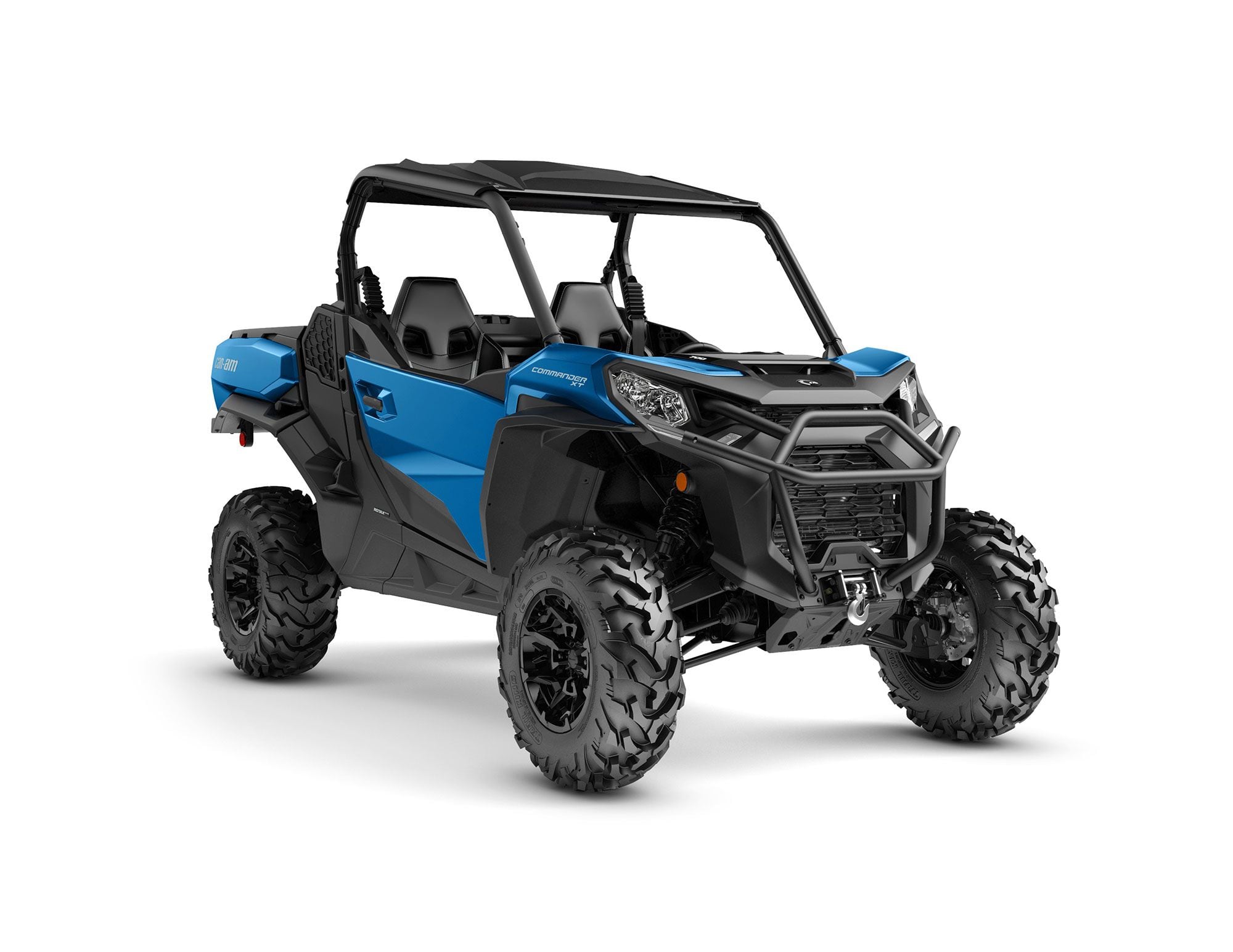 The 2022 Can-Am Commander XT gets 28-inch tires, 15 inches of suspension travel, and a roof, bumper, and winch. (Can-Am/)
Overview
With more suspension travel, a bumper, roof panel, 4,500-pound winch, and aluminum wheels, the XT and XT-P look and feel more premium than the base model. The XT-P adds Fox suspension, 15-inch wheels, and 30-inch XPS Hammer Force tires to the mix, adding functionality and an almost aftermarket flare that's rare in a stock side-by-side. The base XT is available in either 1,000cc or 650cc guise, but the Max and XT-P are 1,000cc only.
Updates for 2022
None.
Pricing and Which One to Buy
2022 Can-Am Commander XT 700: $15,299
2022 Can-Am Commander XT 1000R: $19,499
2022 Can-Am Commander XT-P: $22,699
2022 Can-Am Commander Max XT: $22,299
2022 Can-Am Commander Max XT-P: $24,699
If you cannot afford the nearly $20,000 tithe for the cheapest of the 1,000cc models, you're stuck with the Commander XT 700, which is a very good rig for what it is. It won't win any races, but it will certainly keep you entertained.
If you can afford the extra cash for the bigger engine, our pick would be to spring for the XT-P. It has much nicer Fox suspension than the base XT, and the 30-inch tires at all four corners save you from having to go straight to the aftermarket. Almost $23,000 is nothing to sneeze at, but it also means you won't have as much customization to do.
Powertrain: Engine, Transmission, and Performance
The Commander XT 700 gets a 52 hp, 650cc Rotax single mounted to Can-Am's aging PDrive CVT with engine-braking and electronic belt protection.
Every other model gets the 100 hp, 976cc Rotax V-twin backed by the Quick Response System CVT that features high-airflow ventilation, electronic belt protection, and an extra-low gear.
Handling
Arched A-arms across the board and another inch of suspension travel over the base Commander mean the XT and XT-P are a lot more sure-footed off-road. The standard XT makes do with twin-tube gas shocks at all four corners suspending staggered 14-inch wheels and tires. It's no slouch, but the XT-P makes it look positively rudimentary, with Fox suspension and 30-inch tires front and rear.
With the nicer rolling stock and shocks, the XT-P should handle leagues better than the standard rig.
Brakes
Across the range are 220mm discs clamped by two-piston calipers at all four corners.
Ergonomics: Comfort and Utility
Decently padded, highly bolstered seats and three-point seatbelts keep occupants comfortable and in place. The seats get contrast stitching in XT-P trim. The LCD screen jumps up to 7.6 inches wide in the XT and XT-P, and gets a keypad. It has a speedometer and tachometer, odometer, tripmeter, hourmeter, drive mode indicator, diff-lock indicator, diagnostic warnings, and temperature readouts.
Out back, the bed is rated to carry 600 pounds and there is a 2-inch automotive-style hitch receiver.
Payload/Towing
The bed is rated to carry 600 pounds, and the Can-Am claims the Commander can tow 2,000 pounds.
Electronics
The big digital gauge readout and 4,500-pound winch are stock.
Warranty and Maintenance Coverage
Six months, limited.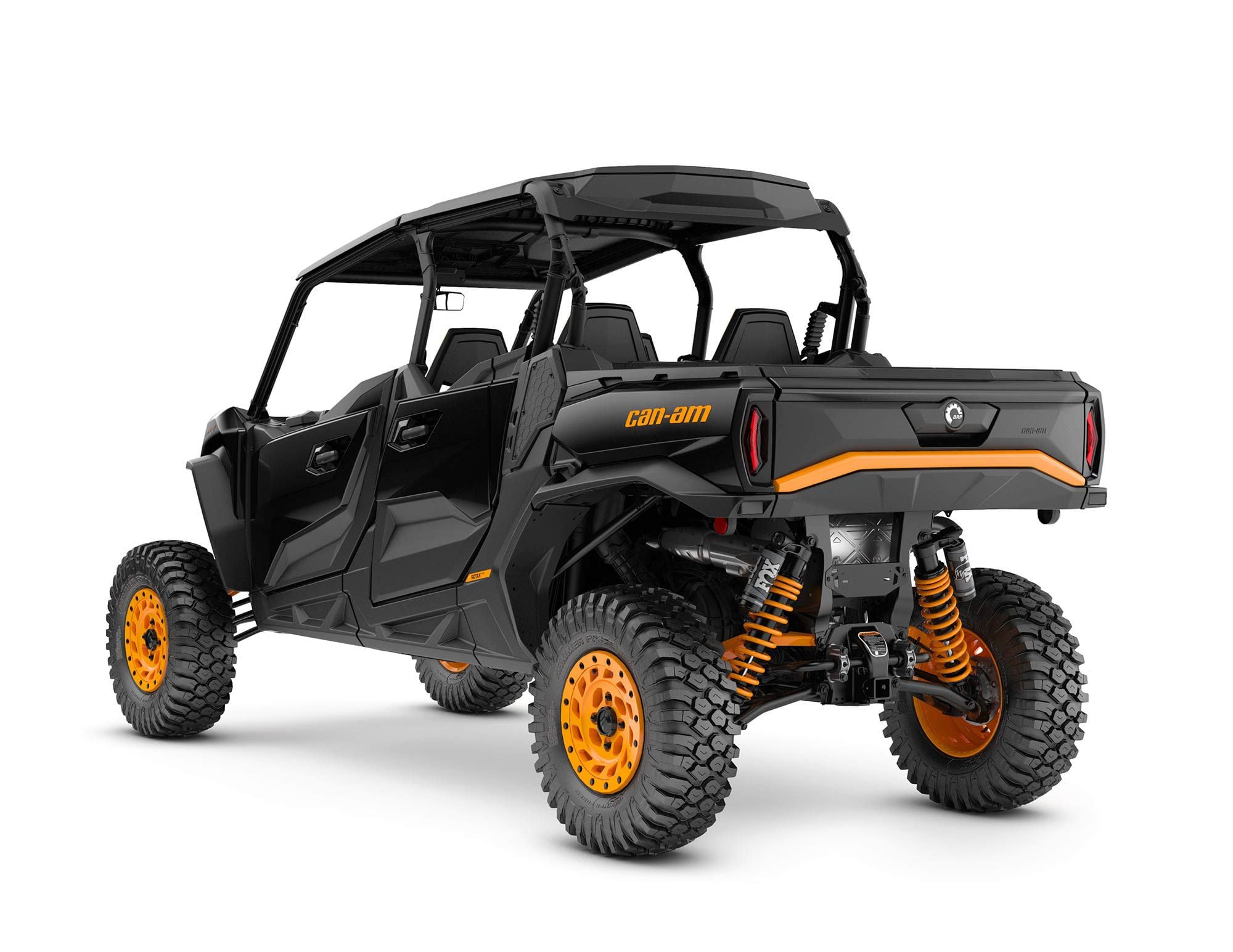 Both the XT and the XT-P are available in four-door configuration. (Can-Am/)
2022 Can-Am Commander XT Specs
| | |
| --- | --- |
| MSRP: | $15,299 (XT 700) / $19,499 (XT 1000R) / $22,699 (XT-P) / $22,299 (Max XT) / $24,699 (Max XT-P) |
| Engine: | Liquid-cooled single-cylinder (700) / liquid-cooled V-twin (all other models) |
| Displacement: | 650cc (700) / 976cc (all other models) |
| Bore x Stroke: | N/A |
| Compression Ratio: | N/A |
| Transmission: | PDrive CVT w/ high/low range, reverse; park (700) / QRS CVT w/ extra-low/high range, reverse; park (all other models) |
| Claimed Horsepower: | 52 hp (700) / 100 hp (all other models) |
| Claimed Torque: | 41 lb.-ft. (700) / N/A (all other models) |
| Fuel System: | Intelligent Throttle Control w/ EFI |
| Steering: | Dynamic Power Steering (DPS) |
| Drivetrain: | Selectable Turf mode/2WD/4WD w/ Visco-Lok QE auto-locking front differential (XT) / selectable Turf mode/2WD/4WD Trail/4WD Trail Activ w/ Smart-Lok (XT-P) |
| Front Suspension: | Double A-arms w/ sway bar, twin-tube gas shocks; 12.5 in. travel (700) / double arched A-arms w/ sway bar, twin-tube gas shocks, 15.0 in. travel (1000R, Max XT) / double arched A-arms w/ sway bar, Fox 2.5 Podium shocks, 14.0 in. travel (XT-P) |
| Rear Suspension: | Torsional Trailing Arm (TTA) w/ sway bar, twin-tube gas shocks; 13.0 in. travel (700) / arched TTA w/ sway bar, twin-tube gas shocks, 15.0 in. travel (1000R, Max XT) / arched TTA w/ sway bar, Fox 2.5 Podium shocks, 14.0 in. travel (XT-P) |
| Front Brakes: | Hydraulic 2-piston calipers, 220mm discs |
| Rear Brakes: | Hydraulic 2-piston calipers, 220mm discs |
| Wheels, Front/Rear: | Aluminum; 14 in. (XT) / 15 in. beadlock (XT-P) |
| Tires, Front/Rear: | XPS Trail King; 28×9-14, 28×11-14 (XT) / XPS Hammer Force; 30×10-15 in. (XT-P) |
| Length: | 128.5 in. (700) / 130.0 in. (1000R, XT-P) / 160.4 in. (Max) |
| Width: | 62.0 in. (XT) / 64.0 in. (XT-P, Max) |
| Height: | 74.0 in. (XT) / 74.5 in. (XT-P) / 76.2 in. (Max) |
| Wheelbase: | 90.6 in. (two-door) / 120.6 in. (Max) |
| Bed Capacity: | 600 lb. |
| Towing Capacity: | 2,000 lb. |
| Max Seating Capacity: | 2 (XT, XT-P) / 4 (Max) |
| Ground Clearance: | 13.0 in. (XT) / 13.5 in. (XT-P) |
| Turning Radius: | N/A |
| Claimed Dry Weight: | 1,575 lb. (700) / 1,675 lb. (1000R) / 1,725 lb. (XT-P) / 1,930 lb. (Max XT) / 2,000 lb. (Max XT-P) |
| Fuel Capacity: | 10.0 gal |
| Warranty: | 6 months, limited |
| Availability: | Now |
| Contact: | can-am.brp.com |