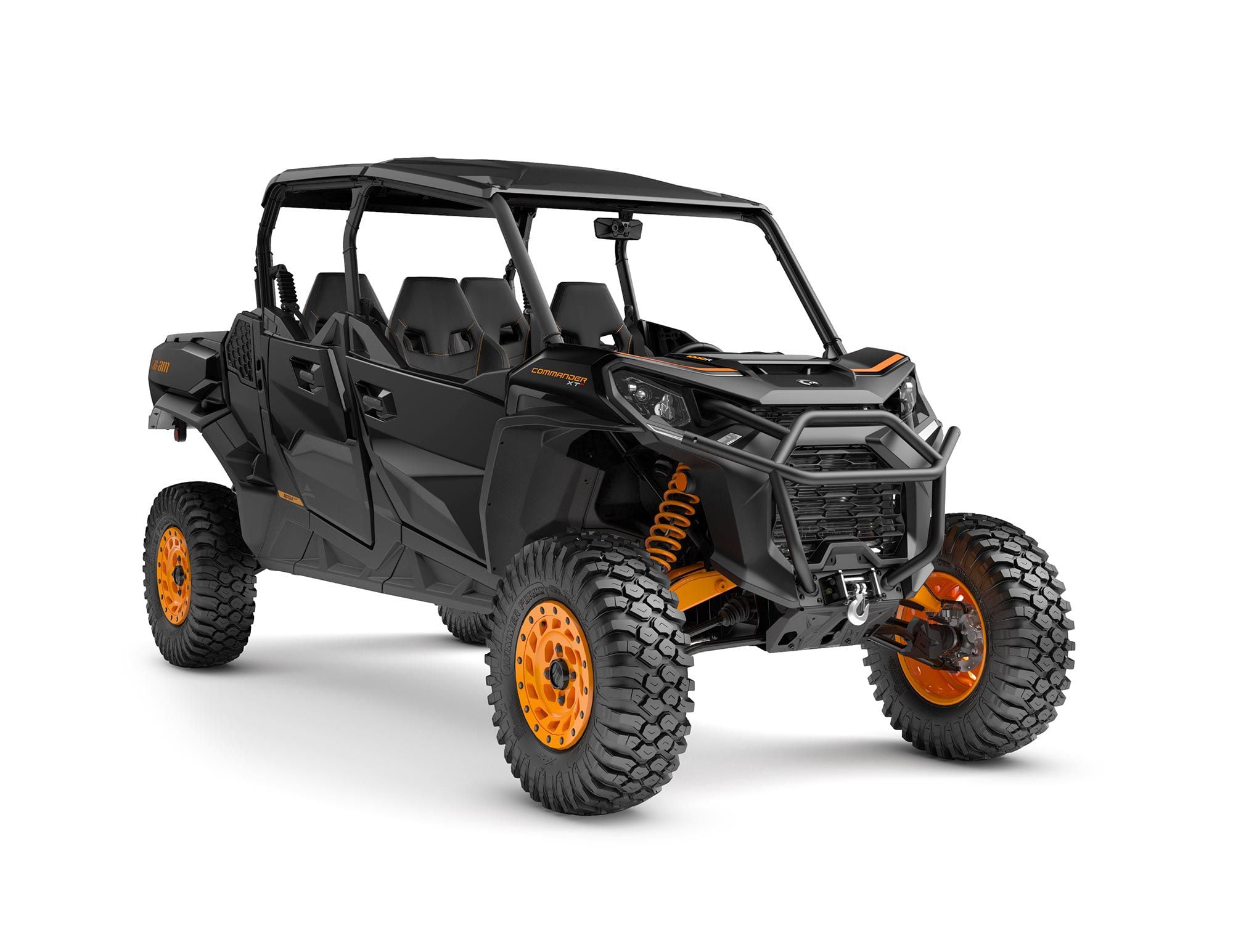 The 2022 Can-Am Commander Max XT-P promises wild trail capability and room for four. (Can-Am/)
It used to be enough for utility-focused side-by-sides to dedicate most of their focus to yard or farm work, and have enough pep and capability to let their hair down a little on the weekends. Can-Am's Commander was something of a poster child for that ethos, offering more than adequate capability as a recreation vehicle, but with its main focus on the jobsite.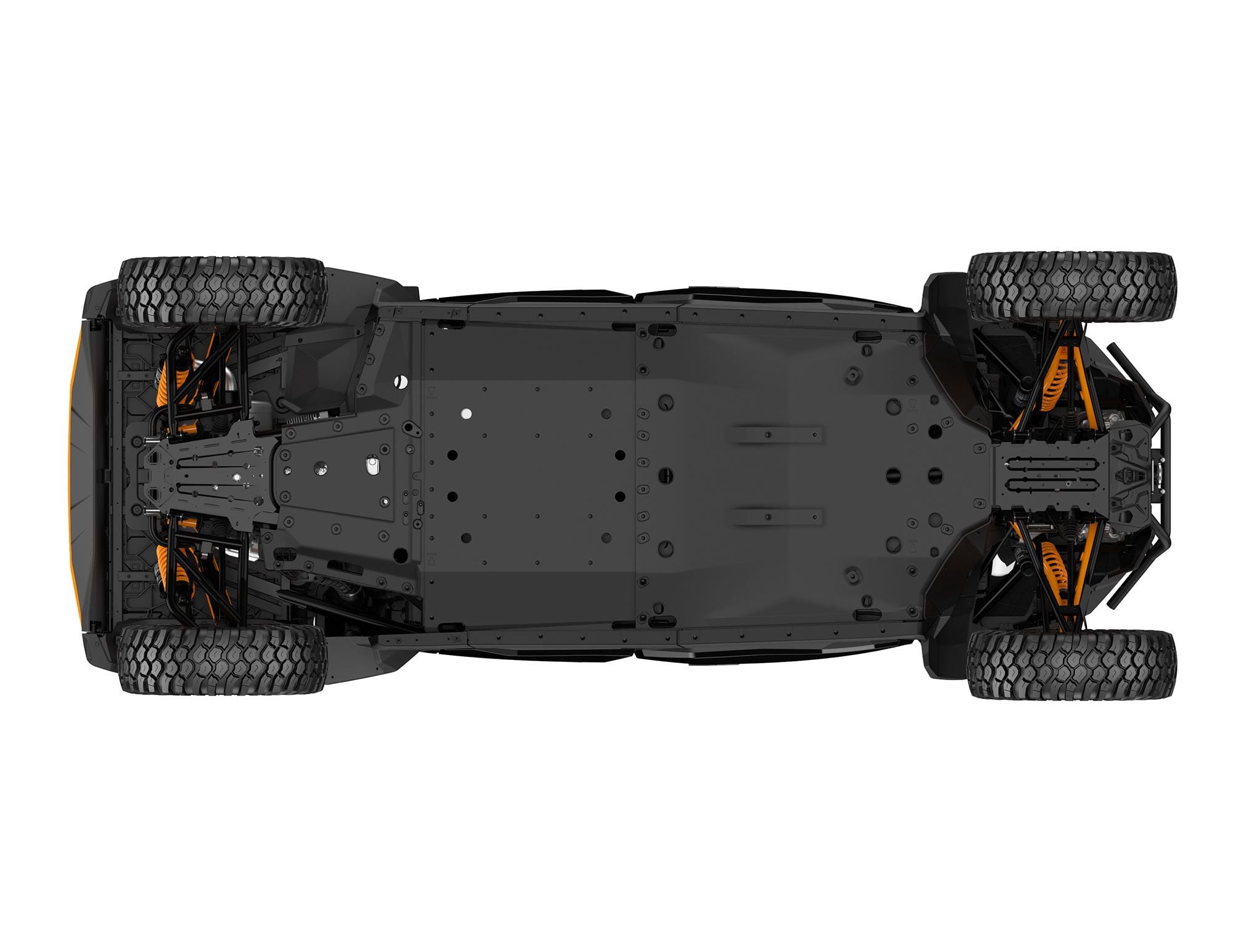 The XT-P models get a lot of trick stuff, but the full-length factory skid plate might be our favorite feature. Capability is strained without adequate protection, and Can-Am is showing that it knows it. (Can-Am/)
But the world moves fast, for 2022 Can-Am is taking clear and unequivocal aim at competitors like the Yamaha Wolverine RMAX. When the all-new RMAX broke cover last year, it set a new precedent for work and recreation rigs, and the press, us included, fell head over heels.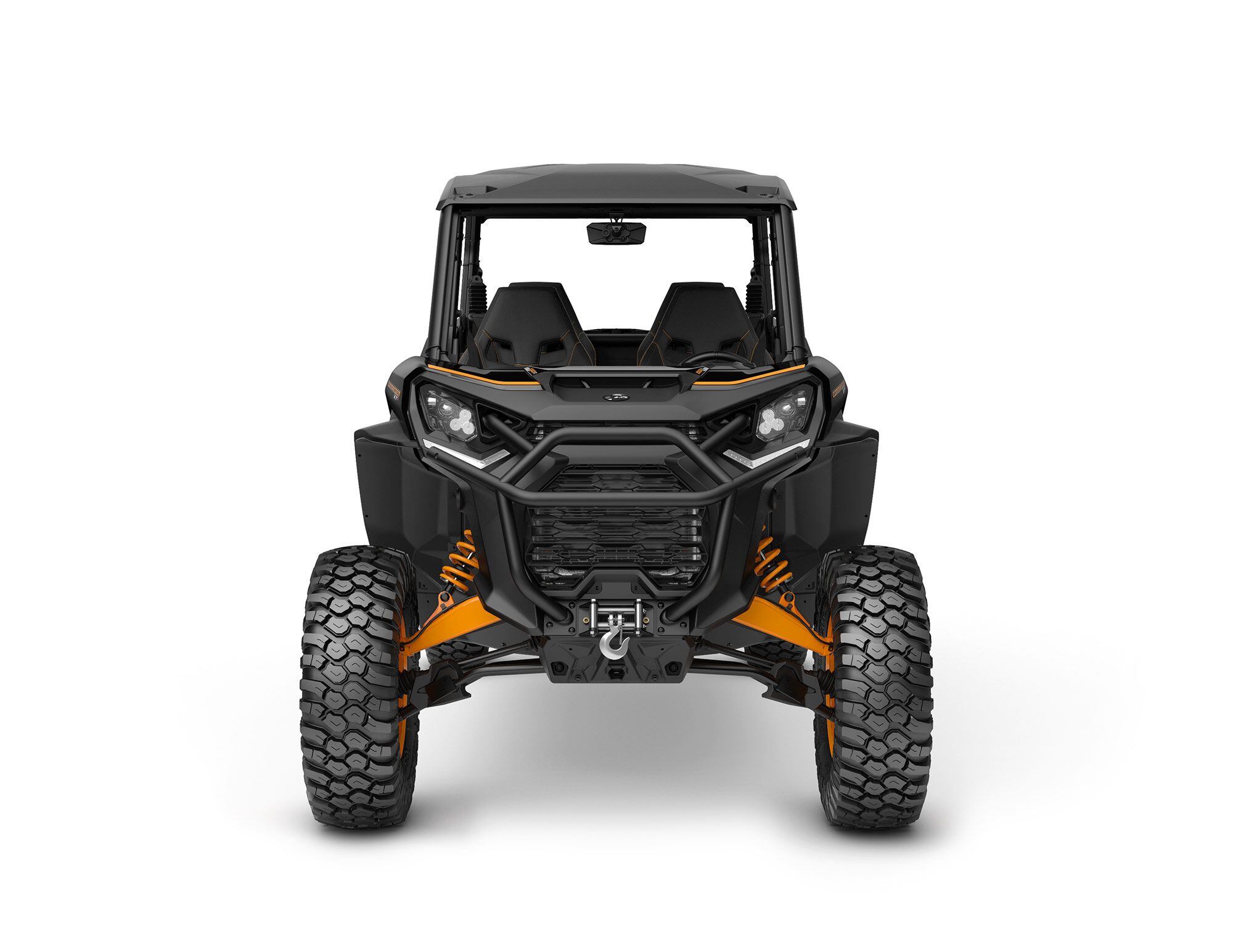 The XT-P also gets LED headlights and taillights, a rearview mirror, a roof, a 4,500-pound winch, and 30-inch XPS tires on 15-inch beadlock wheels. (Can-Am/)
Yamaha, meet your match. The 2022 Can-Am Commander Max XT-P and its two-doored stablemate have a spec sheet that shows Can-Am was watching carefully. On XT-P models, you get Fox Podium QS3 compression-adjustable remote-reservoir shocks with 14 inches of travel at all four corners, color contrasting 15-inch cast aluminum beadlock wheels, 30-inch XPS Hammer Force tires, a 4,500-pound winch, and Can-Am's clever Smart-Lok locking front differential.
The Commander Max XT-P is rated to tow 2,000 pounds via a 2-inch hitch receiver out back, and the bed is rated for a 600-pound payload. The XT-P might skew toward trail-focused, but it can still pull work duty with no trouble. (Can-Am/)
To help you get over really nasty rocks, roots, or logs, the Commander Max XT-P has arched A-arms front and rear.
Shoving all that along is a 100 hp, 976cc Rotax V-twin running through Can-Am's Quick Response System continuously variable transmission. Can-Am has also chucked hill descent control and Sport and Eco throttle modes at the Commander Max XT-P to make things as rowdy or as reasonable as you want.
But if you need it to pull its weight around the farm, the Commander Max XT-P will happily oblige. The bed is rated for 600 pounds, while the whole rig has a payload capacity of 1,280 pounds. Out back, there is a 2-inch automotive-style receiver, and the rig is rated to tow up to 2,000 pounds. It may look every bit the trophy truck, but it sacrifices very little when it comes to doing actual work.
The XT-P also comes with a lot of accessories many buyers end up adding later, such as a panoramic rearview mirror and, sing hallelujah, LED headlights. The latter may seem trivial, but too many rigs try to make do with halogens from the factory, and LEDs are a massive safety feature if you get caught out after dark.
At an even 2,000 pounds, the Commander Max XT-P is not what you would call lightweight, but neither is the Yamaha, and we have yet to complain about its heft. At $24,699 before accessories, it comes in at $700 above a similar RMAX.