BMW has long been committed to designing and building motorcycles for travel, and the all-new 2022 BMW R 18 Transcontinental continues that tradition in a new segment for the German brand. BMW's current lineup is filled with sport-tourers, adventure tourers, luxury tourers, and even a bagger, but all occupy the modern, performance-oriented end of the spectrum. Many are popular and sell in respectable quantities each year, especially on a global scale.
But here in North America – the biggest market for large-displacement motorcycles – cruisers are king. And when it comes to heavyweight touring cruisers, Harley-Davidson is by far the dominant brand.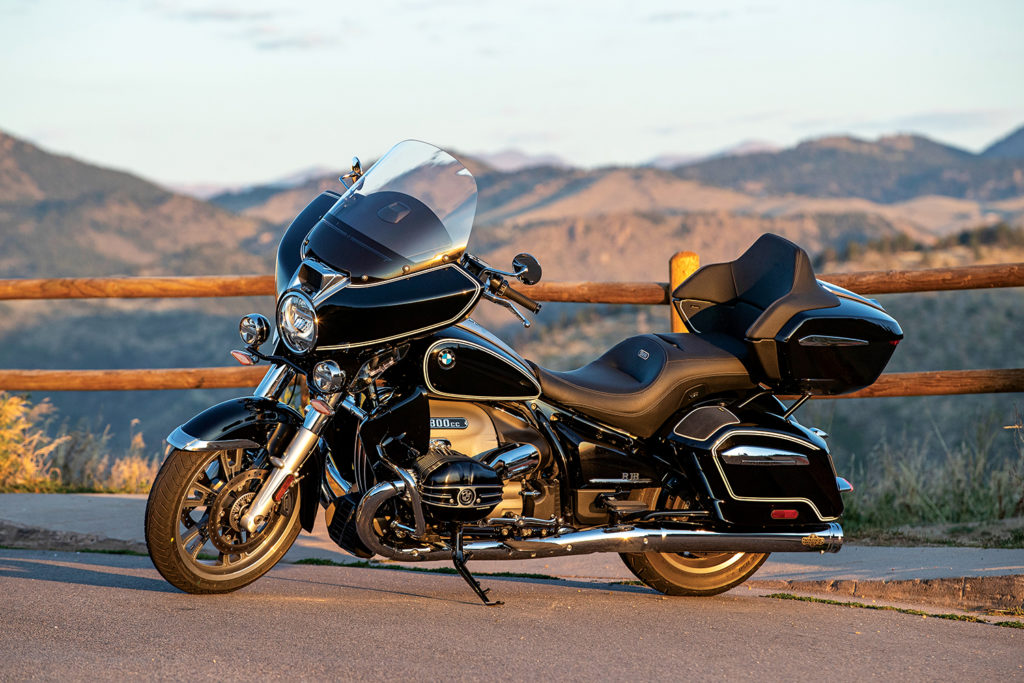 According to data from Infobike, two Harley-Davidson model families – Street Glide and Road Glide – accounted for 65% of global sales for heavyweight cruisers last year. If you add in Harley's Electra Glide, Sport Glide, and Road King models, that number jumps to 84%. Of 67,859 units sold worldwide, Harley-Davidson accounts for 57,178 of them, and 49,331 (73%) were sold in the U.S.
Advertisement
That's a lot of iron.
Carving out even a small slice of the big cruiser pie can be profitable, which is why the Japanese brands entered the traditional cruiser segment years ago. Taking a bite out of Harley's market share motivated Polaris to launch Victory in 1998 and buy Indian in 2011. BMW gave it a shot, too, when it launched the R 1200 C back in 1998, but its small engine, funky ergonomics, and out-of-touch styling failed to resonate with buyers.
A Bigger Boxer
For its traditional cruiser reboot, BMW focused on both style and substance. First, it needed an engine – a big one. Just as Harley-Davidson is known for V-Twins, BMW is known for its horizontally opposed "boxer" Twins. In the spring of 2019, BMW unveiled a prototype engine it called the Big Boxer, which was the centerpiece of The Revival Birdcage, a minimalist custom built by Revival Cycles and shown at the Handbuilt Show in Austin.
Later that year, BMW unveiled the Concept R18 /2 and revealed that the Big Boxer displaced 1,800cc, making it by far the largest boxer to come out of Germany. In early April 2020, just as the pandemic began to suck all the air out of the room, BMW announced a production-ready model called the R 18. Rather than the modern styling of the Concept R18 /2, the R 18 had traditional styling inspired by the 1930s-era BMW R 5.
Greg's Gear
Helmet: HJC RPHA 90S
Jacket: Vanson Stormer
Gloves: Highway 21 Trigger
Pants: Fly Racing Resistance Jeans
Boots: Sidi Gavia Gore-Tex
When we finally got a chance to test the R 18 late last year, former EIC Mark Tuttle wrote: "At 788 pounds fully fueled sitting on a long 68.1-inch wheelbase, the R 18 looks and feels overbuilt, like there's a roomful of bagger and dresser bodywork tucked away somewhere just waiting to be hung on the sturdy platform." The R 18 Classic, equipped with a windshield and semi-soft saddlebags, soon joined the lineup. But it wasn't until this past summer that BMW announced the models that would compete with all those Road Glides and Street Glides.
Flight of the Hard Baggers
The R 18 B "Bagger" and R 18 Transcontinental fully realize the vision of what the Big Boxer platform was meant to be. Both have a handlebar-mounted batwing-style fairing, an infotainment system, hard saddlebags, and a comfy passenger seat. And the Transcontinental adds a top trunk with a wrap-around passenger backrest.
BMW invited Rider to test both models at their U.S. press launch in Denver, Colorado. After the one-day press ride, I spent four days riding an R 18 Transcontinental (TC) more than 1,500 miles through five states, with my wife, Carrie, as a passenger and the luggage packed full of gear.
PHOTO CAPTION: Carrie and I loaded up the R 18 TC and set off on a 1,500 mile journey. Starting in Denver, we rode west through the Rockies, crossing the Continental Divide several times (Loveland Pass, Hoosier Pass, and Monarch Pass) and visiting Black Canyon of the Gunnison National Park. We continued west through Utah and Arizona, riding through the red rocks of Monument Valley, crossing the Colorado River, and visiting the North Rim of the Grand Canyon. (Photos by the author)
Whereas the K 1600 B and K 1600 Grand America are high-performance, high-tech touring bikes powered by BMW's inline-Six, the R 18 B and R 18 Transcontinental take a different approach. The K 1600 mill is ultra-smooth and makes 130 horsepower and 106 lb-ft of torque at the rear wheel. Traditional cruiser buyers aren't concerned about horsepower. They want generous torque at low revs, and they want an engine with rumbling sound and feel. When we put the R 18 on Jett Tuning's dyno, it made 109 lb-ft of rear-wheel torque at just 2,900 rpm, with more than 100 lb-ft of torque on tap from 2,000 to 3,600 rpm. Horsepower topped out at 80 at 4,500 rpm, and the rev limiter kicks in 6,000 rpm.
The R 18 B and R 18 TC are both equipped for long-haul touring, but they'll appeal to different buyers. With its low windshield and slim seat, the R 18 B is suited for solo touring and boulevard cruising with the occasional passenger. Designed for two-up touring, the R 18 Transcontinental is equipped with a tall windshield, a wide seat, wind deflectors, driving lights, heated seats, highway bars, a trunk, and a passenger backrest. The saddlebags hold 27 liters each, and the TC's trunk holds 48 liters. Fuel capacity is a generous 6.3 gallons (up from 4.2 on the R 18), and over the course of more than 1,500 miles on the TC, every one of them ridden two-up and fully loaded, we averaged 42.5 mpg, which translates to about 268 miles of range.
The Right Tool for the Job
The R 18 B and R 18 TC are not just the R 18 with a fairing and luggage tacked on. Their shared frame was beefed-up to carry more weight; even with their higher curb weights, load capacity meets or exceeds that of the standard R 18. Compared to the R 18, the B and TC have a shorter wheelbase (66.7 inches, down from 68.1), less rake (27.3 degrees, down from 32.7 degrees), and more trail (7.2 inches, up from 5.9). They also have more rear suspension travel (4.7 inches, up from 3.5), which translates to additional cornering clearance (35 degrees, up from 32), and the rear shock auto-levels to accommodate various loads. The B and TC are heavier, but they handle better, especially on twisty roads and during low-speed maneuvers.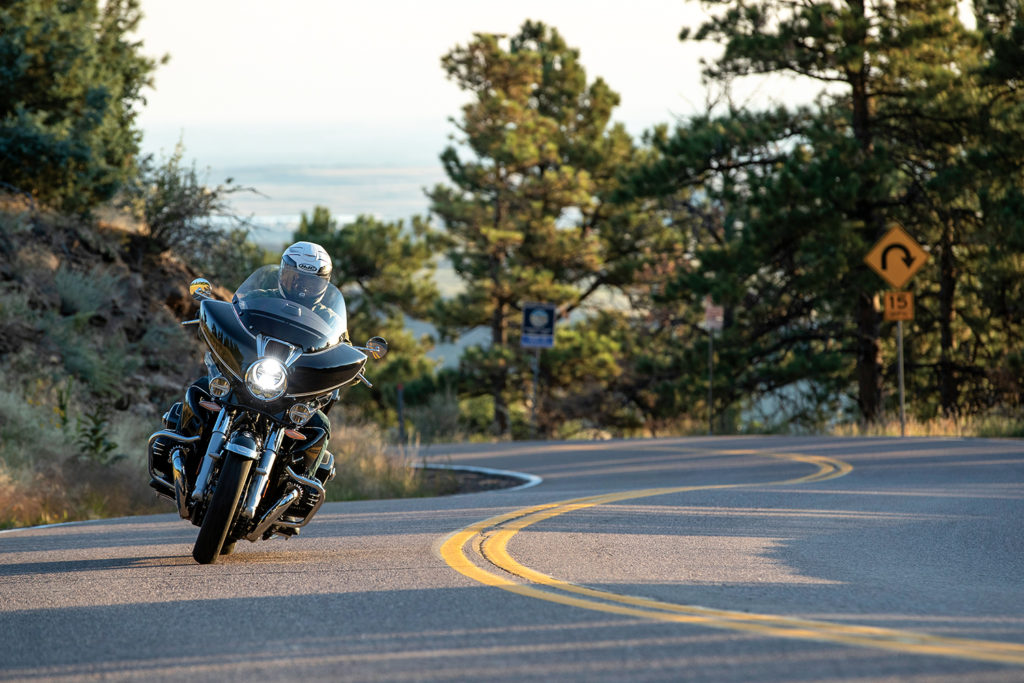 The R 18 B and R 18 TC bikes we tested were equipped with optional packages that BMW believes most buyers will want. The Select Package adds a locking fuel filler cap, central luggage locks, a tire-pressure monitoring system, an anti-theft alarm, and heated seats on the B (they're standard on the TC). The Premium Package adds the Adaptive Headlight with a mechanical cornering light function, which swivels +/-35 degrees to illuminate the inside of curves, as well as hill-hold control, reverse assist, Active Cruise Control, and Marshall Gold Series speakers in the saddlebag lids and, on the TC, in the passenger backrest.
Advertisement
In the Saddle
During the one-day press ride, I logged about 100 miles on the R 18 B. With its low, 28.3-inch seat and mid-mount footboards, my knees were level with my hips and my back was straight, which I preferred over the hip-rotating "clamshell" seating position that's common on many cruisers. A comfortable reach to the pullback handlebar allowed me to maintain a relaxed bend in my elbows, and smooth airflow over the low windscreen hit right at helmet level with no buffeting.
Because the Big Boxer's cylinders jut far out to the sides, the rider's legs are hemmed in place, limiting options to adjust knee and hip angle during long stints in the saddle. The engine is too wide to accommodate highway pegs, so BMW will offer (though we didn't get a chance to test) accessory leg rests so riders can stretch out their legs on top of the cylinders without roasting their calves. The TC has highway bars in front of the cylinders, and my legs are long enough that I was able to put my heels on them and mostly straighten out my knees, though only briefly because it felt awkward.
Thicker foam in the TC's seat adds nearly an inch of seat height, which resulted in more legroom and additional comfort during the 350- to 400-mile days in the saddle on our ride from Colorado to California. Carrie found the TC's passenger seat and backrest to be all-day comfortable, and she liked the comfort and convenience of the footboards, especially when climbing on and off the bike.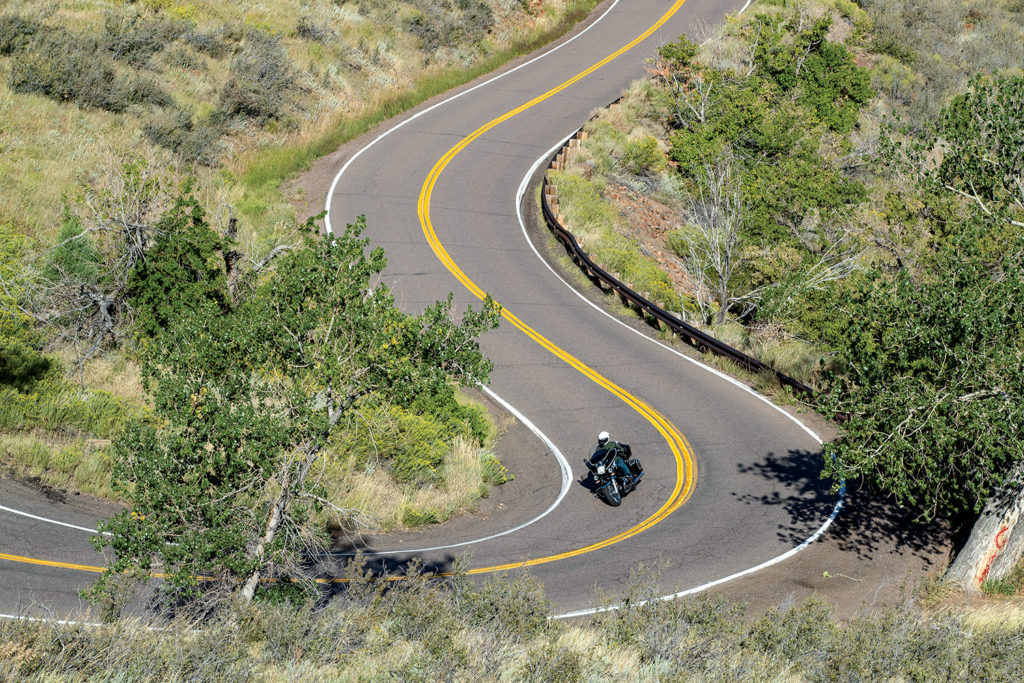 Airflow over the TC's tall windscreen went above my helmet, and Carrie appreciated the calm pocket of air with no turbulence. The top edge of the non-adjustable screen was in my line of sight, which was sometimes distracting during back-and-forth cornering. At the bottom edge of the TC's fairing are adjustable air flaps that can be closed or opened to direct air into the cockpit. It also has non-adjustable wind deflectors mounted atop the highway bars, which were helpful when temps dropped as low as 40 degrees on Colorado's Million Dollar Highway, but less so when we encountered triple-digit highs in the deserts of Arizona and Nevada.
Large and In Charge
To assist riders while piloting these machines, the cockpit is packed with data, functions, switches, and buttons. Behind the fairing are four analog gauges (speedo, tach, fuel, and power reserve) and an enormous 10.25-inch TFT color display, with different screens for vehicle info as well as music, phone, and navigation functions via a smartphone and the BMW Motorrad Connected app. BMW's Multi-Controller wheel on the left grip makes menu navigation, volume control, and other functions easy, but the TFT's hardened, glare-resistant screen isn't touch-enabled.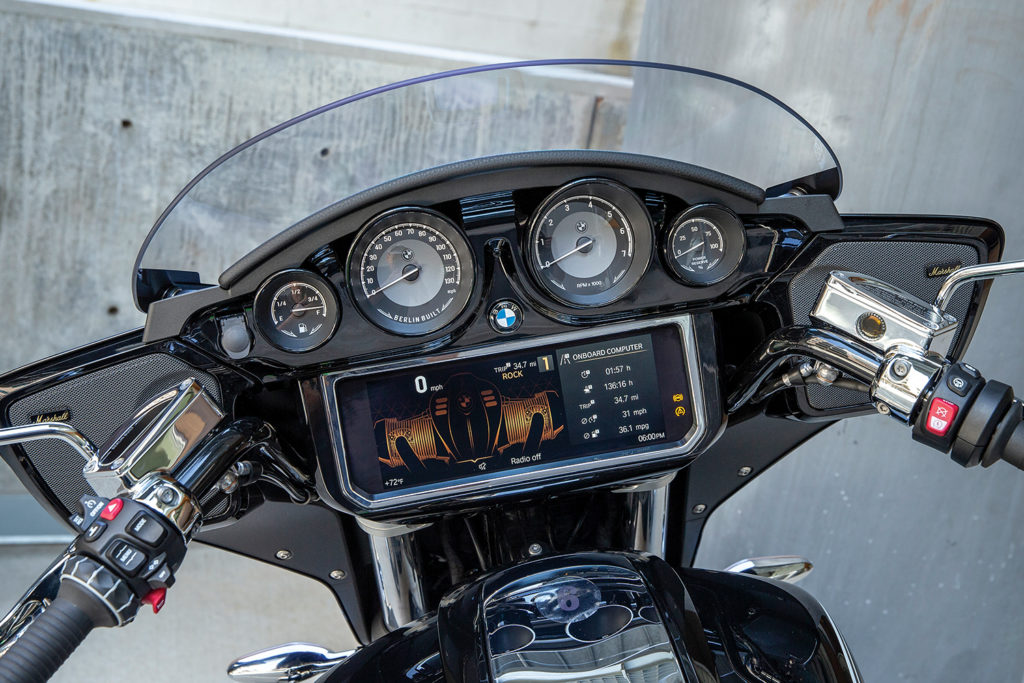 BMW partnered with Marshall to create a premium audio system for the R 18 B and TC, and the standard setup includes two 25-watt speakers in the front fairing. The Premium Package adds two 90-watt subwoofers in the lids of the top-loading saddlebags and brings total output up to 230 watts on the B. The Premium-equipped TC gets another pair of 25-watt speakers in the passenger backrest, for a total of 280 watts. The surround-sound audio pumps out the jams, and the subwoofers add serious bass.
One downside of the extra speakers is that they reduce storage capacity by 0.5 liter in each of the saddlebags and 1 liter inthe trunk. The saddlebags seem large on the outside, but their narrow interiors present some challenges with packing (BMW offers accessory drop-in liner bags that should make the process easier). The trunk has a spacious, carpet-lined interior with a charging port. Pop-up metal levers with positive actuation make the luggage easy to open, close, and latch even when filled to the brim, and the central locks add convenient security.
On the Road
The R 18s have three ride modes – Rock, Roll, and Rain – that alter throttle response, idle character, engine-drag torque control, and traction-control intervention. In Rock mode, they feel lumpy and shake a lot at idle to add some visceral theater, and throttle response is direct. But in Roll and Rain mode, the response feels duller and slow to respond. The single-plate dry clutch requires some slip when pulling away from stops on hills and riding up steep hairpins, but the 6-speed transmission shifts smoothly and the heel-toe shifter comes in handy.
Like most heavyweight cruisers, the R 18 B/TC work best when they are short-shifted and kept in their peak torque range. Riding the TC day after day, it cruised smoothly in top gear and when maintaining steady throttle on flat stretches of road. Rolling on and off the gas while accelerating or negotiating curves and grades, however, sent a fair amount of vibration through the seat and grips that became tiresome after a while.
Despite the weight of the fairing on the handlebar, the R 18 B/TC steer with stability and confidence, though some effort is required. The massive brakes with BMW's linked Full Integral ABS slow down the heavy bikes with authority, and the large brake and clutch levers are adjustable for reach. The R 18 and R 18 Classic have spoked wheels with tube-type tires, but the R 18 B/TC roll on cast wheels with tubeless tires, which is a real boon for roadside flat repairs.
Dynamic Cruise Control is standard on the B and TC, and, if necessary, it applies the brakes to slow the bikes on steep descents to maintain the set speed. Active Cruise Control, which is part of the Premium Package, uses radar sensors embedded in the front fairing that scan the lane in front of the bike when cruise control is activated. If a vehicle is detected in front of the bike, the system will automatically reduce speed to maintain a fixed distance. Using inputs from the lean-angle sensors, ACC also adjusts speed to assist with safer cornering. The system works well and isn't affected by vehicles in adjacent lanes.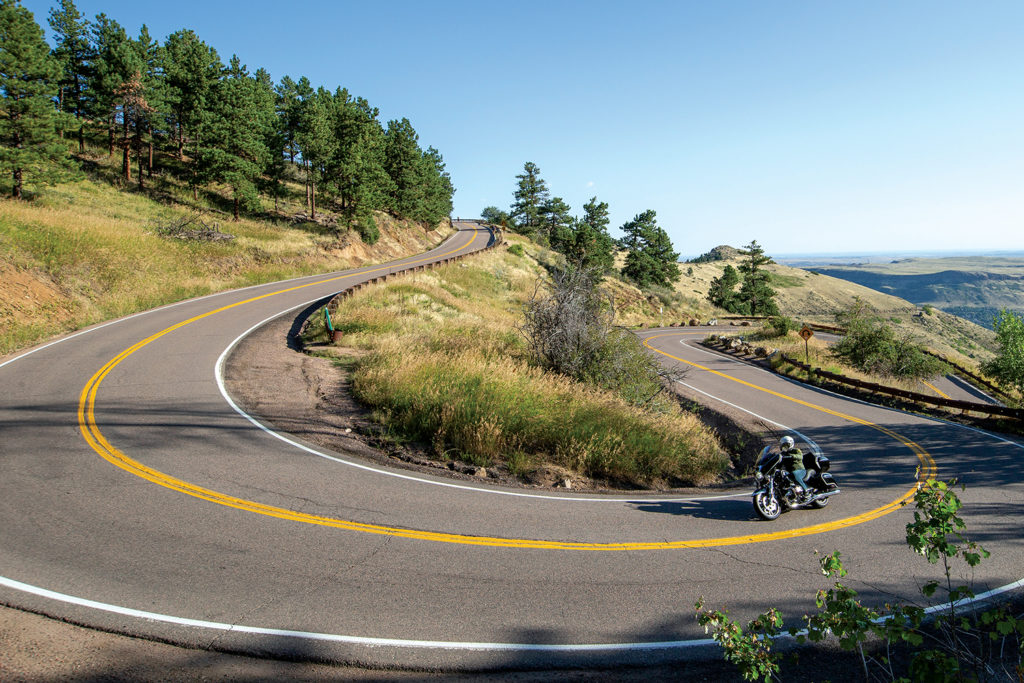 Toward the Horizon
Given BMW's extensive experience in the touring segment, it's no surprise that it built fully featured, highly functional heavyweight touring bikes right out of the gate. Traditional cruisers, though, are as much about style as they are about substance, and it's tricky to strike the ideal balance. The R 18 B and R 18 Transcontinental are good-looking motorcycles that caught the attention of many people we encountered at gas stations, restaurants, hotels, and national parks.
Cruiser buyers tend to be conservative. They're wary of unconventional styling and will embrace high-tech features only if they don't alter the look and feel of the motorcycle. BMW's Big Boxer is a large-displacement air-cooled Twin, but its configuration is very different from a traditional V-Twin.
Likewise, there was no small amount of skepticism from the ADV crowd about Harley-Davidson building an adventure bike, a segment long dominated by BMW. But the Pan America 1250 proved itself to be highly capable, and Harley says it has become the best-selling ADV in the U.S.
For those interested in a heavyweight bagger or full-dress tourer with traditional styling, the R 18 B and R 18 Transcontinental are worthy choices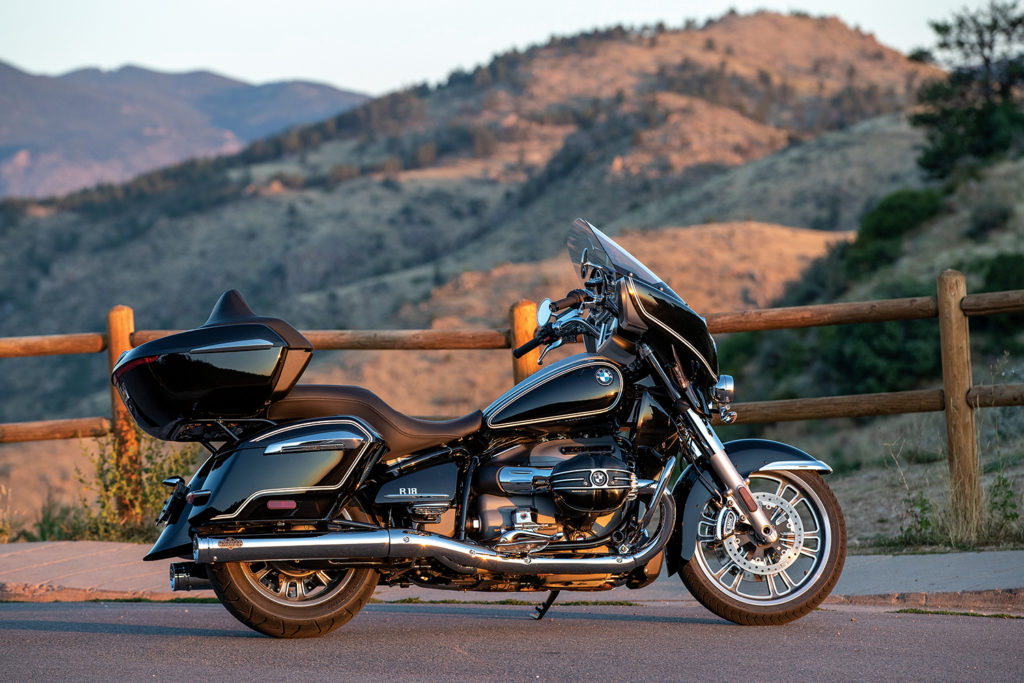 2022 BMW R 18 B / Transcontinental Specs
Base Price: $21,945 / $24,995
Price as Tested: $28,420 (Premium & Select Packages, Galaxy Dust metallic/Titanium Silver 2 metallic) / $35,244 (Premium & Select Packages, First Edition Black Storm, Vance & Hines exhaust, Roland Sands Design accessories)
Website: bmwmotorcycles.com
ENGINE
Engine Type: Air-/oil-cooled, longitudinal opposed flat-Twin, OHV w/ 4 valves per cyl.
Displacement: 1,802cc (110ci)
Bore x Stroke: 1 x 100.0mm
Compression Ratio: 9.6:1
Valve Insp. Interval: 6,000 miles
Fuel Delivery: BMS-O EFI w/ 48mm throttle body
Lubrication System: Wet sump, 4.2 qt cap.
Transmission: 6-speed, hydraulically actuated single-plate dry slipper clutch
Final Drive: Shaft
CHASSIS
Frame: Tubular-steel double cradle w/ tubular-steel double-sided swingarm
Wheelbase: 66.7 in.
Rake/Trail: 27.3 degrees/7.2 in.
Seat Height: 28.3 in. / 29.1 in.
Suspension, Front: 49mm telescopic fork, no adj., 4.7 in. travel
Rear: Single cantilever shock, adj. for spring preload, 4.7-in. travel
Brakes, Front: Dual 300mm discs w/ 4-piston opposed calipers & ABS
Rear: Single cantilever shock, adj. for spring preload, 4.7-in. travel
Wheels, Front: Cast, 3.5 x 19 in.
Rear: Cast, 5.0 x 16 in.
Tires, Front: 120/70-B19
Rear: 180/65-B16
Wet Weight: 877 lbs. / 941 lbs. (claimed, base models)
Load Capacity: 512 lbs. / 448 lbs. (claimed, base models)
GVWR: 1,389 lbs.
PERFORMANCE
Horsepower: 80 hp @ 4,500 rpm (2021 R 18, rear-wheel dyno)
Torque: 109 lb-ft @ 2,900 rpm (2021 R 18, rear-wheel dyno)
Fuel Capacity: 6.3 gals.
Fuel Consumption: 42.5 mpg
Estimated Range: 268 miles