The 2022 BMW R 18 B in Option 719 Galaxy Dust. The B has an MSRP of $21,945, but costs $29,515 as tested. (Kevin Wing/)
There's a saying in Colorado: "If you don't like the weather, wait 10 minutes." Today I do like the weather. It's dry. Thunderclouds are forming quickly overhead as we gear up and I mount the Galaxy Dust R 18 B that will be my steed for the first half of the day.
This 877-pound behemoth is half of BMW's second play at the American cruiser and touring market following the initial launch of the base model R 18 and the subsequent R 18 Classic. The B and its counterpart, the 942-pound Transcontinental, are big, heavy, and look about as American as a Kraftwerk album. In the Colorado Rockies, we are about to find out how BMW does grand American touring.
We meander slowly through Denver's dense traffic. It's overcast, muggy. We're in a hurry to outrun impending weather, but the city isn't letting us out just yet. Along stop-and-go six-lane highways and zipping down open side streets, the B's handling is surprisingly neutral; the bike is easy to ride. Despite weighing 116 pounds more than the 761-pound R 18 (claimed weights), low-speed handling is much improved on this model.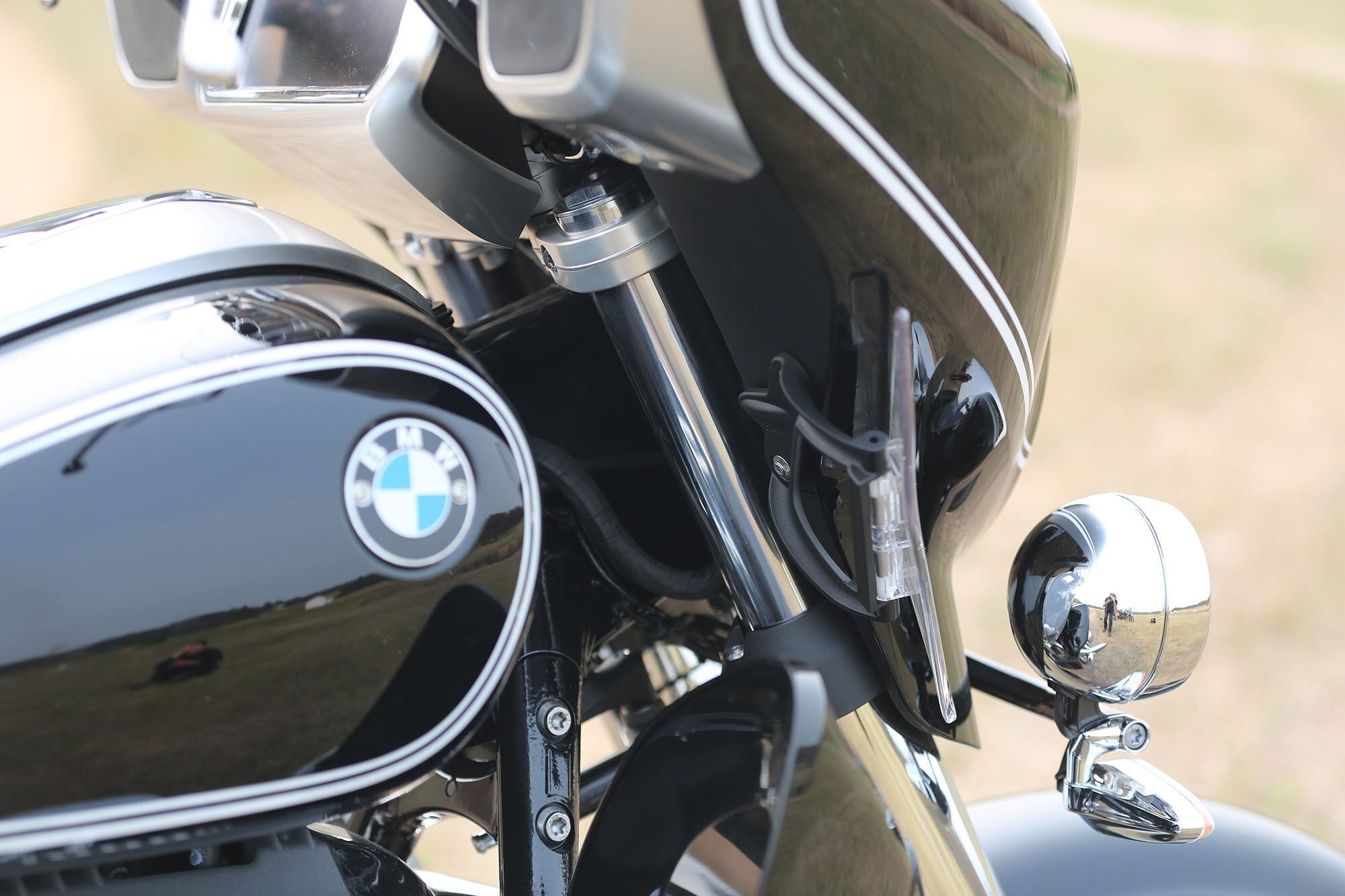 The chassis, updated from the R 18 model, has a reinforced backbone and steeper rake, moving from 32.7 degrees to 27.3. (Kevin Wing/)
This improvement is credited to the modified touring chassis, which received two major changes. A thicker double-steel backbone accommodates the added weight and larger gas tank, and rake angle has steepened from 32.7 degrees to 27.3. This not only reduces the bike's trail and wheelbase, but because the front suspension components are identical to those on the R 18, the bike's ride height and available lean angle have increased. As we putt from stop sign to stop sign in the low revs, power is readily available and the weight of the bike is easily forgotten, for a while.
We turn on to Highway 6 at just the right time. Dark clouds stay behind us as we roll toward Golden. It's 85 degrees with a cool wind, and the world's problems disappear. The seat is comfortable, ergonomics are surprisingly perfect for my 6-foot-4 build, and at 75 mph in the Rock (most aggressive) power mode, the engine pulses pleasantly while effortlessly turning 2,650 rpm.