From left to right, the 2022 K 1600 GT, K 1600 GTL, K 1600 B, and K 1600 Grand America. (BMW Motorrad/)
With Euro 5 restrictions continuing to affect existing noncompliant models, it was only a matter of time before BMW tweaked its inline six-cylinder touring series to meet the new standards. That time is here, and with it comes the announcement that the BMW K 1600 GT, K 1600 GTL, and K 1600 B models are all getting a few subtle engine tweaks for 2022, coupled with several side benefits like more torque, added safety and comfort features, and a wider range of accessories to further sweeten the pot.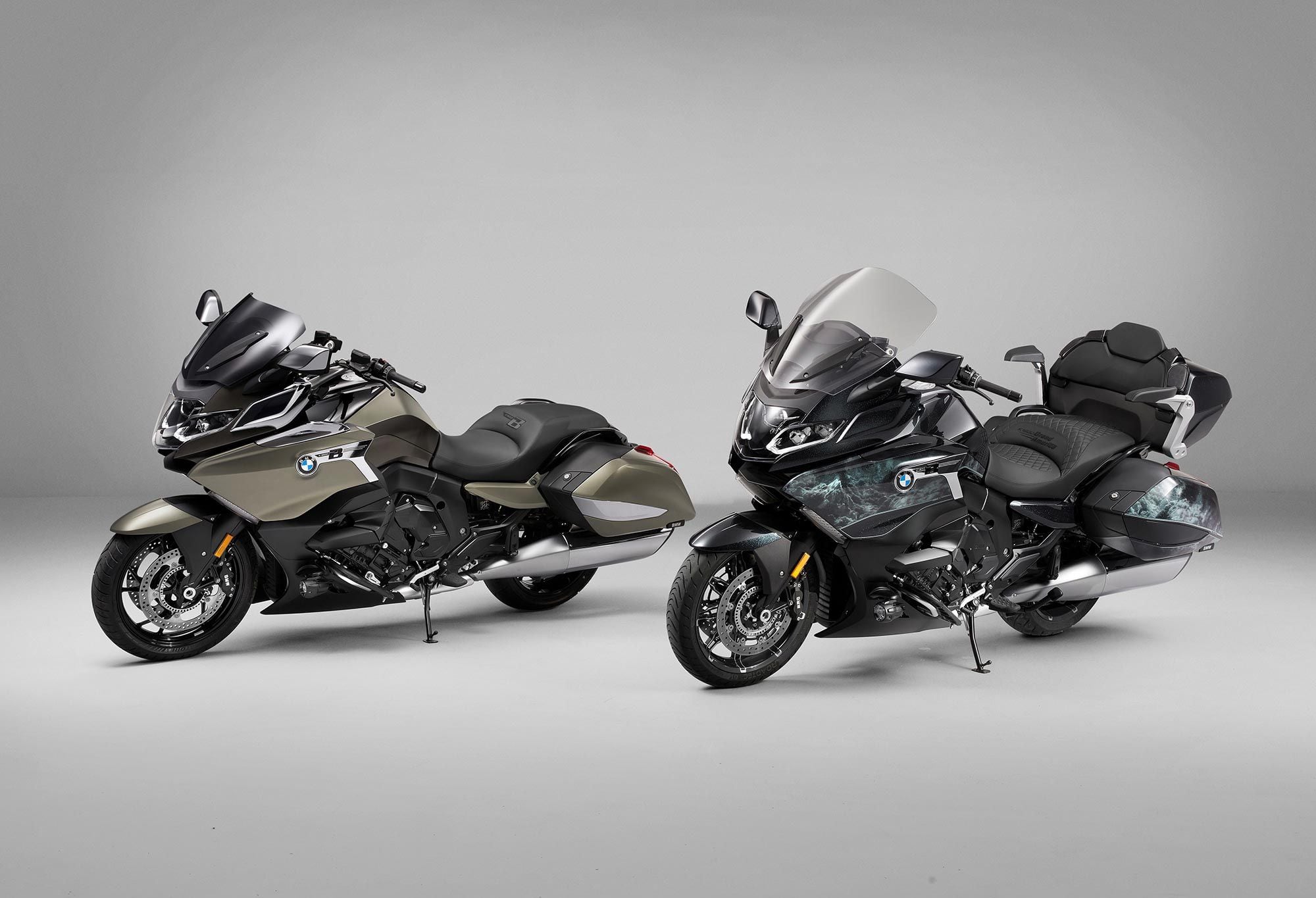 The K 1600 B returns as the lowest priced in the group, with the K 1600 Grand America now becoming an options package for the B model. (BMW Motorrad/)
We'll cover the changes affecting all three models first, and on that point, you might wonder what happened to the Grand America; as we understand it, that model is now considered an optional package for the K 1600 B. The other models continue their stand-alone status (although maybe the GTL could be considered to be a touring package for the GT?), but the main news revolves around the revised inline six-cylinder 1,649cc engine, which whittles down emissions with the help of new BMS-O engine control, two knock sensors to optimize ignition timing, and added lambda probes near the exhaust manifolds to monitor oxygen content. Not only does that result in a cleaner burn, but the powerplant also benefits from improvements in power and torque, with the 160 hp peak rating remaining unchanged from last year, but coming on 1,000 rpm sooner, at 6,750 rpm. And torque actually increases, going up to 133 pound-feet from 129 pound-feet before, with the new maximum achieved at 5,250. The net result, says BMW, is quicker acceleration, especially in the 3,500-to-7,000-rpm range, where most riders spend a lot of time.
Related: 2022 BMW R 18 B and R 18 Transcontinental First Look
The K 1600 series' inline six-cylinder mill gets new engine control, knock sensor system, revised emissions, and engine drag torque control for 2022. Power is unchanged at 160 hp, but torque increases. (BMW Motorrad/)
Another new addition to the engine is drag torque control, a system that helps prevent, say, rear wheel slip when downshifting. The system works much like dynamic traction control (which as far as we see returns for 2022), determining traction capacity at the rear wheel and opening the throttle valves to stabilize the bike. The level of intervention varies with the ride mode, with Rain and Road offering maximum stability.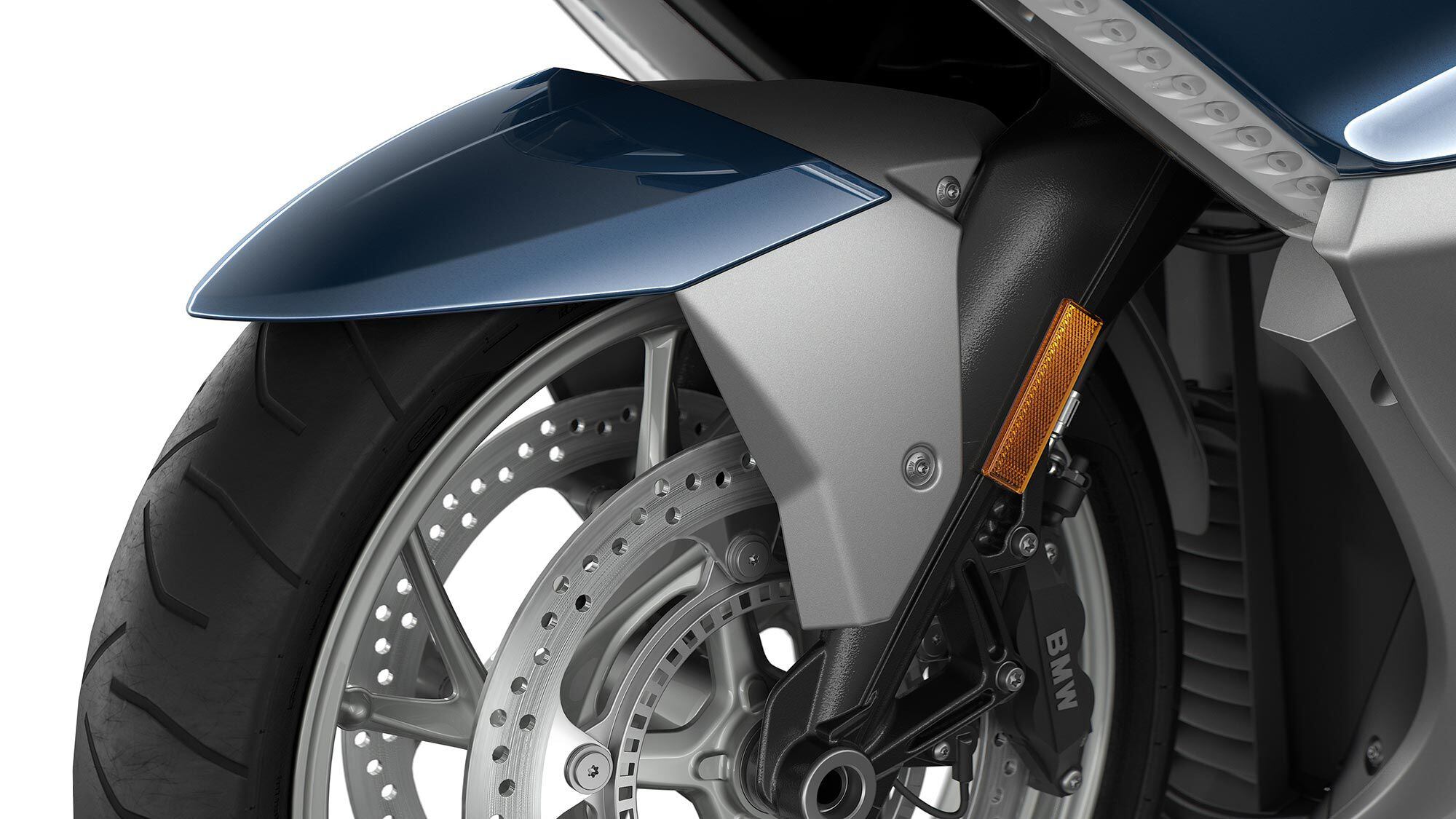 The ESA electronic suspension system returns, but in "next generation" form, which includes automatic load compensation that adjusts damping in the front and rear. Integral ABS with ABS Pro is also standard. (BMW Motorrad/)
Outside of the engine bay the changes are more subtle, but still notable. On all three models, the Dynamic Electronic Suspension Adjustment (ESA) is still standard equipment, but in an improved form; this "next generation" version, seen on the 2022 R 1250 RT, also offers fully automatic load compensation as a standard feature. A six-axis sensor box and sensors at the front and rear are used to adjust damping forces via electronically operated valves on the rear suspension strut and Duolever front arrangement for a more stable and comfortable ride. Riders can switch damping characteristics with handlebar buttons if, for instance, they're looking for a firmer ride.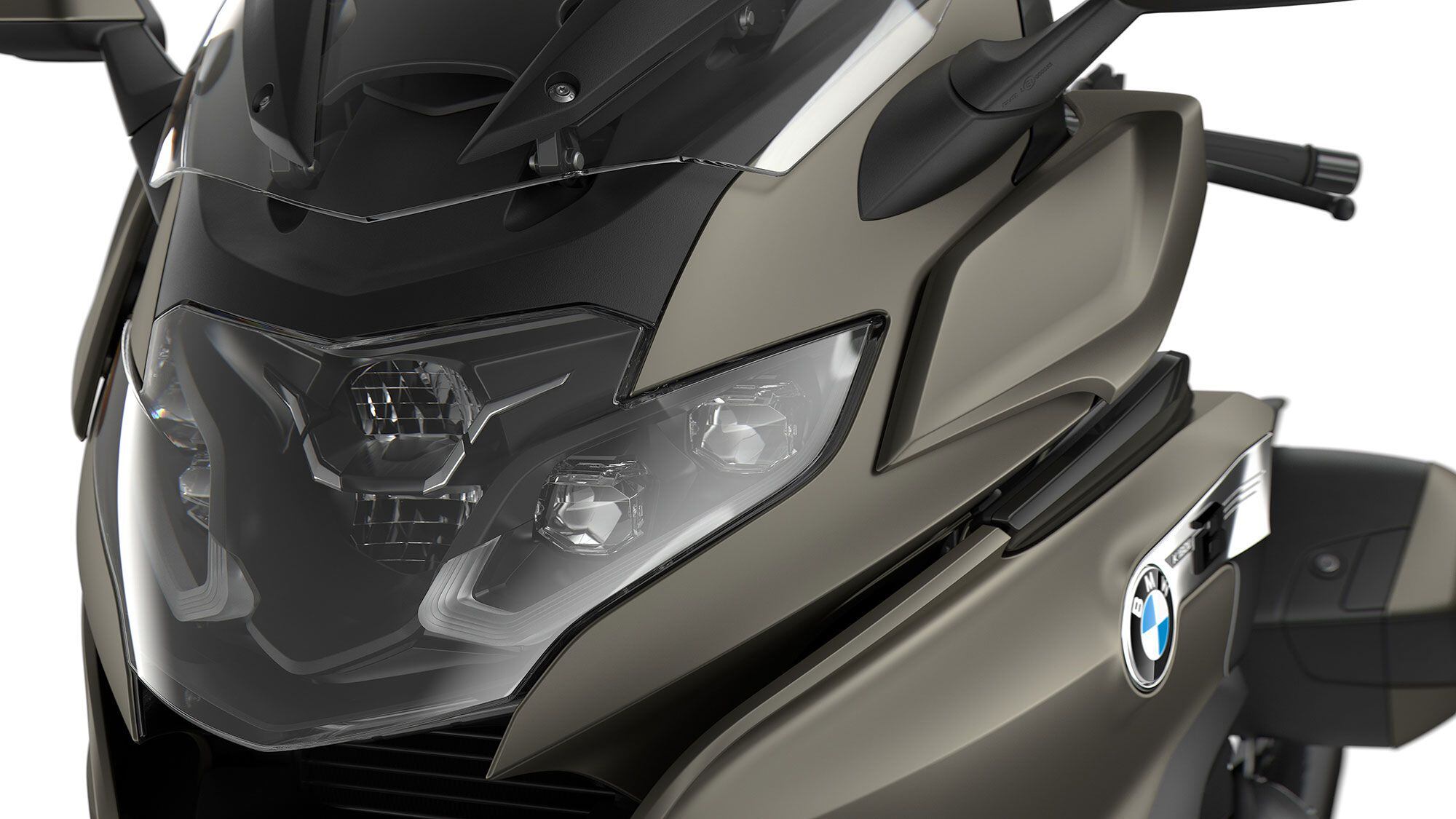 Also new is a full nine-LED adaptive headlight as standard equipment for all K 1600 models. (BMW Motorrad/)
On the safety front, last year's superbright xenon headlamp is replaced by a full-LED unit on all three models and comes as standard equipment. The kicker there is that it's also an adaptive unit, which punches consistent light into turns according to lean angle—and even adjusting for braking or acceleration—for a safer exit. To complement that, BMW also kicks in a series of light functions meant to give you a better view of your surroundings when the bike isn't yet in motion; a "Welcome" light that turns on when you start the ignition, and a "Goodbye" light that illuminates the area around the bike when you switch it off.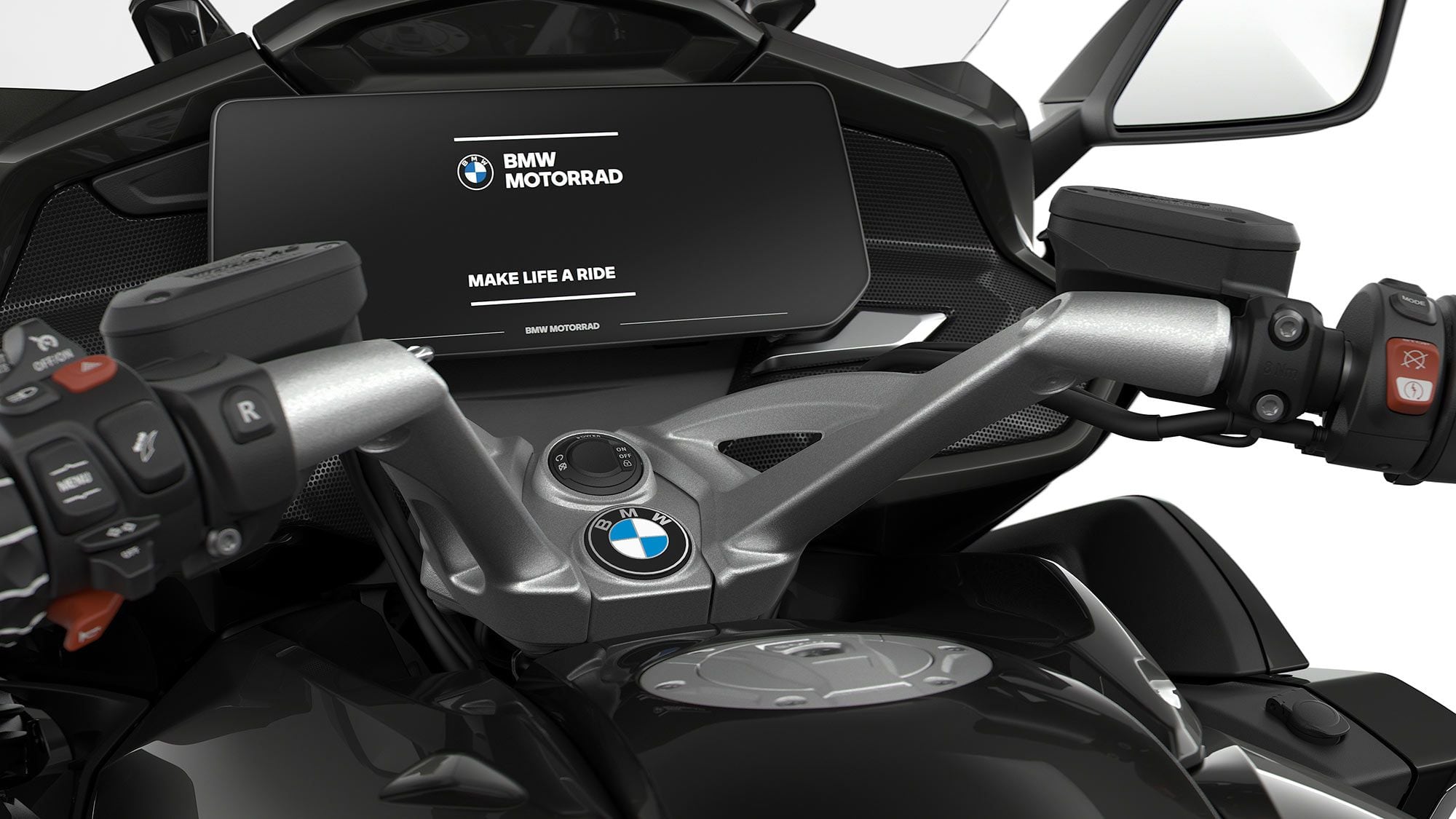 All three models get a 10.25-inch TFT color display with integrated map navigation and comprehensive connectivity for 2022. (BMW Motorrad/)
For convenience, BMW also bestowed the three K 1600s with its newer 10.25-inch TFT display, a trickle-down component from the R 1250 GT model, now standard. In addition to the usual basic bike functions, the anti-reflective, coated color display has integrated map navigation and connectivity so there's no more need for a stand-alone nav unit. A multicontroller gets you through the standard settings menu, and you can pair everything with your smartphone and the BMW Connected app for added features (and yes, there's a storage compartment for your smartphone, above the TF display).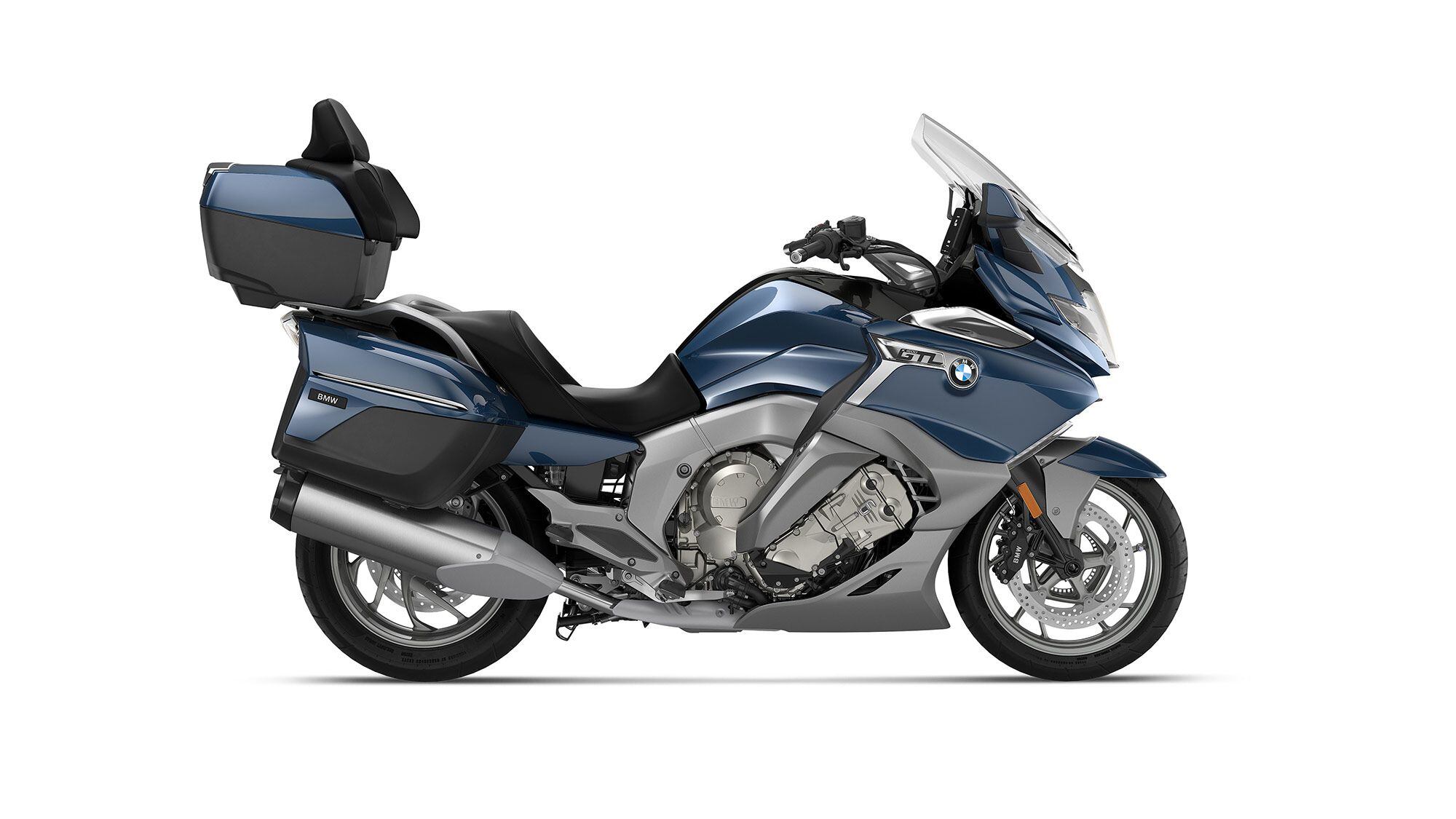 Audio 2.0 system comes standard with fairing speakers on the 2022 K 1600 GTL (pictured in Exclusive Style option) and Grand America, but is available as an option on the K 1600 GT and K 1600 B. (BMW Motorrad/)
The last item on the creature comfort list is BMW's Audio 2.0 system, which comes standard on the GTL and Grand America models and is an option on the GT and B bikes. The crux of this setup is that you can listen to it without helmet audio, there are multiple profiles to choose from, and the whole thing is integrated into the bike's electrical system; the previous generation was a stand-alone system. Even the Audio 2.0′s antenna is built into the 2022 bikes' bodywork for a clean look.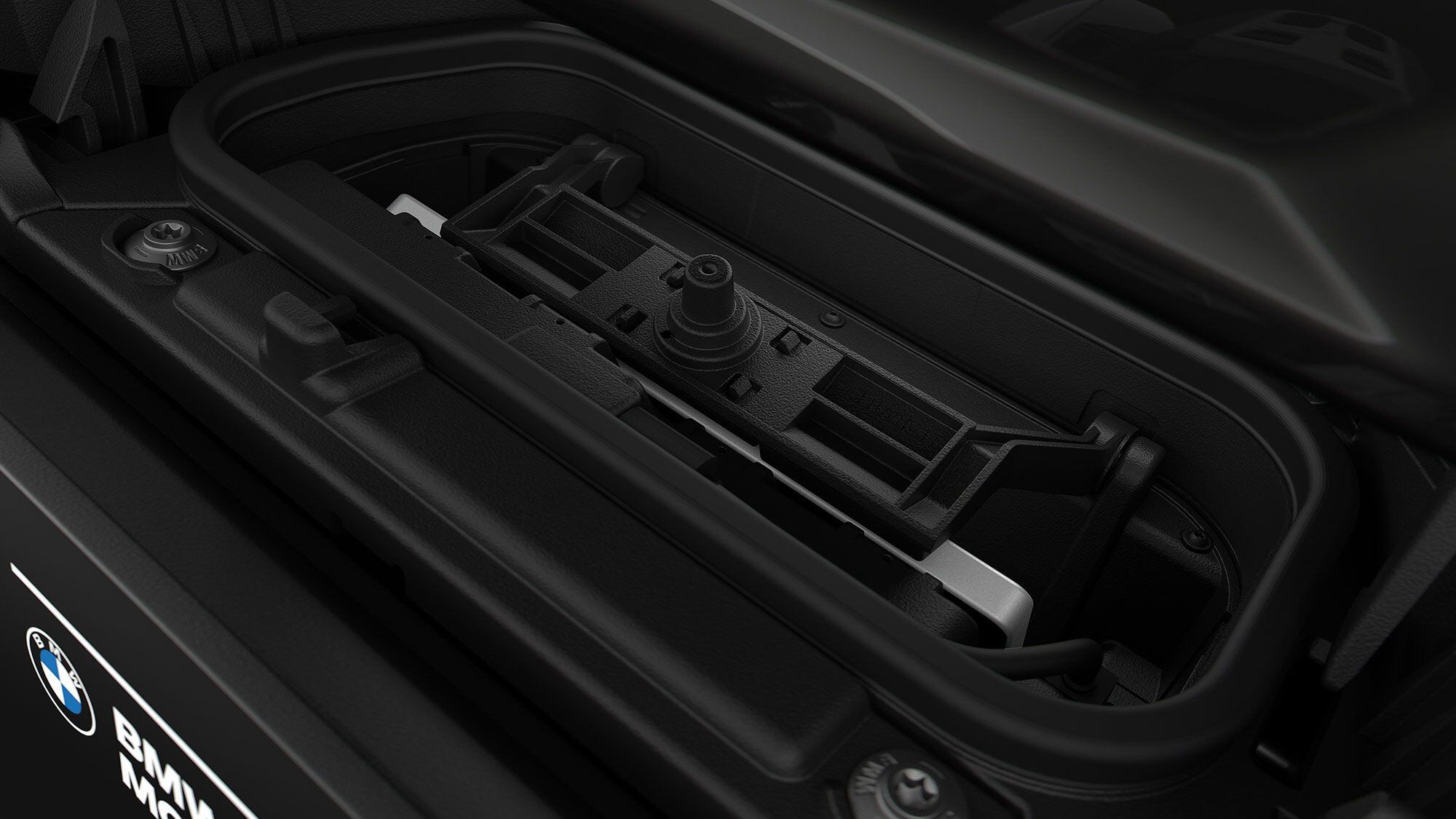 Ventilated storage compartment above the TFT display tucks under the windscreen when the bike is off. (BMW Motorrad/)
As for the ever-crucial color options, the new K 1600 GT, GTL, B, and Grand America can be had in a choice of three hues: a standard color, a style variant, and with Option 719. BMW says wheels, seats, auxiliary lighting, and an expanding variety of other add-ons are readily available for further personalization.
The least expensive of the three, the 2022 BMW K 1600 B bagger, starts at $22,545, while the most expensive package is the Grand America option which will retail at $27,745. Next is the K 1600 GT which gets an MSRP of $23,895 for the base model (less expensive than last year's $24,045). Finally, the K 1600 GTL also drops in price to $26,895 for the 2022 model.
All bikes will become available in February of 2022.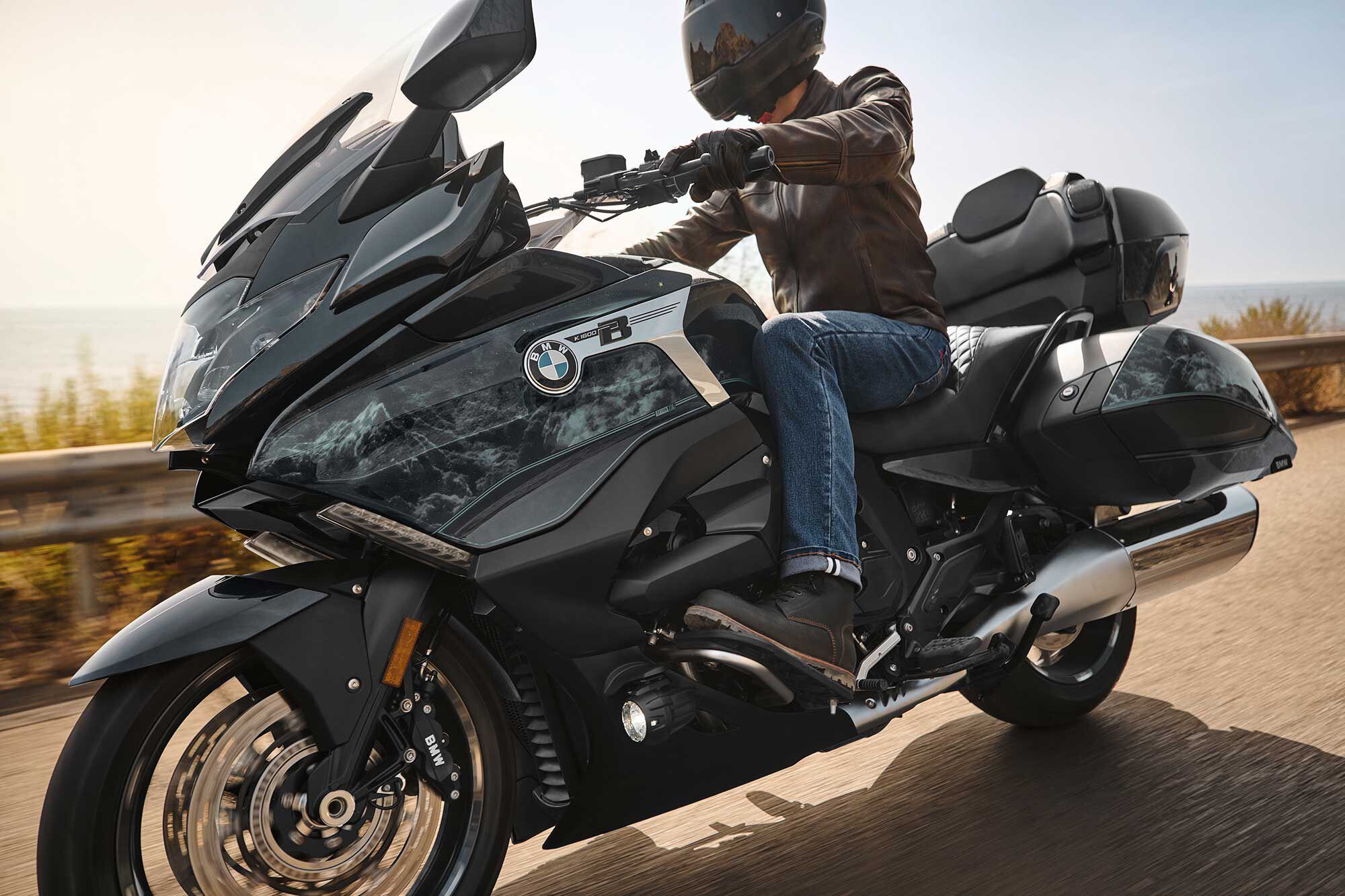 The 2022 K 1600 Grand America is available in this Option 719 Midnight water transfer print, a finish done by hand. (BMW Motorrad/)
Standard trim for the GT is Black Storm Metallic body paint and gallons of ebony splashed everywhere else. (BMW Motorrad/)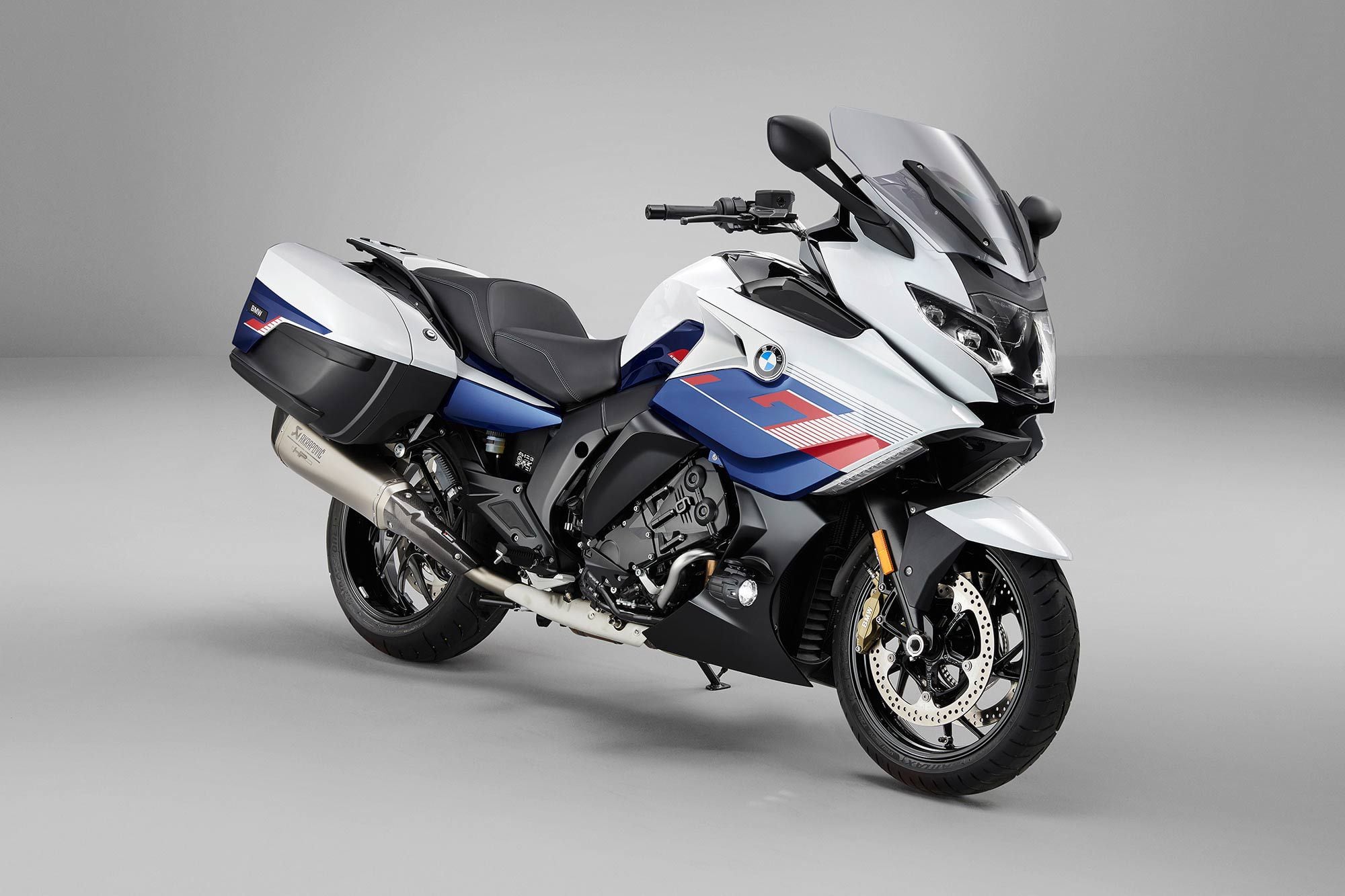 The K 1600 GT Sport Style option. (BMW Motorrad/)