The BMW K 1600 B Grand America returns for 2022 with engine revisions and more safety and comfort upgrades. (BMW Motorrad/)
As BMW had already dropped its R 18-based baggers earlier this year, we knew it wouldn't be long before the Bavarian brand threw down an update for the K 1600 B—the sleeker, less traditional, more European, and more luxury-biased entry in its bagger class, powered by a silky smooth inline six. Consider it done—BMW has just announced the K 1600 B and Grand America models for 2022, and while the models are being called "new," it's really more of a refinement to the engine to meet Euro 5 standards.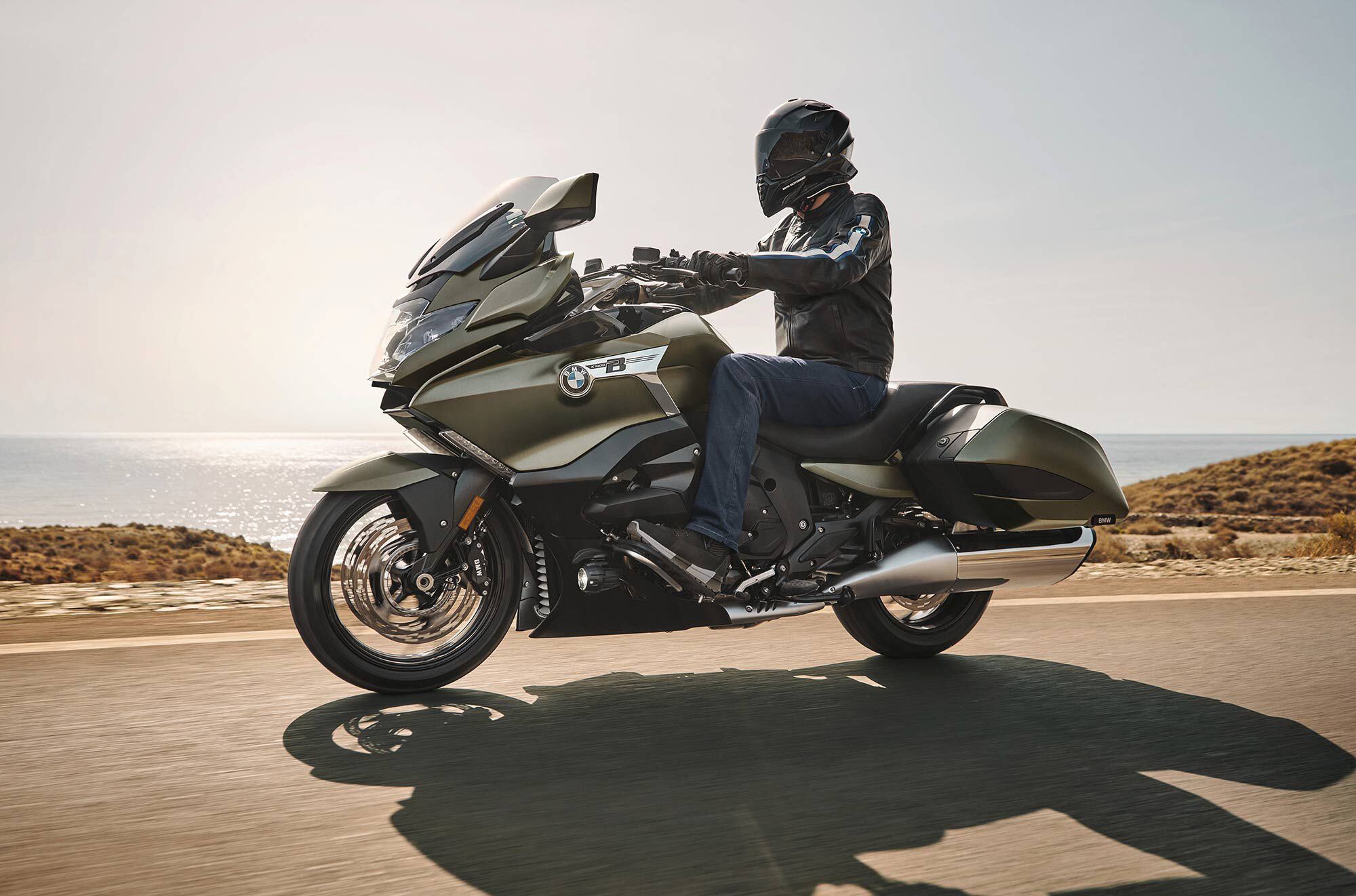 The base-model 2022 K 1600 B gets the same engine revisions as the rest of the K 1600 series, but fewer standard features. This is the optional Exclusive Style trim. (BMW Motorrad/)
Of course, it's not just the K 1600 B getting those tweaks; the engine revisions were made to all the models in the K 1600 series, including the K 1600 GT and the K 1600 GTL (read about it here). But we'll focus on the two more cruisery bikes here. It's also worth noting that the Grand America, once considered its own stand-alone model in the series, is now what BMW calls "an option package" for the base K 1600 B—which frankly, we always thought it was anyway—piling a series of comfort and luggage upgrades onto the base K 1600.
Related: 2022 BMW R 18 B and R 18 Transcontinental First Ride Review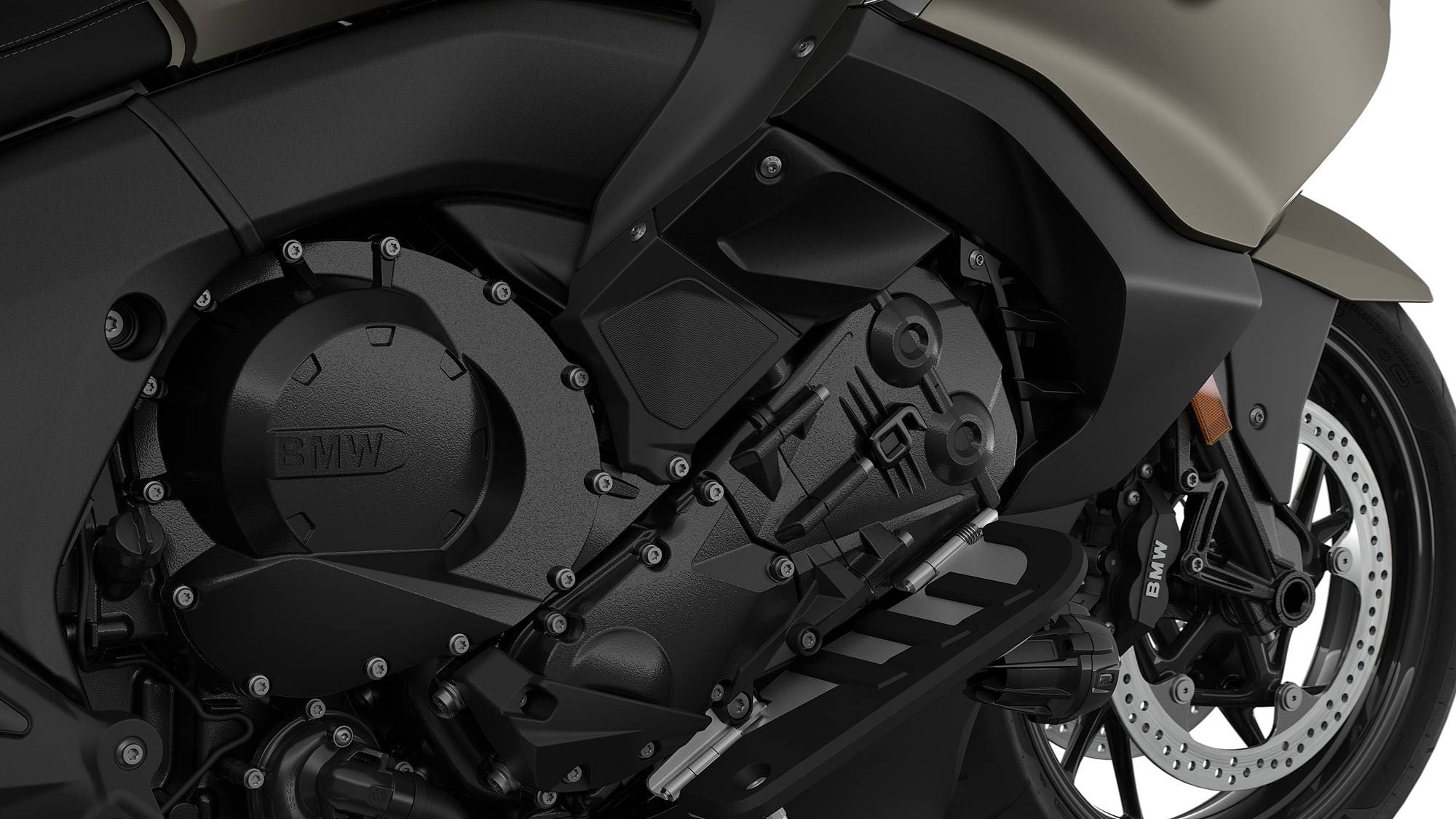 The road to cleaner emissions includes additional probes and sensors, but the engine's 160 hp output remains unchanged. (BMW Motorrad/)
Both bikes retain their signature narrow 1,649cc inline-six engine, but as we mentioned, that mill gets a few improvements for cleaner operation to meet Euro 5 standards. Although displacement remains unchanged, the addition of BMS engine control, two knock sensors, and two additional lambda probes are the main new elements; knock sensors to optimize ignition timing and the lambda sensors positioned behind the two catalytic converters to better determine oxygen levels in the exhaust.
The add-ons not only result in fewer emissions, but the engine doesn't even lose any power as result; in fact, the claimed 160 hp peak now hits at 6,750 rpm, or 1,000 rpm sooner than before. Meanwhile, maximum torque is boosted to 133 pound-feet at 5,250 rpm (from the earlier 120 pound-feet figure), which BMW says will improve acceleration in the 3,000-to-7,000-rpm range. The engine also gets a new drag torque control system (MSR) for better control over rear wheel slip.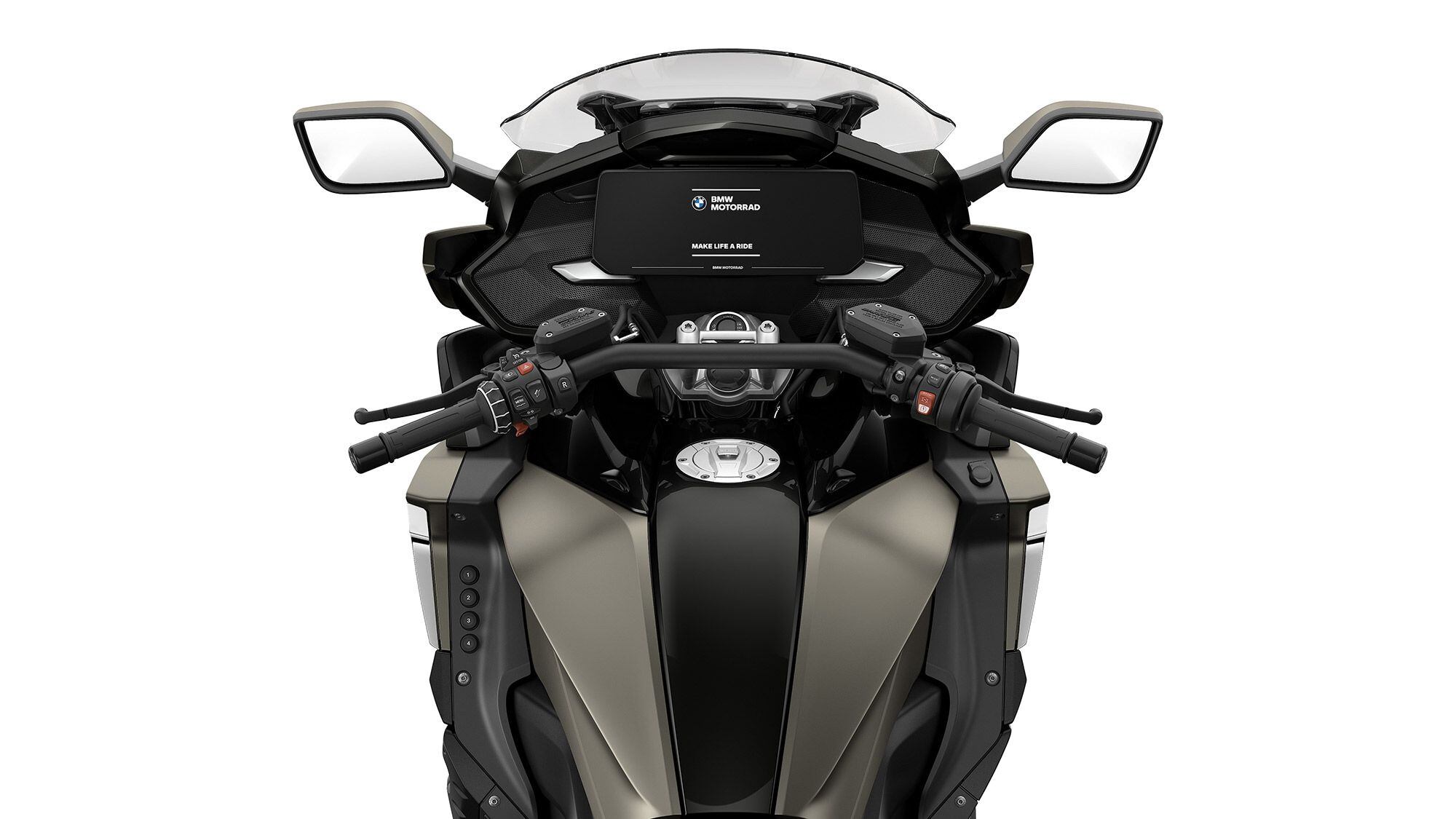 A new 10.25-inch TFT color display with integrated map navigation and comprehensive connectivity makes the scene for 2022. (BMW Motorrad/)
And while we can't point to much commonality between the R 18 B and the K 1600 B in the engine bay, there is at least some spillover up top. The first comes in the form of the new, massive 10.25-inch TFT display all the new K 1600s get, which we also encountered on our First Ride of the 2022 R 18 B. It comes with integrated navigation so there's no need for another nav unit, and if you pair it to your phone with the BMW Connected app, that's mirrored onto the display offering added features; there's even a handy storage compartment for your device onboard, above the TFT display.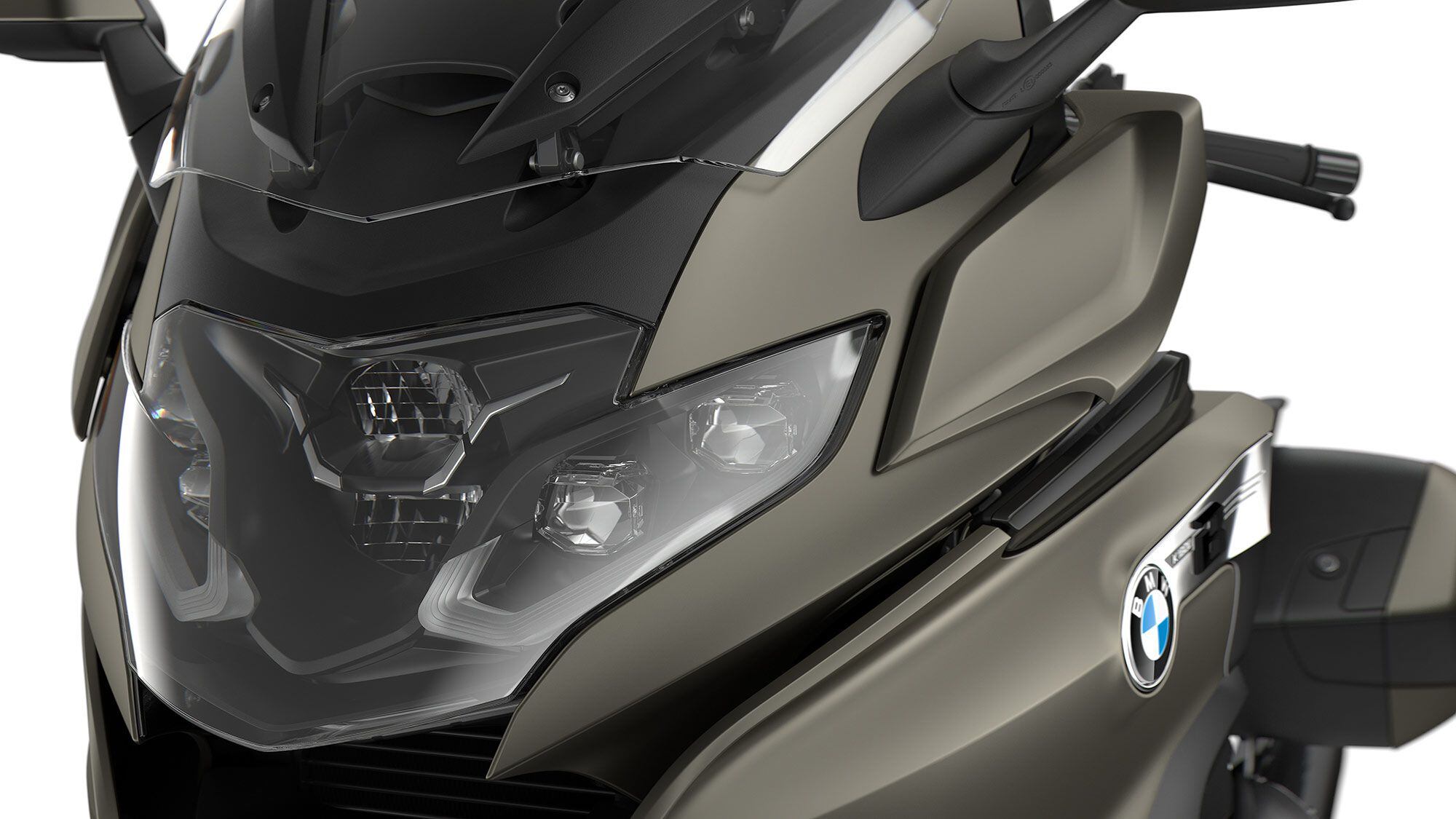 Also new is the LED adaptive headlight that's standard for both the K 1600 B and the Grand America package. (BMW Motorrad/)
There are other electronic niceties to dig into on the K 1600 B as well—ABS Pro, ESA suspension, and even (dynamic) cruise control, multifunction buttons to control the heated grips and other settings, all are standard features making a return. But we're a bit bummed the new 2022 K 1600 B models don't see the Active Cruise Control we saw the R 18 B, at least on the Grand America.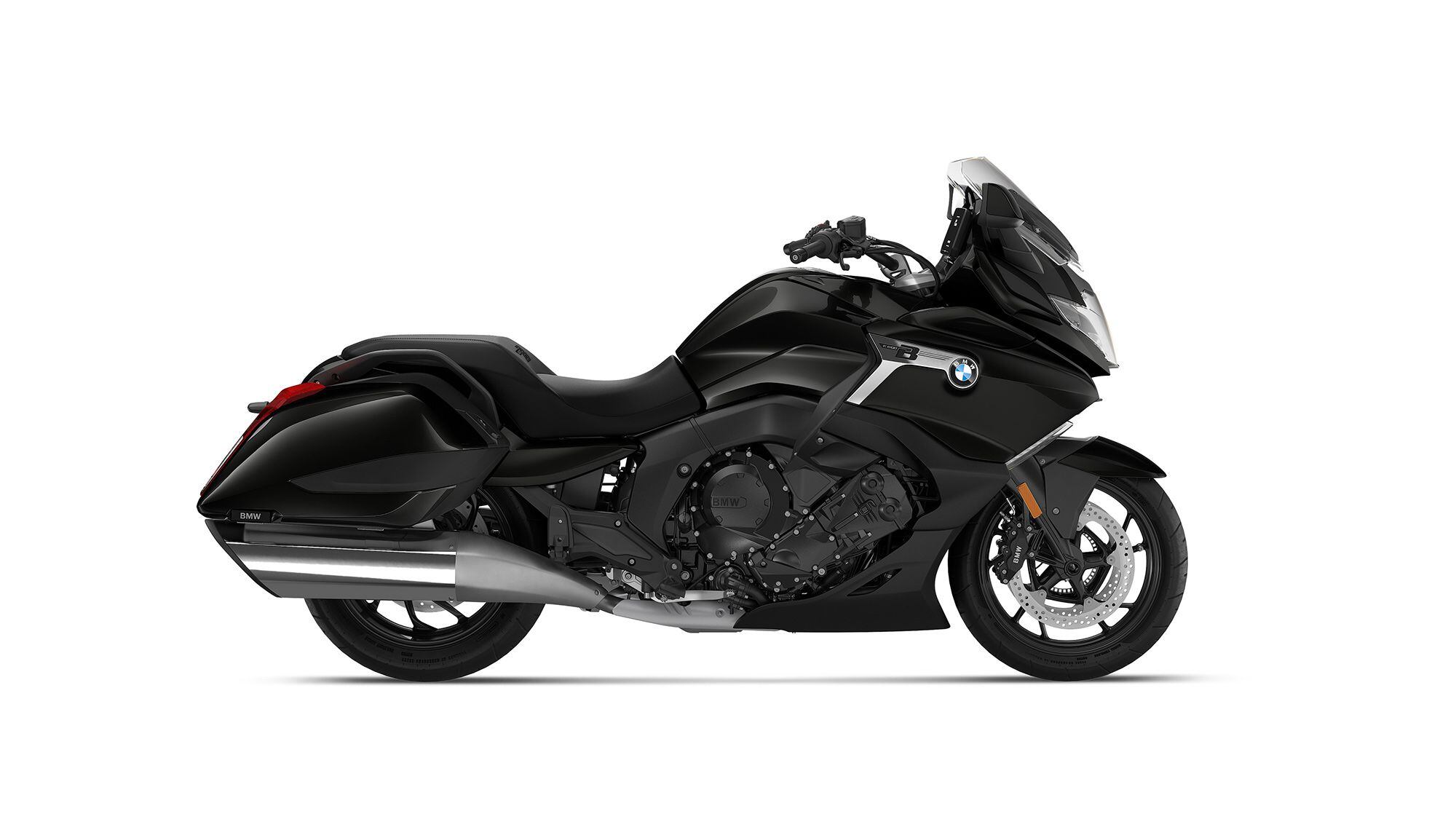 The base-model K 1600 B paints it all black; the Black Storm Metallic body color, black frame, black engine, and black seat. MSRP starts at $22,545. (BMW Motorrad/)
Both new bikes also receive new LED adaptive headlamp as standard equipment, a welcome safety feature that effectively illuminates more of a shadowy turn and adjusts to the bike's lean angle as well its movement during acceleration or braking. And in the very nice but not crucial category, BMW has also dialed in a bunch of added light functions that brighten the immediate spaces around you when you're in darkness, and the bike isn't yet switched on. A "Welcome" light pops on when you start up, and a "Goodbye" light stays on when you switch it off, presumably for an easier dismount.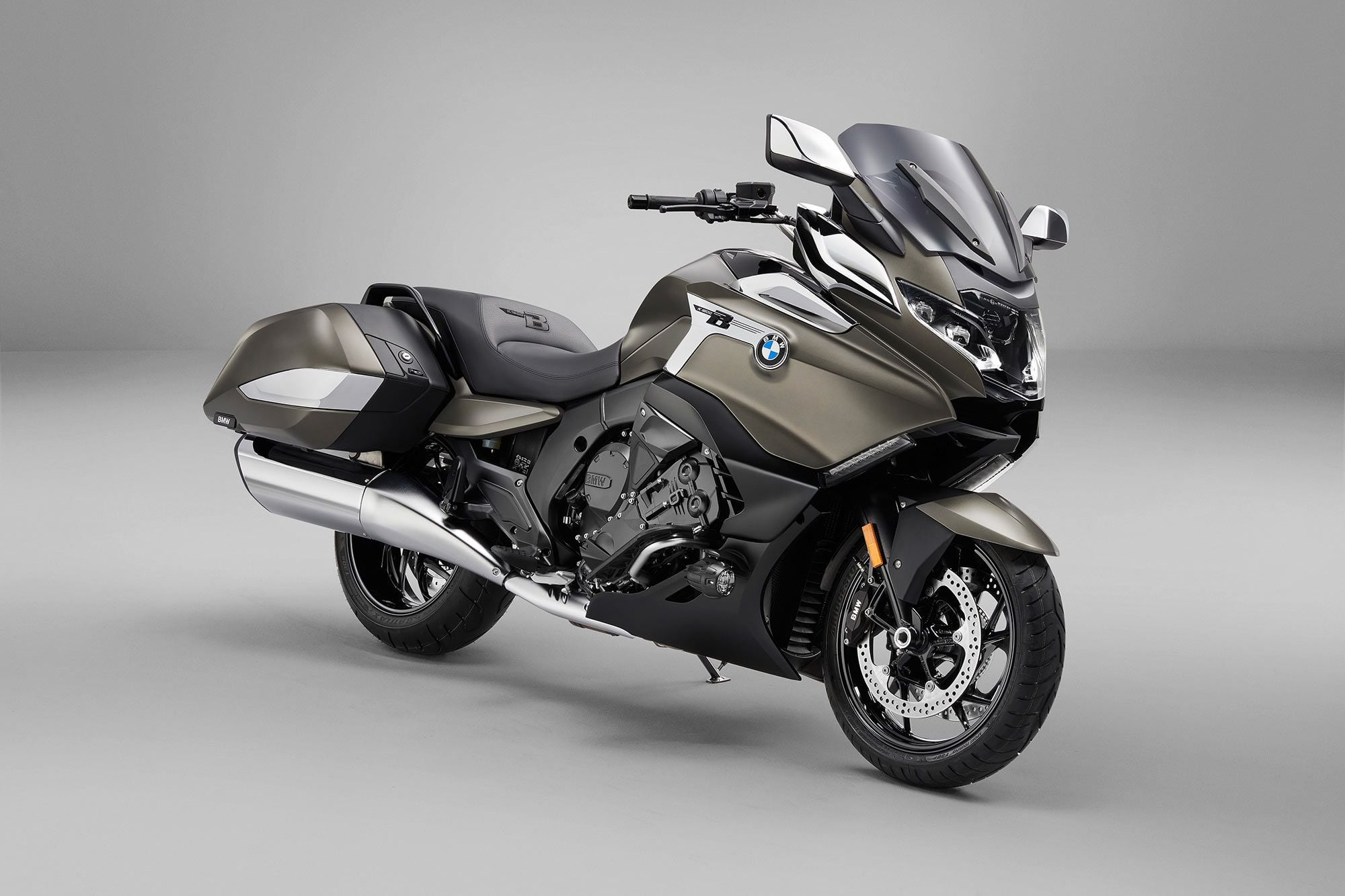 An upgrade to the Exclusive Style trim includes this Manhattan Metallic body color with color-matched saddlebags, over a black frame and engine. Huge exhaust can is standard. (BMW Motorrad/)
Naturally you get more goodies with the premium Grand America package, like BMW's new Audio 2.0 system (it's an option on the  K 1600 B). The main thrust of the 2.0 system is that it's now integrated into the bike's electrical system, rather than being independent as before. It's also got several preset profiles, balanced for different scenarios (for instance, one for in-helmet audio, one for without) that BMW says offer a wide range of sound even at highway speeds. Another cool feature is that the radio antennas are integrated into the bodywork.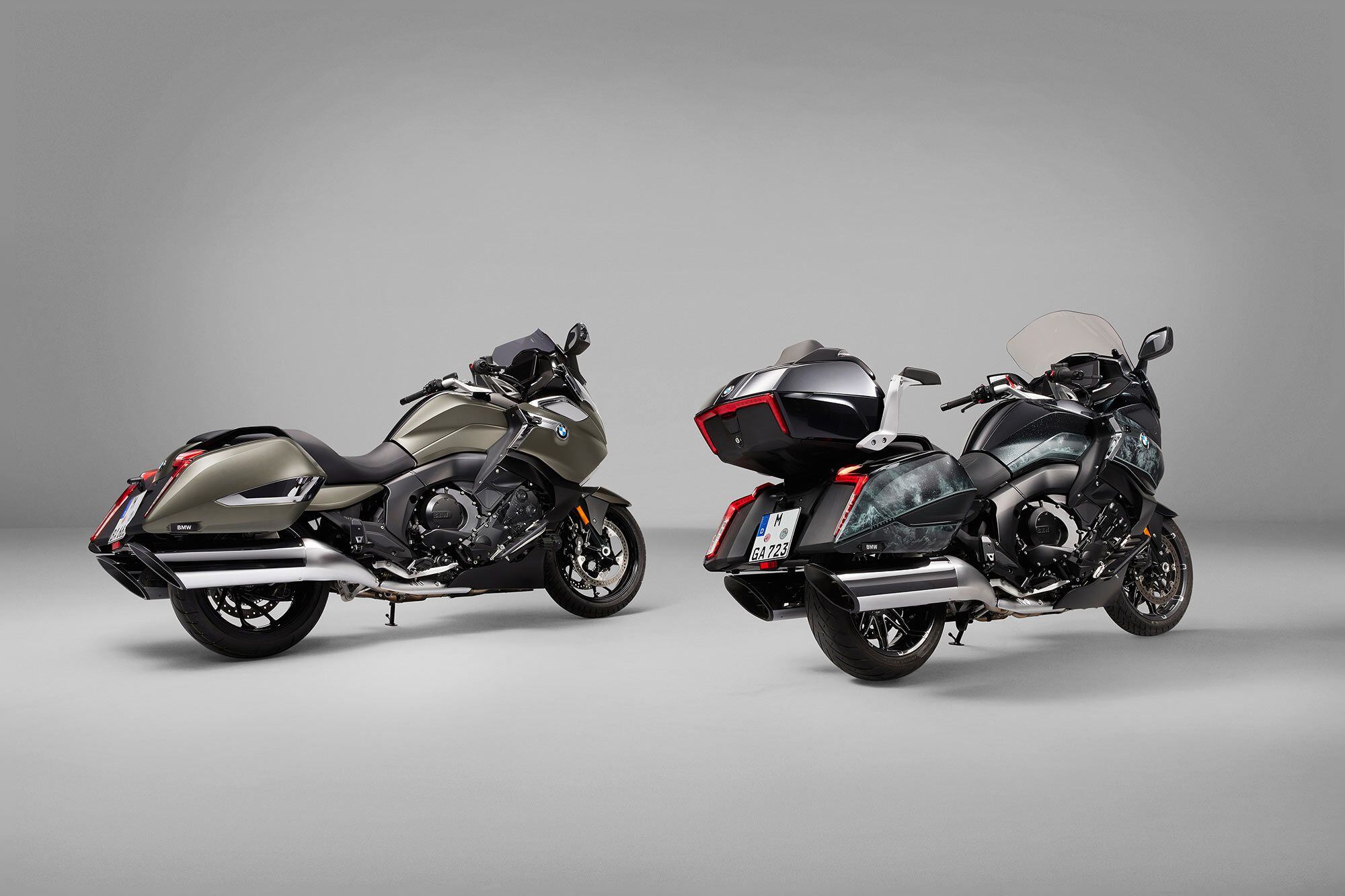 The K 1600 B and the Grand America, respectively, in upgraded trims. As with the new R 18 B, the 2022 Grand America is also available in this Option 719 Midnight/Galaxy Dust finish. (BMW Motorrad/)
To recap, the new features for 2022 K 1600 B and Grand America in addition to the engine revisions are the 10.25-inch TFT screen, programmable handlebar buttons, the new adaptive LED headlight, and the improved Dynamic ESA, which offers fully automatic load compensation. The system adjusts damping forces electronically for the front and rear suspension for a more comfortable ride, and riders can switch damping characteristics with handlebar buttons.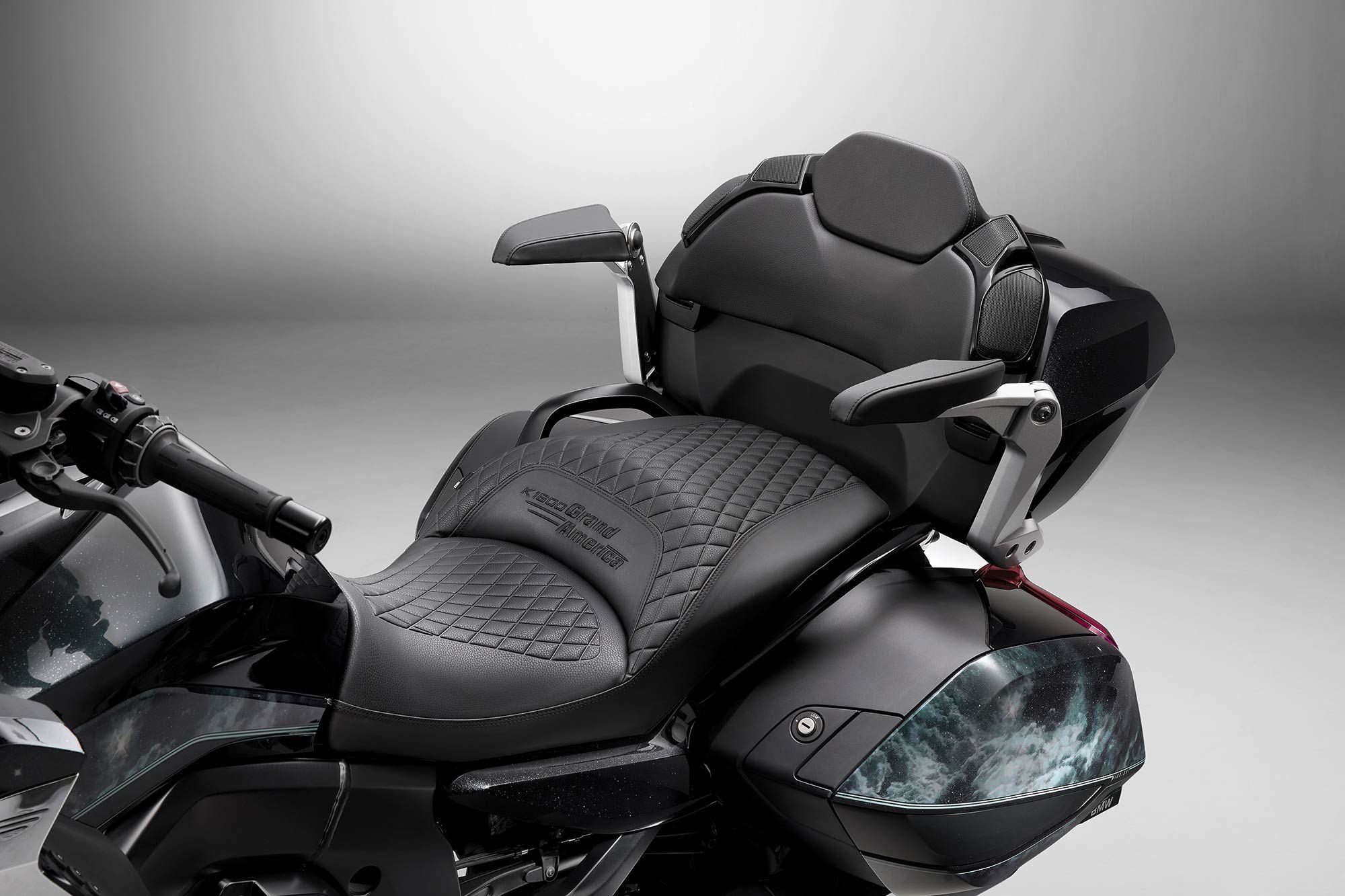 The plush, luxurious Grand America package comes with the Audio 2.0 system standard (rear speakers are integrated into the backrest); it's an option on the K 1600 B. (BMW Motorrad/)
The new K 1600 B and Grand America option will be available in three color options: a standard color, a style variant, and/or with Option 719. The base colors for both are Black Storm Metallic with a black frame, but you can customize from there. BMW says new wheels, seats, auxiliary lighting, and a bigger range of other accessories are ready to go should you want to trick out your rig even more.
The 2022 BMW K 1600 B bagger will retail for $22,545, while its up-spec Grand America counterpart will start at $27,745. Both versions will be available in February of 2022.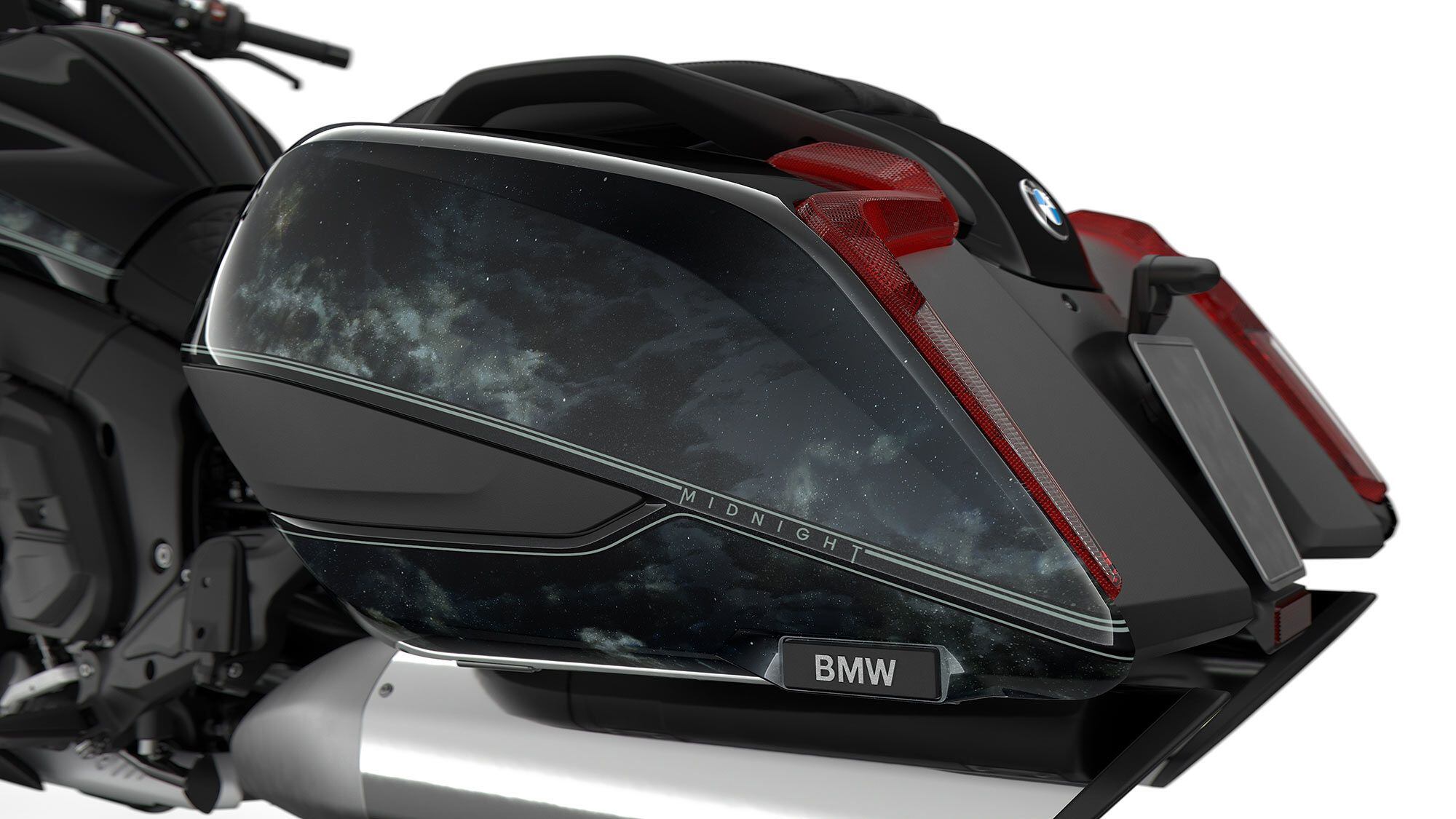 A closer look at the Grand America's Option 719 Midnight/Galaxy Dust water transfer print, a finish done by hand. (BMW Motorrad/)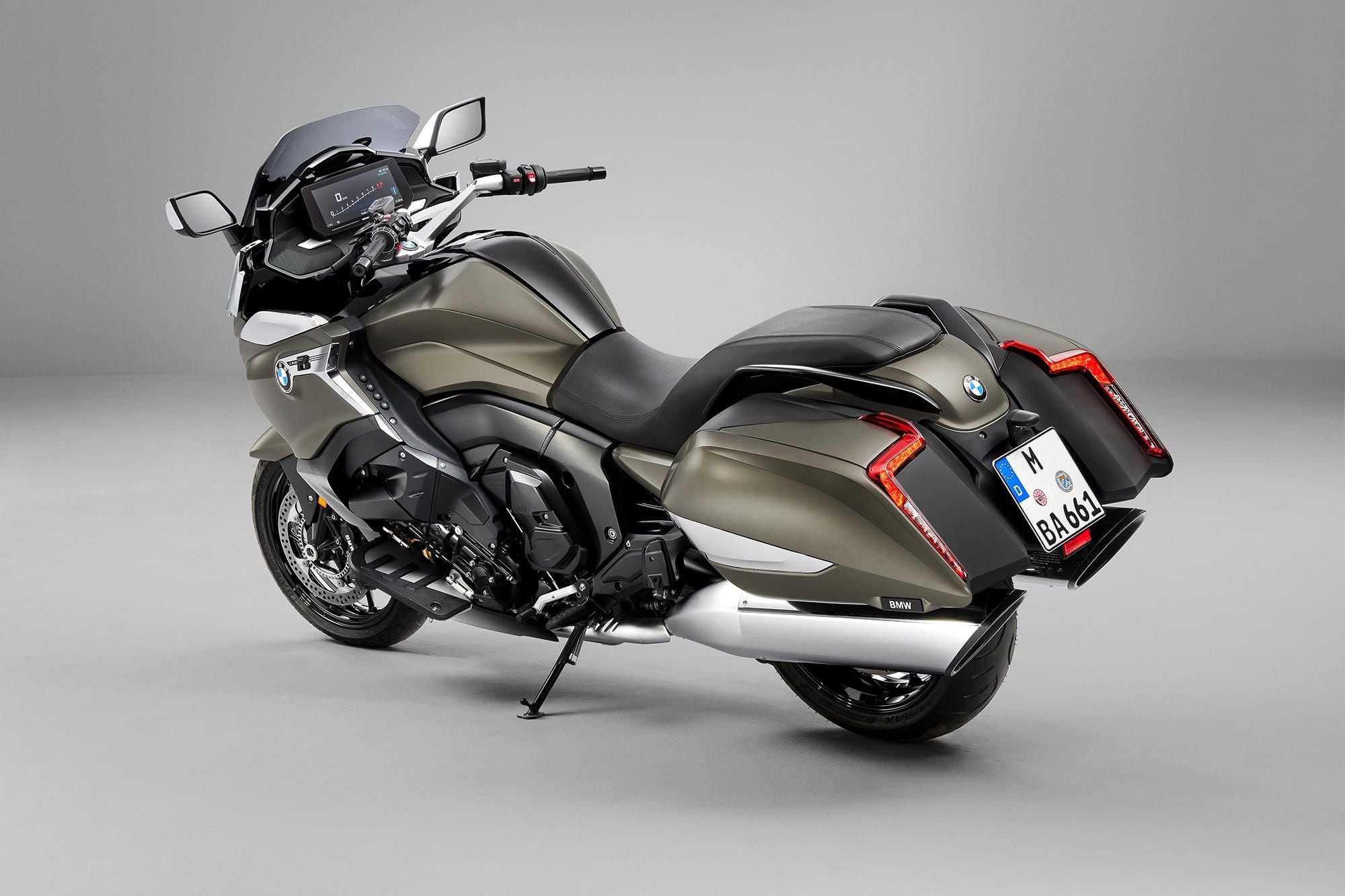 Th 2022 BMW K 1600 B from the rear with a better angle of the new 10-inch TFT display, shield, and footboards. (BMW Motorrad/)