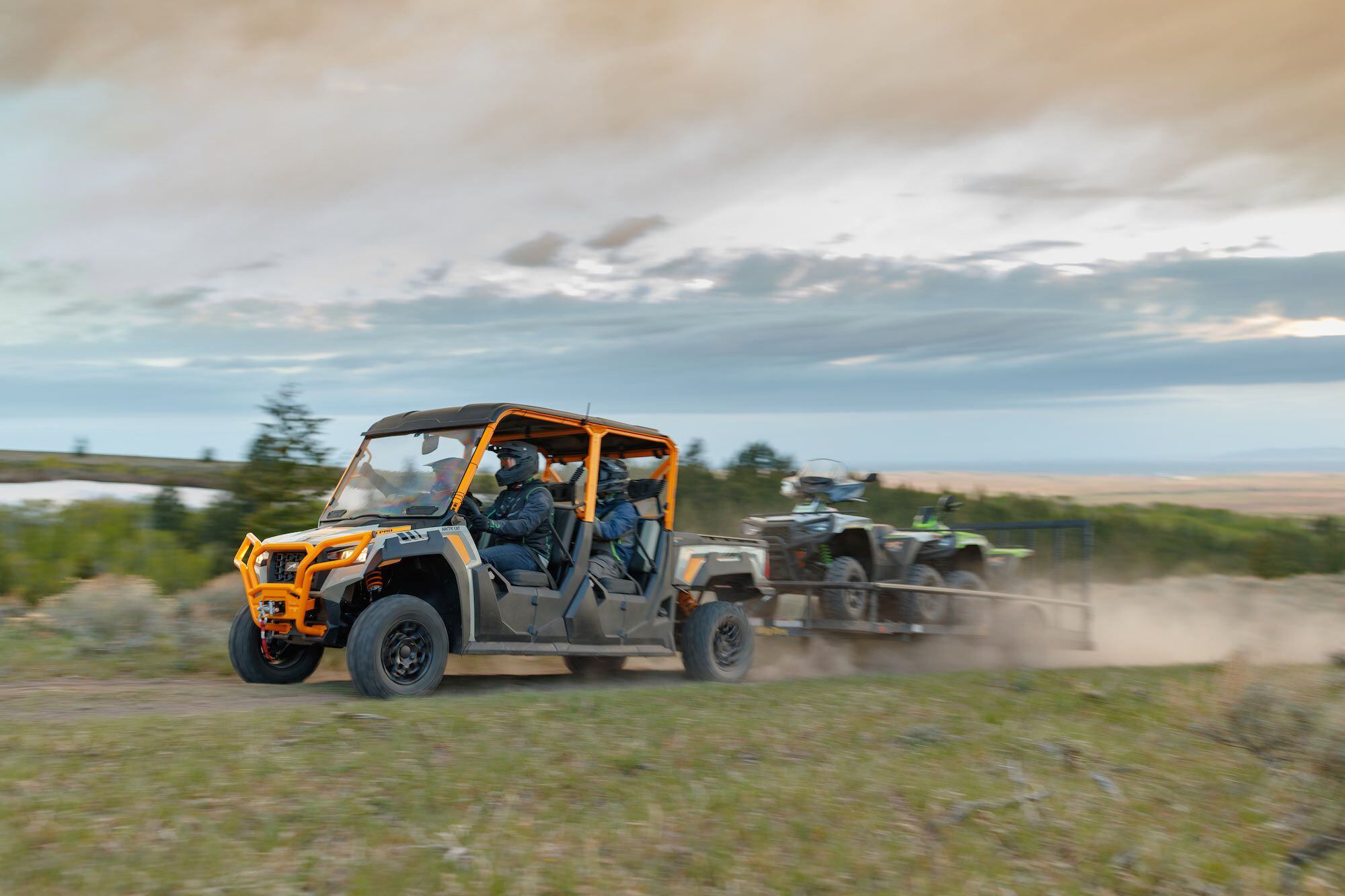 2022 Arctic Cat Prowler Pro Crew six-seater utility side-by-sides pulling a trailer. (Arctic Cat/)
Ups
Storage compartments scattered from front to rear, smooth three-cylinder engine mated to an upgraded CVTech transmission, refreshed suspension components that mimic the Prowler Pro for increased ground clearance, new colors for each trim level, excess seating for moving the entire crew, and premium seven-spoke wheels.
Downs
Still the same model Artic Cat has been selling with no real platform changes, the Prowler Pro Crew also doesn't offer any enclosed-cabin options, no HVAC options, and no B-pillar inner cross bracing or head restraint padding for the first bench. Has an agricultural interior lacking in refinement and technology options on all trim levels.
Verdict
The 2022 Prowler Pro Crew marks a major mid-model refresh for this vehicle. If you own a much older machine or have been eyeing the Prowler model for your first UTV, now is the time to buy. The upgraded transmission and suspension mean you're buying a more modern vehicle. If you own a relatively new Prowler or competitor's UTV, then this may not be enough value to warrant shelling out new-rig money. Regardless, Arctic Cat continues to work to keep the Prowler lineup competitive in a very popular segment.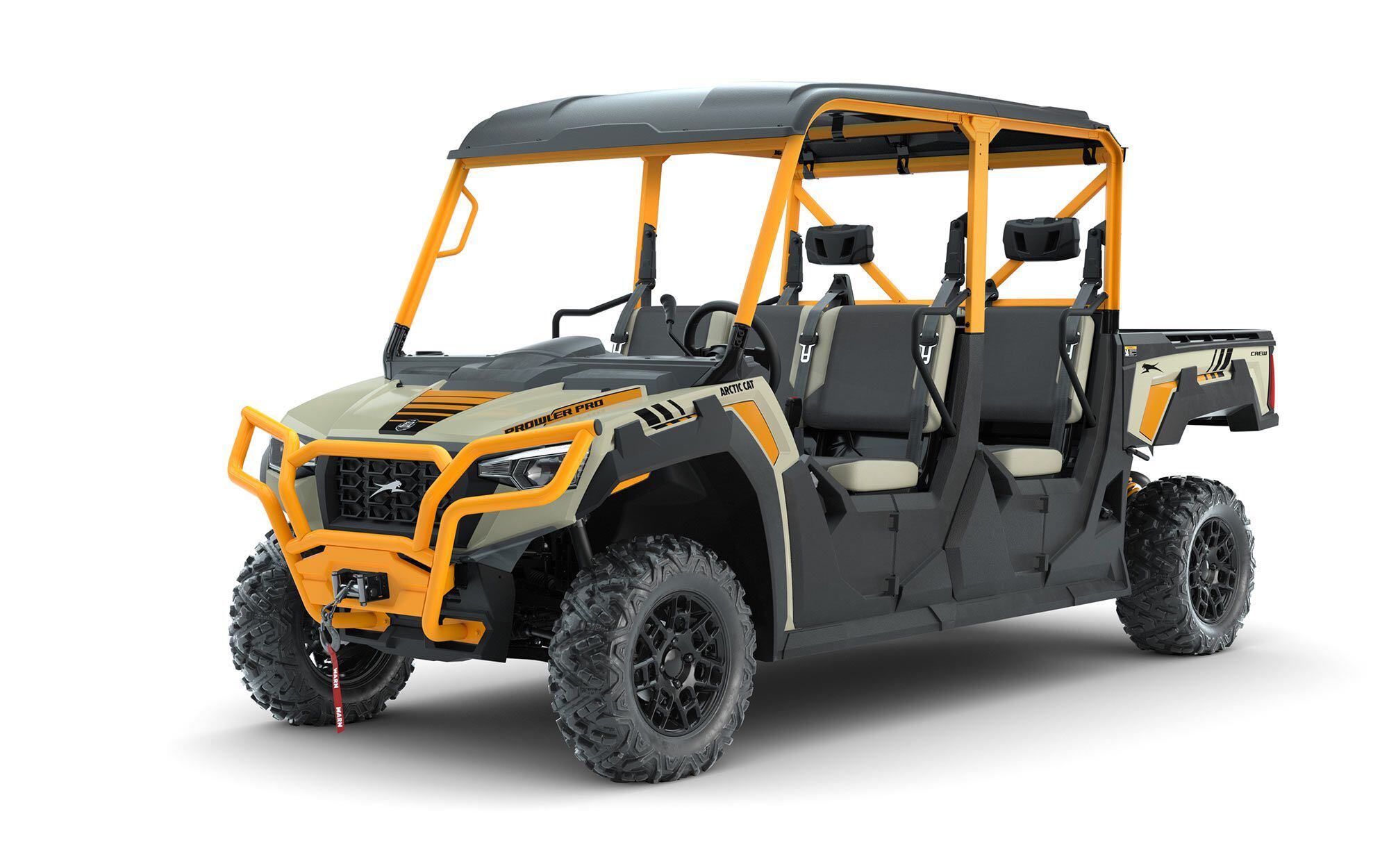 2022 Arctic Cat Prowler Pro Crew LTD in Fossil. (Arctic Cat/)
Overview
A series of mid-generation model upgrades breathe new life into the Arctic Cat Prowler Pro Crew lineup for 2022. It shares the same quiet 50 horsepower three-cylinder engine with it's smaller brother, the Prowler Pro. A newly redesigned for 2022 suspension system promised to add ground clearance and boost trail comfort. The Prowler Pro Crew lineup is engineered to work on a full range of tasks from land management to trail riding while keeping its two rows of passengers fresh, and important cargo secure.
Updates for 2021
The Prowler Pro Crew model receives all the same mid-generation upgrades for 2022 that the smaller Prowler Pro does. Making up the changes are a new performance-tuned CVTech transmission built for more durability, all-new upgraded suspension components ready to tackle serious obstacles, increased ground clearance, bright new exterior colors for each trim level, redesigned front bumper, and modern seven-spoke black 14-inch wheels at each corner.
Pricing and Which One to Buy
2022 Arctic Cat Prowler Pro Crew EPS MSRP: $15,749
2022 Arctic Cat Prowler Pro Crew XT MSRP: $18,399
2022 Arctic Cat Prowler Pro Crew LTD MSRP: $19,099
If budget is your primary concern, grab the entry-level Prowler Pro Crew EPS that goes without extras like color-matched ROPS cage, winch, and roof. You'll still get the new CVTech transmission, upgraded suspension components with increased ground clearance, and the 50 hp three-cylinder engine that's shared across the Prowler family. All this comes at a steep $2,650 discount compared to the more premium trim levels.
Grab the Prowler Pro Crew LTD model if price isn't a concern. This will let you enjoy everything Arctic Cat has to offer on a factory machine. The LTD comes with a lot of exterior paint upgrades to the ROPS roll cage, but it's more than just makeup. You also get larger-diameter tires, 4,500-pound Warn winch, LED lighting accents, and overhead storage under the standard roof.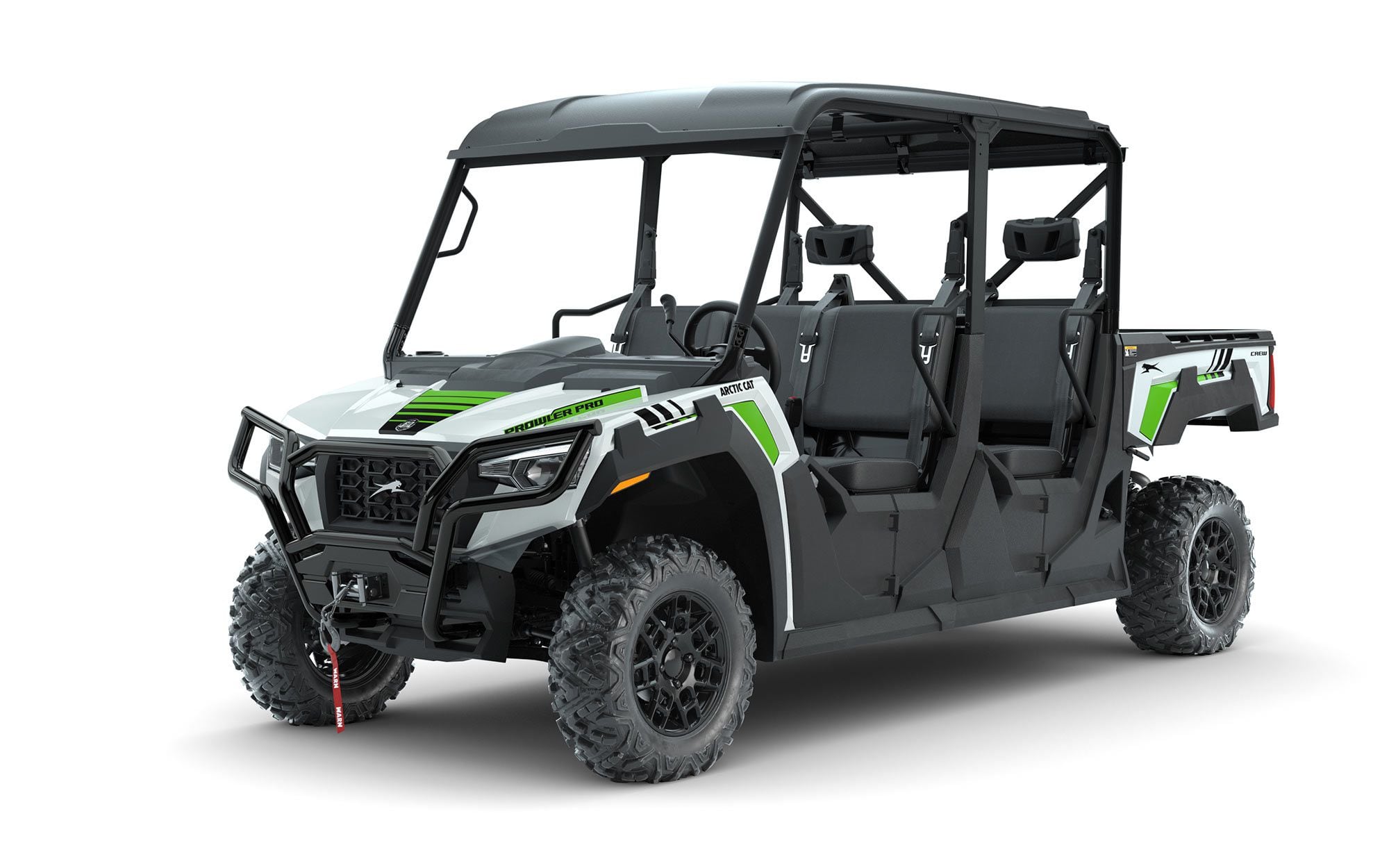 2022 Arctic Cat Prowler Pro Crew XT in Phantom Gray. (Arctic Cat/)
Powertrain: Engine, Transmission, and Performance
Arctic Cat's three-cylinder liquid-cooled 812cc 50 hp engine with 48 pound-feet of torque powers each trim level of the refreshed Prowler Pro Crew lineup. A multimode transfer case lets the driver choose between 2WD and 4WD, with optional locking rear differential at the push of a button.
The new CVTech Trailbloc transmission utilizes a more constant tension belt system to improve transmission feel and durability. Upgraded engine and transmission cooling systems also work to improve vehicle reliability. And slightly stronger axle half shafts are now standard to handle the larger tires on XT and LTD trim levels.
Handling
Upgraded suspension components come standard on all 2022 Prowler Pro Crew models. These upgrades include recalibrated shocks for increased trail ride comfort and off-road performance, high-clearance control arms for extra ground clearance, and tweaked geometry for improved control while out on the trail. The refreshed independant suspension mirrors the three-seater Prowler Pro with 10 inches of front travel and 9.5 inches of rear travel. By adding new high-clearance control arms, the EPS model jumps to 12.5 inches of ground clearance, and 13 inches of ground clearance on XT and LTD trim levels.
Brakes
Brakes go unchanged for the 2022 model year. Four-wheel disc brakes are standard with dual-piston front calipers and single-piston rear calipers. There is no parking brake.
Ergonomics: Comfort and Utility
Inside the 2022 Prowler Pro Crew, the standard three-person bench seat affords practical entry and exit, for frequent stops, across both the front bench and rear second bench. Arctic Cat states they've also been able to further reduce vehicle operating noise to result in improved in-cab quietness levels. Exhaust tone is kept quiet for working around livestock, or exploring trails without bothering the locals.
As we've seen in the past, Arctic Cat takes storage and utility seriously. With several in-cab storage compartments tucked in the dash and behind the rear bench seat, there's room for a ton of your gear. You'll also retain the large lifting utility bed for getting work done around the ranch.
Payload/Towing
Weight ratings are shared from the three-seater Prowler Pro UTV, with no upgrades for the extra bench row. The gross vehicle weight rating remains 1,500 pounds, including all six passengers. The rear utility bed is rated for 1,000 pounds of cargo. Towing capacity is rated at 2,000 pounds with the frame-mounted 2-inch hitch receiver.
Electronics
A multifunction digital display summarizes gauge data. XT and LTD models wear LED lighting accents up front, for a more sophisticated exterior look. While all Prowler models have a keyed electronic ignition, only the XT and LTD trim packages include a heavy-duty Warn 4,500-pound front-mounted winch.
Warranty and Maintenance Coverage
All Prowler models come with a standard 18-month manufacturer warranty.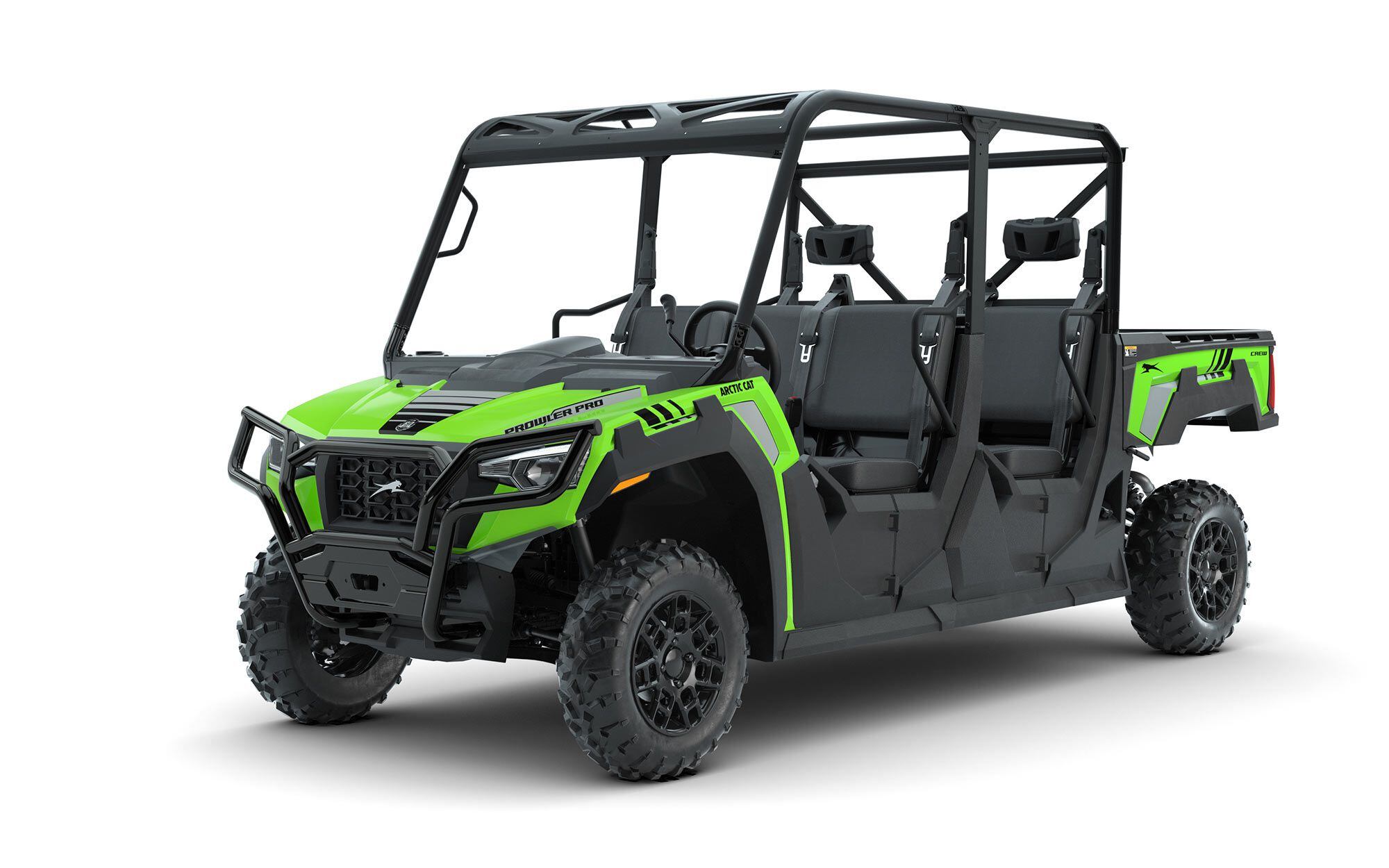 2022 Arctic Cat Prowler Pro Crew EPS in Medium Green. (Arctic Cat/)
2022 Arctic Cat Prowler Pro Crew Specs:
| | |
| --- | --- |
| MSRP: | Starting at $15,749 |
| Engine: | Liquid-cooled 4-stroke 3-cylinder |
| Displacement: | 812cc |
| Bore x Stroke: | N/A |
| Compression Ratio: | N/A |
| Transmission: | CVT w/ high and low range, reverse |
| Claimed Horsepower: | 50 hp |
| Claimed Torque: | 48 lb.-ft. |
| Fuel System: | EFI |
| Steering: | Electric power steering |
| Drivetrain: | 2WD/4WD (base), 3WD/4WD (XT), 4WD/4WD (LTD) w/ selectable rear diff-lock; electric actuation |
| Front Suspension: | Double A-arms, gas-charged twin tube; 10.0 in. travel |
| Rear Suspension: | Double A-arms, gas charged twin tube; 9.5 in. travel |
| Front Brakes: | 2-piston caliper, hydraulic disc |
| Rear Brakes: | 1-piston caliper, hydraulic disc |
| Wheels, Front/Rear: | Aluminum; 14 in. |
| Tires, Front/Rear: | 26×9-14, 26×11-14 (EPS) / 27×9-14, 27×11-14 (XT, LTD) |
| Length: | 161.0 in. |
| Width: | 63.0 in. |
| Height: | 77.0 in. (EPS) / 78.0 in. (XT, LTD) |
| Wheelbase: | 118.5 in. |
| Bed Capacity: | 1,000 lb. |
| Towing Capacity: | 2,000 lb. |
| Max Seating Capacity: | 6 |
| Ground Clearance: | 12.5 in. (EPS model) / 13.0 in. (XT and LTD models) |
| Turning Radius: | N/A |
| Claimed Dry Weight: | 1,856 lb. (EPS) / 1,961 lb. (XT) / 1,992 lb. (LTD) |
| Fuel Capacity: | 10.0 gal. |
| Warranty: | 18-month |
| Availability: | Now |
| Contact: | arcticcat.txtsv.com |