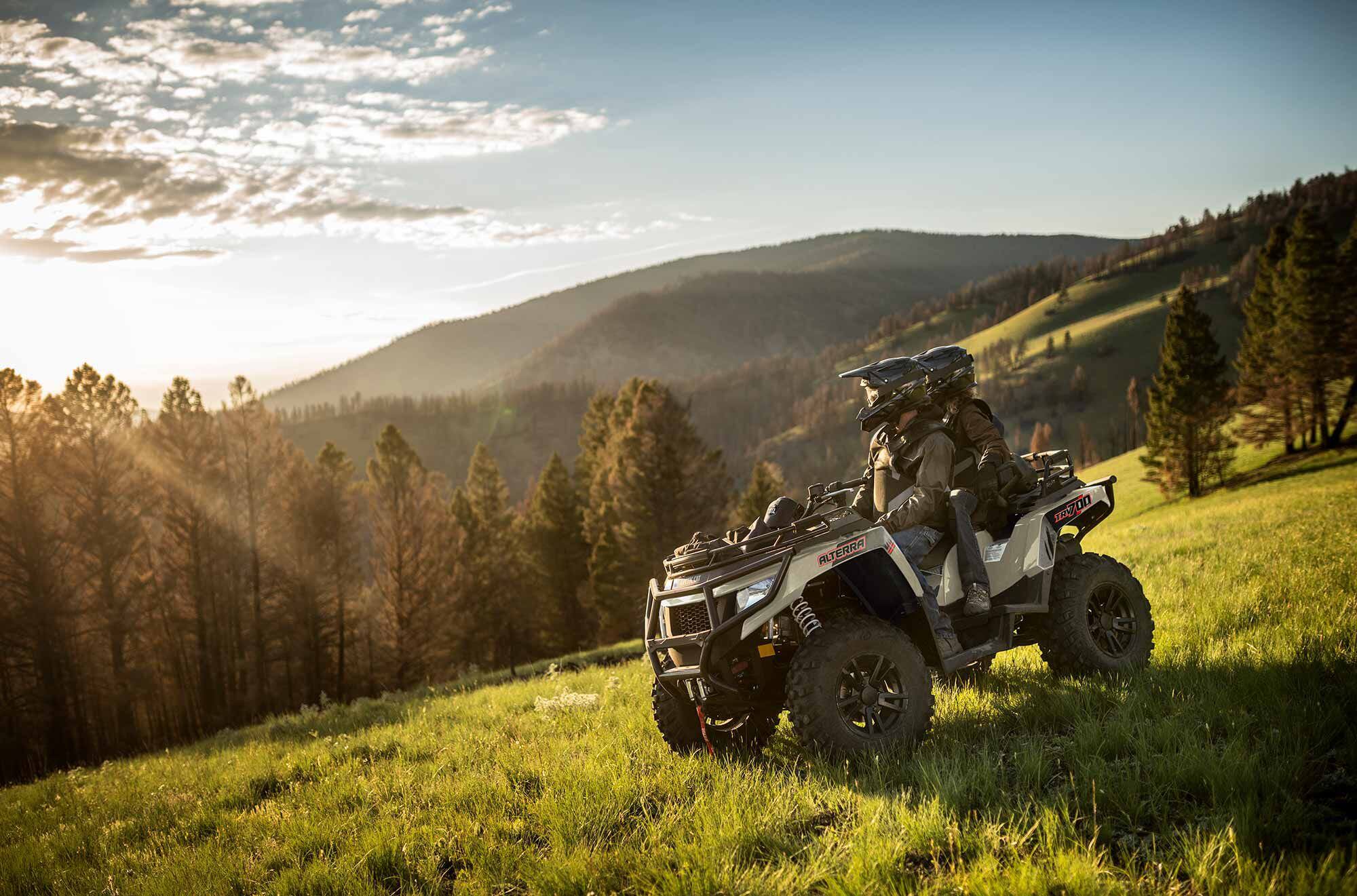 ATV riding is twice as much fun when you share the ride and view with a friend. (Arctic Cat/)
Ups
Comfortable for rider and passenger, power steering, strong 4WD system with front diff lock.
Downs
No limited editions, halogen lighting, only comes in one color.
Verdict
A powerful two-rider ATV with premium features.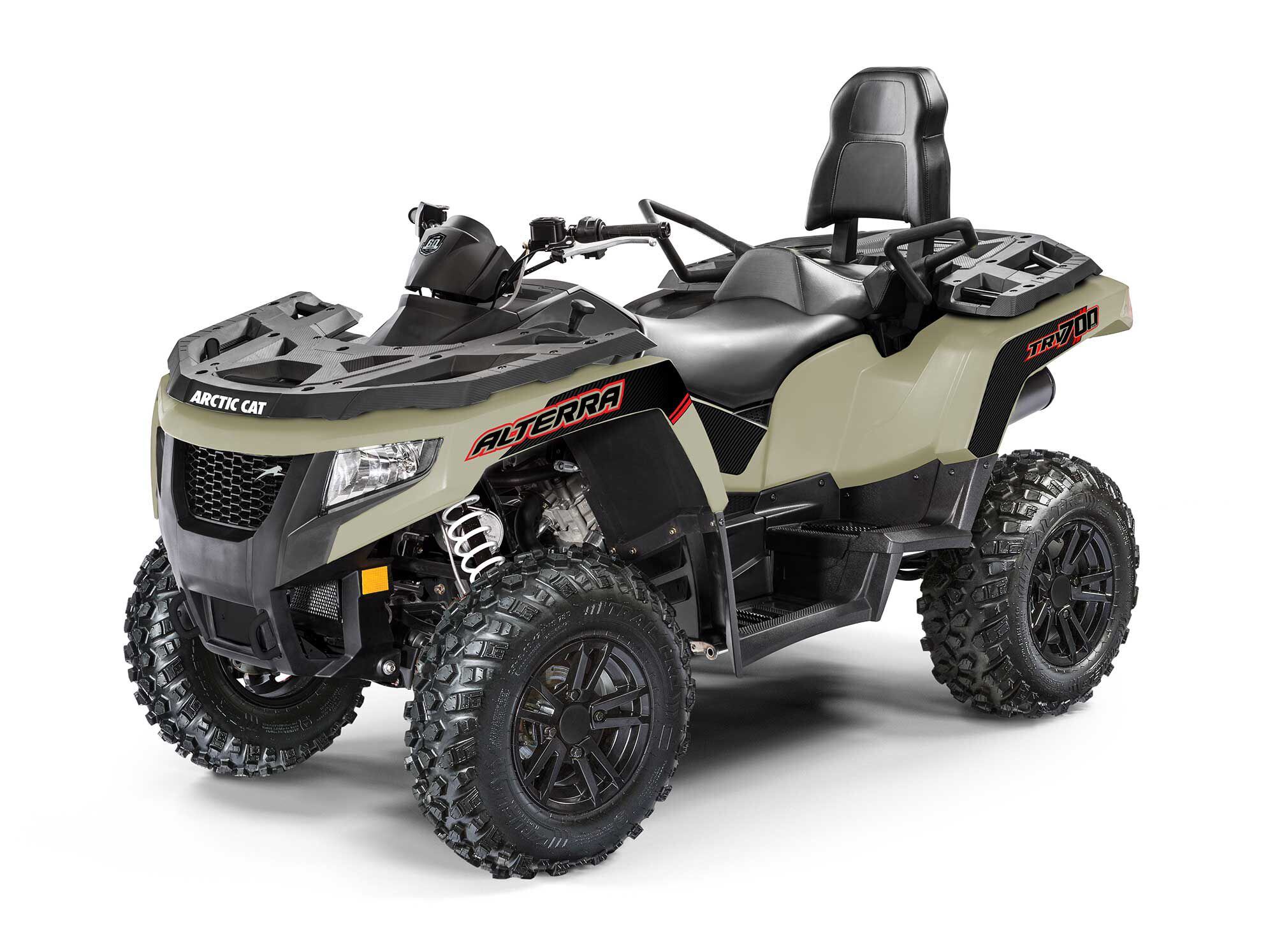 2022 Arctic Cat Alterra TRV 700 EPS. (Arctic Cat/)
Overview
The Alterra TRV 700 EPS isn't the most powerful two-rider ATV you can buy, but it will still get you there with premium features like electric power steering, aluminum wheels, and overmolded plastic rack covers. It's also the only Arctic Cat ATV with a front locking differential. Suspension travel and ground clearance numbers are excellent, and we really like the high-speed tracking and approach angles that the longer wheelbase affords.
Updates for 2022
The old Earth Blue has been replaced with a new Fossil color. There's also a $300 price increase.
Pricing and Which One to Buy
2022 Arctic Cat Alterra TRV 700 EPS MSRP: $10,299
What you see is what you get. There are no limited/special editions or additional colors to choose from, not even a camo model. Arctic Cat does have a wide range of accessories to outfit the TRV to fit your style.
Powertrain: Engine, Transmission, and Performance
The 695cc single-cylinder engine is strong without being obnoxious to the ears. A belt-driven CVT transmission provides low and high range operation. The 2WD and 4WD operation can be selected electronically and on the fly with the flip of a switch. The front differential is also lockable for maximum traction in mud and on the rocks.
Handling: Steering and Suspension
At almost 48 inches in width and with 10 inches of suspension travel, the ride inspires confidence in any trail situation—even with a passenger. The longer 58-inch wheelbase projects straighter forward tracking at higher speeds and better angles when taking on obstacles such as logs and steep rock faces. Arctic Cat has made great strides in steering improvement over the years, and standard electric power steering makes turning and navigating around obstacles even easier.
Brakes
Hydraulic disc brakes provide plenty of stopping power at all four corners. A hand lever manages measured braking at all four wheels, and a foot brake lever delivers braking power to just the rear wheels.
Ergonomics: Comfort and Utility
Controls are all within easy reach of the rider. The floorboards and seats for both rider and passenger are plush and allow plenty of room for comfort. The passenger seat has a posture-correct backrest and grab bars that allow numerous grip possibilities. The passenger seat and floorboards are also elevated for a better view and less helmet-to-helmet contact.
Payload/Towing
Front and rear racks combined can handle 300 pounds of cargo. Overmolded plastic covers protect cargo from the steel racks beneath and provide a flush base and plenty of anchor options to strap to. Arctic Cat's Speedlock system also allows easy attachment of select Arctic Cat accessories. The Alterra TRV comes with a standard 2-inch receiver and can tow up to 1,050 pounds.
Electronics
Halogen lighting is dull and dated, even in the taillights and brake lights. We'd like to see an LED upgrade in the future. The 2WD/4WD and 4WD with diff lock are all controlled with electronic switches. A multifunction digital gauge is centered and easy to view with all of the gauges and indicator lights we expect to see on a full-size ATV.
Warranty and Maintenance Coverage
A 12-month factory warranty is included with purchase.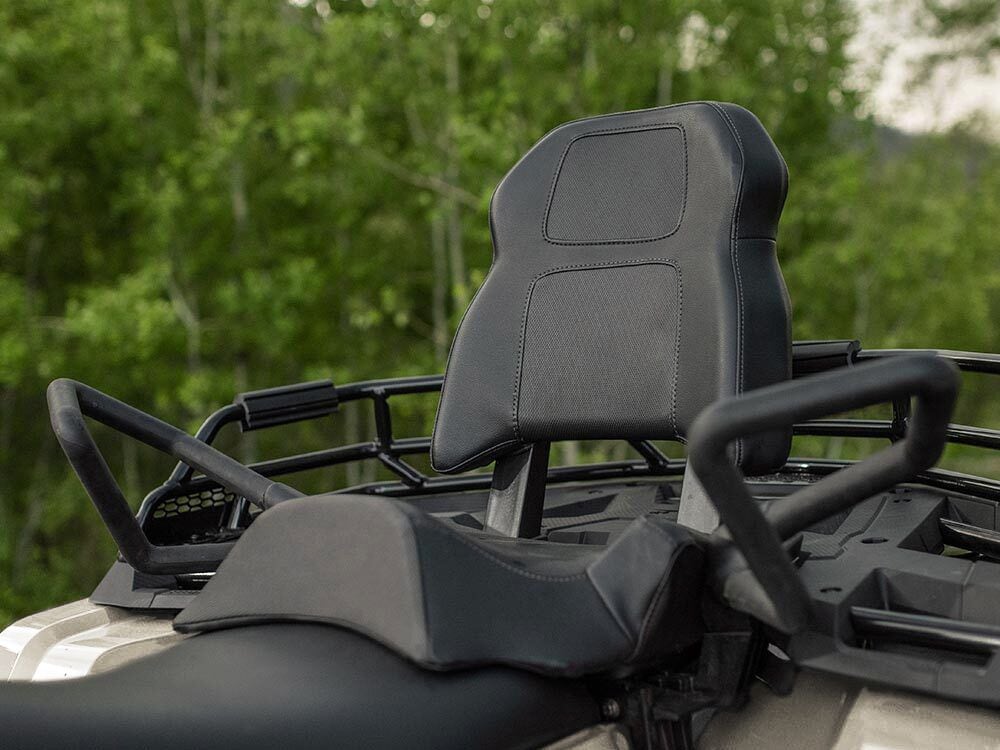 The passenger seat is elevated with a variety of grab handles and raised floorboards. (Arctic Cat/)
Specifications:
| | |
| --- | --- |
| MSRP: | $10,299 |
| Engine: | Liquid-cooled, 4-stroke single-cylinder |
| Displacement: | 695cc |
| Bore x Stroke: | N/A |
| Compression Ratio: | N/A |
| Transmission: | CVT w/ high and low range, reverse |
| Claimed Horsepower: | N/A |
| Claimed Torque: | N/A |
| Fuel System: | EFI |
| Steering: | EPS |
| Drivetrain: | 2WD/4WD electric actuation w/ front differential lock |
| Front Suspension: | Double A-arm; 10.0 in. travel |
| Rear Suspension: | Double A-arm; 10.0 in. travel |
| Front Brakes: | Hydraulic disc |
| Rear Brakes: | Hydraulic disc |
| Wheels, Front/Rear: | Aluminum; 12 in. |
| Tires, Front/Rear: | 25×8-12 / 25×10-12 |
| Length: | 91.1 in. |
| Width: | 47.8 in. |
| Height: | 57.4 in. |
| Wheelbase: | 58.0 in. |
| Front/Rear Rack Capacity: | 100 lb. / 200 lb. |
| Towing Capacity: | 1,050 lb. |
| Seat Height: | N/A |
| Ground Clearance: | 11.0 in. |
| Turning Radius: | N/A |
| Claimed Dry Weight: | 788 lb. |
| Fuel Capacity: | 5.3 gal. |
| Warranty: | 12-month factory |
| Minimum Operator Age: | 16 |
| Availability: | Now |
| Contact: | arcticcat.txtsv.com |