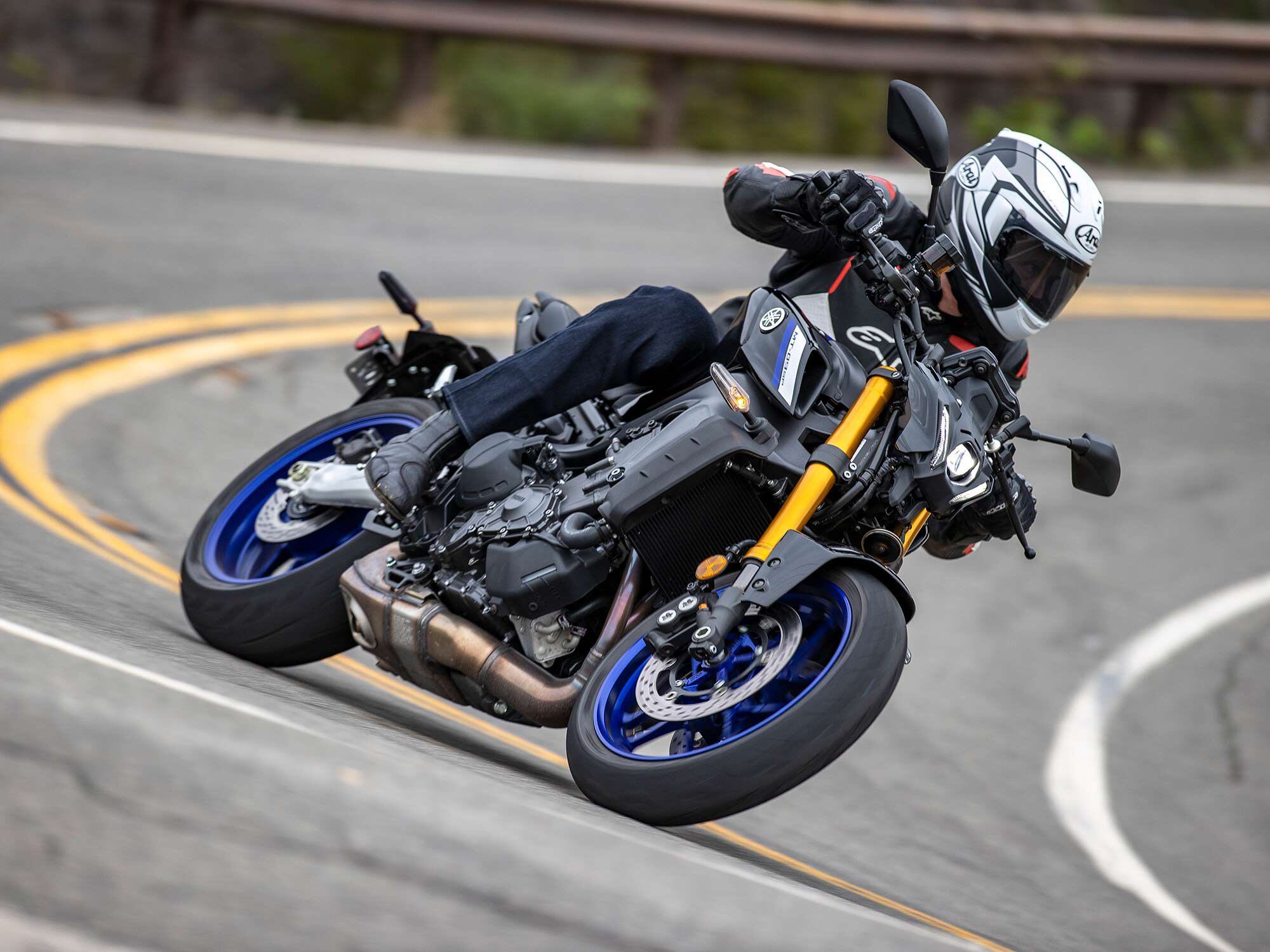 Yamaha added more performance to the MT-09 SP with upgraded suspension rather than more power. (Jeff Allen/)
Yamaha knocked it out of the park in 2014 when it introduced its sporty and versatile MT-09, a revision of the bike that had been known as the FZ-09 in North American markets. Yamaha continued to improve the machine with various upgrades throughout its first two generations, leading up to a significant 2021 overhaul that brought a larger-displacement 890cc inline-triple engine with YZF-R1 superbike-derived electronics and an all-new chassis. The venerable MT-09 was transformed, significantly better in every aspect, with a much-improved grin-per-mile factor as we covered in our first ride review of the 2021 model.
But Yamaha wanted even more out of its middleweight hypernaked. Enter the MT-09 SP, an up-spec variant with high-quality KYB and Öhlins suspension components and an added cruise control function. Adding to the premium feel are the SP's unique YZF-R1M-inspired tricolor scheme, polished swingarm, and double stitching on the seat, among other details.
Related: Yamaha Unveils 2021 MT-09 SP With Up-spec Components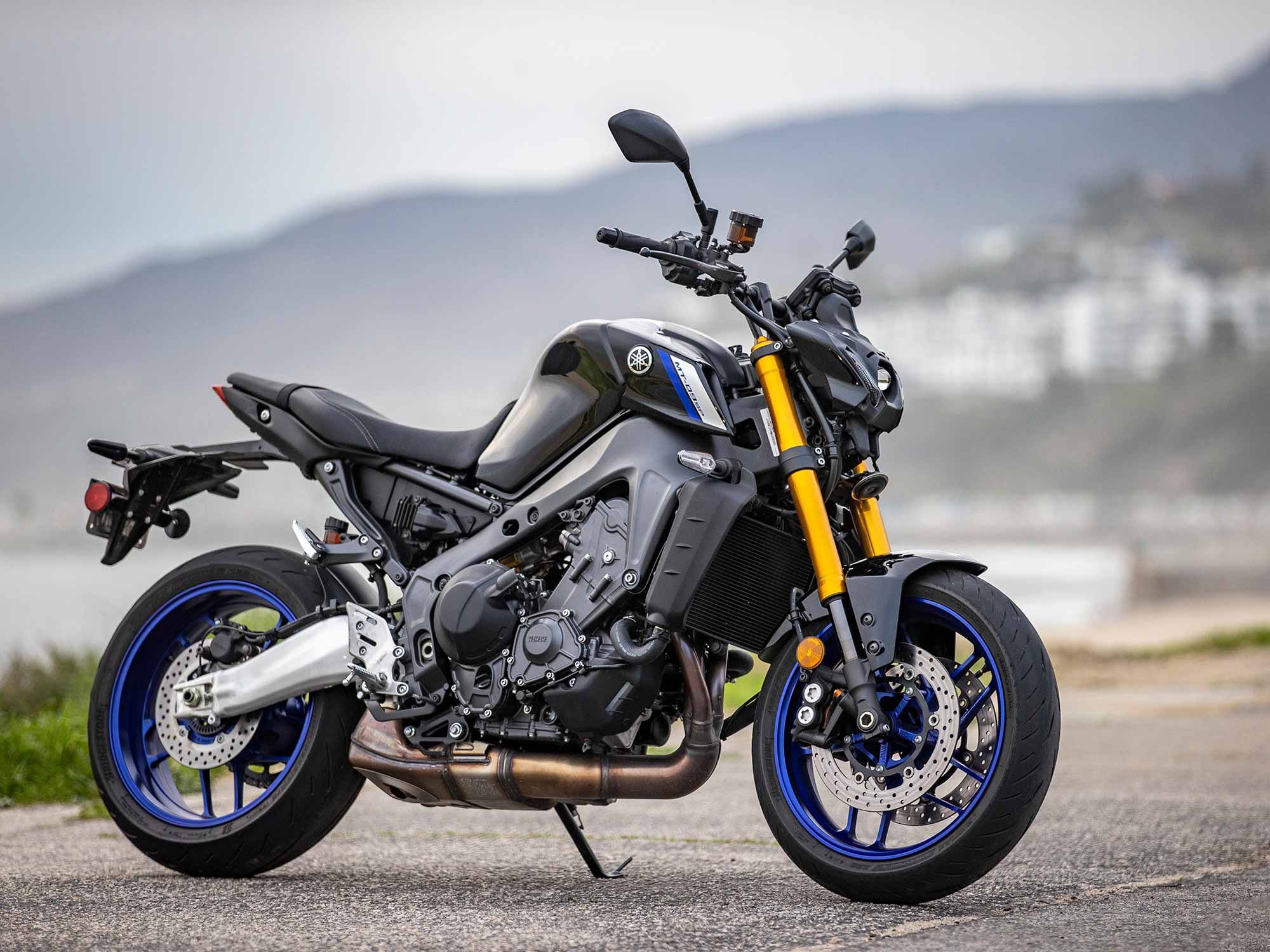 You can get the MT-09 in any color you want—as long as it's black, blue, and gold. (Jeff Allen/)
The cruise control function is a pleasant surprise that adds further versatility to the MT-09 SP. This module on the left handlebar switch housing is intuitive and smooth whether it's getting you to and from your favorite twisty road, helping with your commute, or for logging highway miles. Speed changes are made in single-mph increments via the toggle switch, providing the transmission is in fourth gear or higher and speed is at least 31 mph. Canceling cruise control can be done by pulling the clutch lever or applying the brakes. A noticeable benefit of the system is improved fuel efficiency, as seen on a 40-mile Southern California freeway loop during which the bike squeezed out an impressive 57 mpg. Our wallets and wrists give thanks.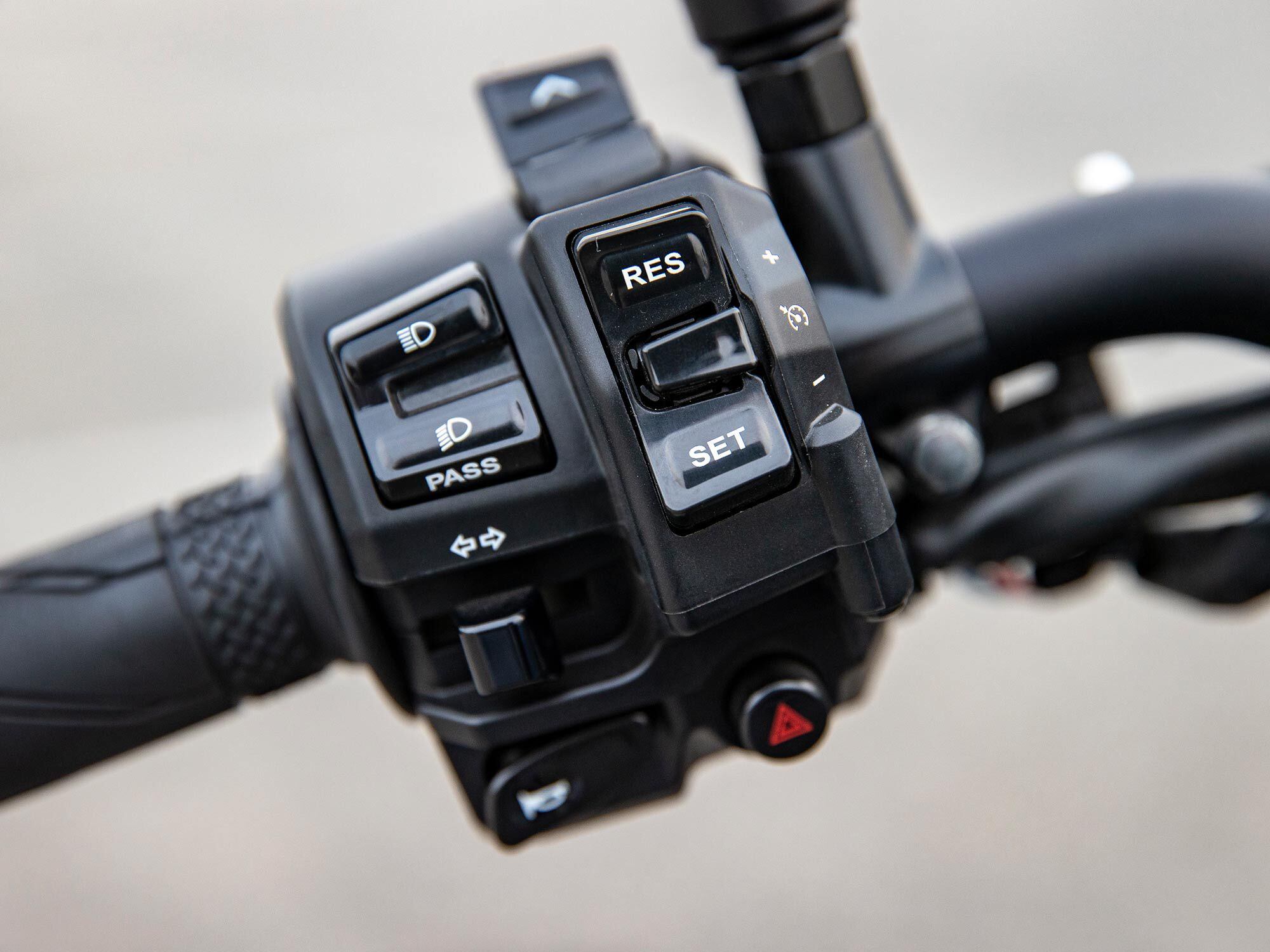 Cruise control switch gear resides on the left side of the one-piece handlebar. (Jeff Allen/)
By far the most significant change to the up-spec SP is the premium suspension. Of course, suspension on nearly every motorcycle is an area open for improvement, but that improvement usually comes at a hefty cost; manufacturers are conscious of this, so up-spec models with top-shelf damping components are usually available in only limited quantities. But these bikes are normally worth every penny.
The MT-09 SP is fitted with a Diamond Like Carbon-coated KYB fork adjustable for separate high- and low-speed compression damping as well as rebound damping and spring preload; the base MT-09 features just a single compression adjustment. A trick Öhlins shock is adjustable for compression and rebound damping, plus spring preload via a remote adjuster. Simply put, the SP is in a different class.
A fully adjustable Öhlins shock replaces the single-way-adjustable rear shock found on the standard MT-09. (Jeff Allen/)
Once the new suspension is dialed in, it only takes a single casual ride just about anywhere on the MT-09 SP to notice how much better the suspension absorbs smaller bumps and and glides over imperfections as if they weren't even there. The reduced stiction of the components helps in soaking up harder hits and provides a more planted, confident feel. Tire pressure becomes more noticeable for small bump absorption, since the upgraded suspension has a much smoother and more responsive stroke action and plays a larger part in absorption and compliance. Settling on cold pressures of 30 psi front and 32 psi rear seemed to give the ideal balance of grip and ride.
Separate high- and low-speed compression damping adjustments on the fork are very helpful, allowing the rider to target a different compression response depending on whether or not the brakes are being applied. Keeping in mind that high- and low-speed compression damping obviously work together, high-speed damping is primarily responsible for bump absorption, as it's a quicker movement; low-speed compression occurs more often during braking and front end dive.
Power is supplied by the same CP3 crossplane triple found in the standard MT-09; it's more than enough and Yamaha made no changes for the SP model. (Jeff Allen/)
The MT-09 SP is very responsive to suspension changes because of how well it works as a total package. My own final suspension settings, worked out to perform best on twisty and somewhat bumpy mountain roads taken in second through fifth gear, are: Fork preload with four lines showing; rebound damping at 11 clicks out; high-speed compression at a maximum 5.5 turns out; low-speed compression at nine clicks out. I set the rear shock preload at 6.75 turns from full soft, rebound damping at nine clicks out, and compression at six clicks out. In the spirit of full information, spring length is 153mm; sag with rider is 27mm.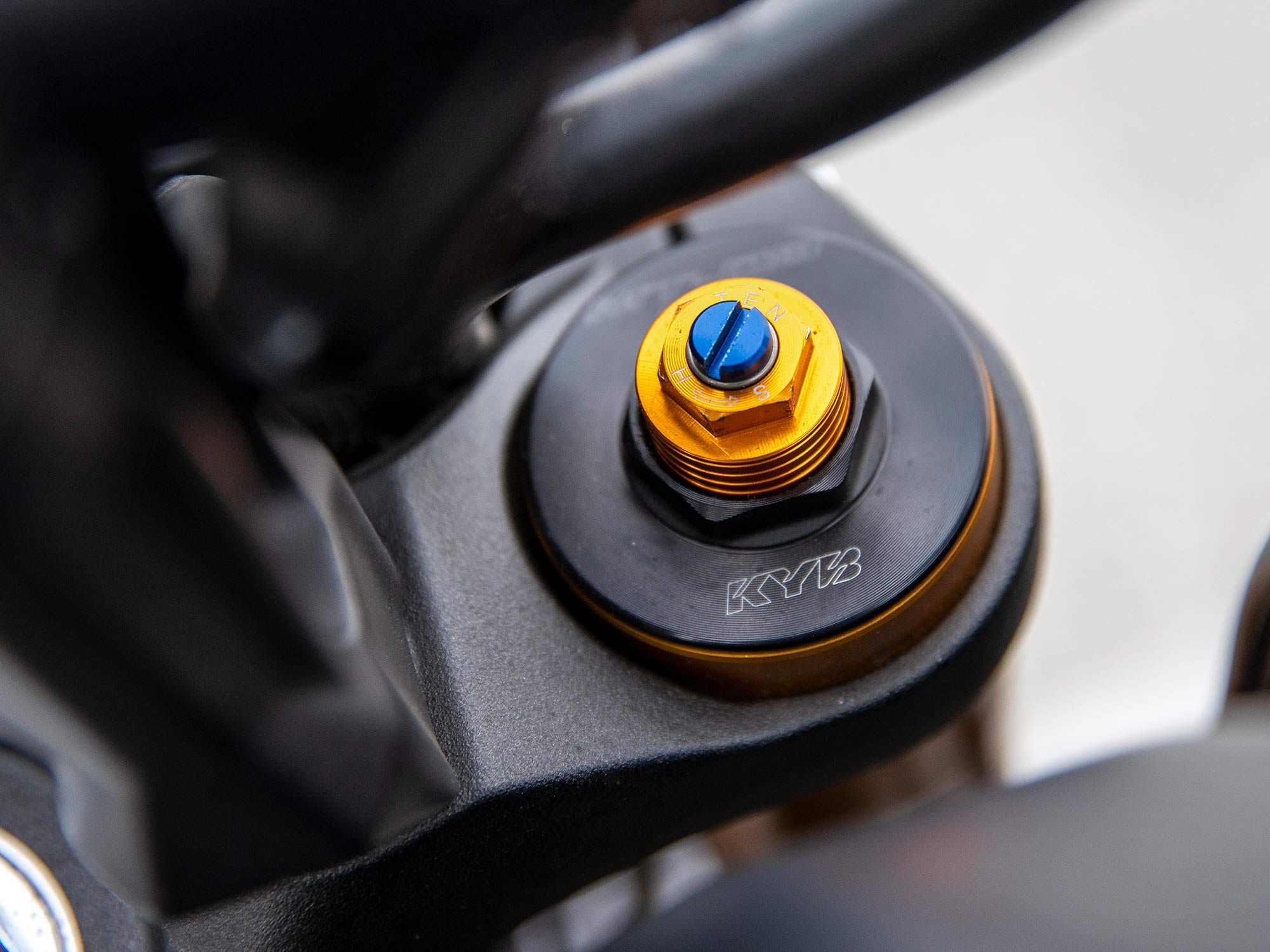 An upgraded KYB fork with full adjustment balances well with the Öhlins shock. (Jeff Allen/)
After sampling the MT-09′s electronic rider aid suite, I settled on keeping the traction control system (TCS) disabled for the most raw and visceral riding experience, aided only by the Yamaha's superb chassis. Deactivating the TCS also turns off the slide control (SCS) and wheelie control (LIF) functions, leaving control solely in the rider's wrist (CSITRW). Tractable power delivery and a generous, flat spread of torque below 7,000 rpm, where I spent most of my time, built confidence for unrestricted yet mindful acceleration. At ripping speeds, I found opting for slight intervention from TCS 1 is beneficial to limit risk while attaining maximum corner exit speed. Likewise, choosing the most powerful engine mode, Mode 1, adds to the MT's sporty prowess, as Mode 2 dials back midrange delivery slightly. Modes 3 and 4 cut significant amounts of power and are most applicable in wet or slippery conditions.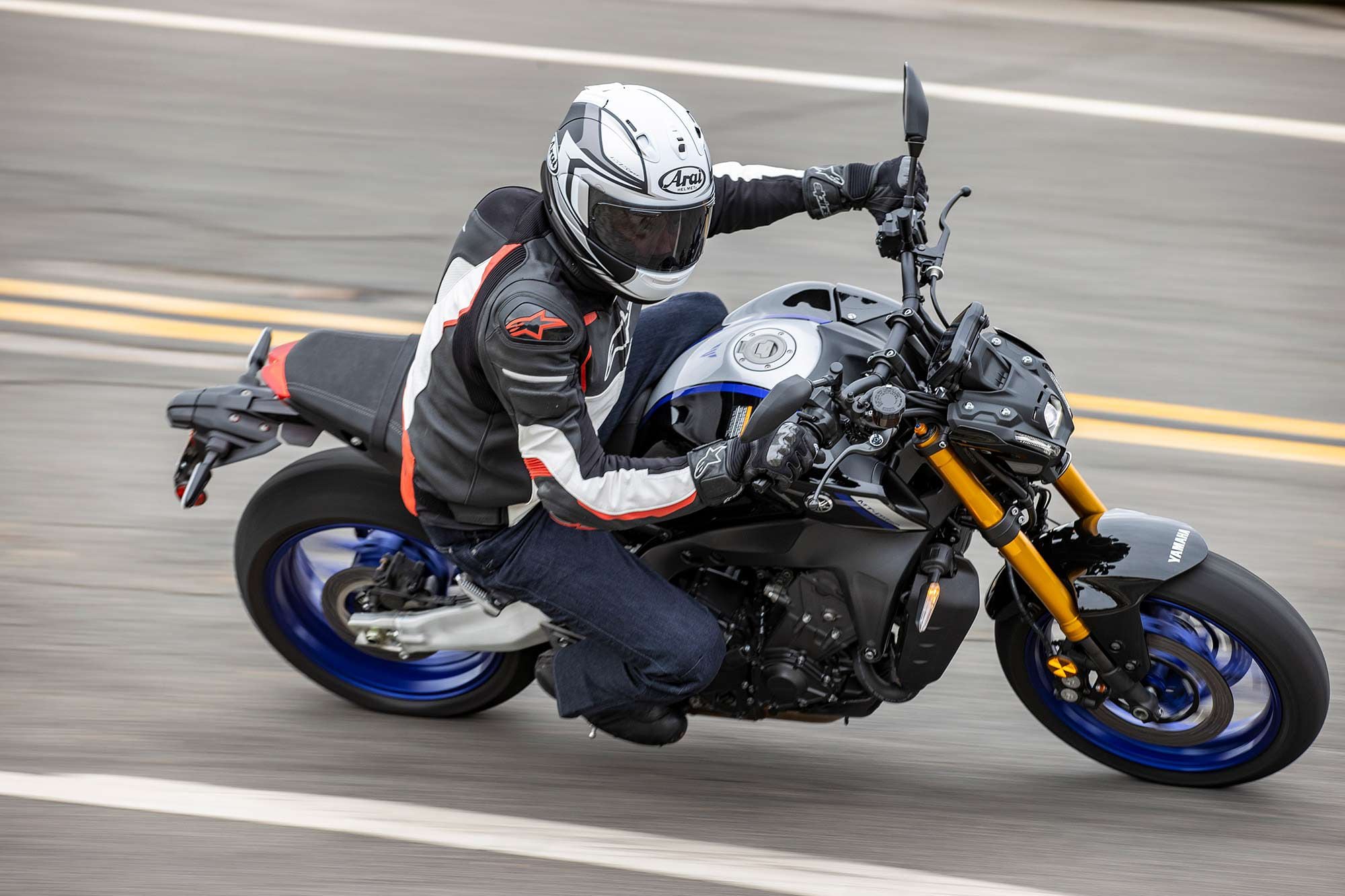 Setting the traction control to TCS 1 made the most of corner exits when paired with a Mode 1 power setting. (Jeff Allen/)
There are a few shortcomings to the SP, however. As impressive as the wheelie-capable top-end power in fourth and fifth gear may be, trading it for bottom-end and midrange grunt between 3,000 and 6,000 rpm would better suit the way most riders will spend their time with the revs; still, given how linear the power delivery actually is, it's hard to find fault. Some nitpicks: Lowering the handlebar for a more aggressive stance would better suit backroad antics, as would a nipped and tucked clutch cover so riders could reach ground without contacting the engine. Trivial items, to be sure, as the MT-09 SP is such a well-rounded machine to begin with.
There is plenty of top-end power on tap, but we would happily trade some of that for more bottom-end grunt. (Jeff Allen/)
Yamaha's major redesign of the 2021 MT-09 ($9,399) took a huge stride forward in terms of both performance and refinement. Yet the MT-09 SP ($10,999) takes it a step further. Improved damping characteristics and compliance adds to its sportiness, the cruise control increases its versatility. No, the price gap isn't small. But the result is a home run.
2021 Yamaha MT-09 SP Specs
| | |
| --- | --- |
| MSRP: | $10,099 |
| Engine: | DOHC, liquid-cooled inline-triple; 4 valves/cyl. |
| Displacement: | 890cc |
| Bore x Stroke: | 78.0 x 62.1mm |
| Compression Ratio: | 11.5:1 |
| Transmission/Final Drive: | 6-speed/chain |
| Cycle World Measured Horsepower: | 107.21 hp @ 9,930 rpm |
| Cycle World Measured Torque: | 63.32 lb.-ft. @ 7,030 rpm |
| Fuel System: | Fuel injection w/ 41mm throttle bodies |
| Clutch: | Wet, multiplate; assist and slipper |
| Engine Management/Ignition: | YCC-T ride-by-wire/TCI |
| Frame: | Die-cast aluminum Deltabox frame |
| Front Suspension: | 41mm KYB inverted fork, adjustable high/low-speed compression, rebound, spring preload; 5.1 in. travel |
| Rear Suspension: | Öhlins monoshock, adjustable compression, rebound, spring preload; 4.8 in. travel |
| Front Brake: | Nissin master cylinder, dual 298mm discs w/ ABS |
| Rear Brake: | 245mm disc w/ ABS |
| Wheels, Front/Rear: | Spin-forged 10-spoke aluminum |
| Tires, Front/Rear: | Bridgestone Battlax S22, 120/70-17/ 180/55-17 |
| Rake/Trail: | 25.0°/4.3 in. |
| Wheelbase: | 56.3 in. |
| Ground Clearance: | 5.5 in. |
| Seat Height: | 32.5 in. |
| Fuel Capacity: | 3.7 gal. |
| Cycle World Measured Wet Weight: | 422 lb. |
| Availability: | Now |
| Contact: | yamahamotorsports.com |
PERFORMANCE NUMBERS
CW Measured Performance
| | |
| --- | --- |
| Quarter-Mile: | 11.22 sec. @ 125.77 mph |
| 0–30: | 1.57 sec. |
| 0–60: | 3.32 sec. |
| 0–100: | 6.66 sec. |
| Top-Gear Roll-On, 40–60 mph: | 2.72 sec. |
| Top-Gear Roll-On, 60–80 mph: | 2.98 sec. |
| Braking, 30–0: | 35.96 ft. |
| Braking, 60–0: | 135.09 ft. |