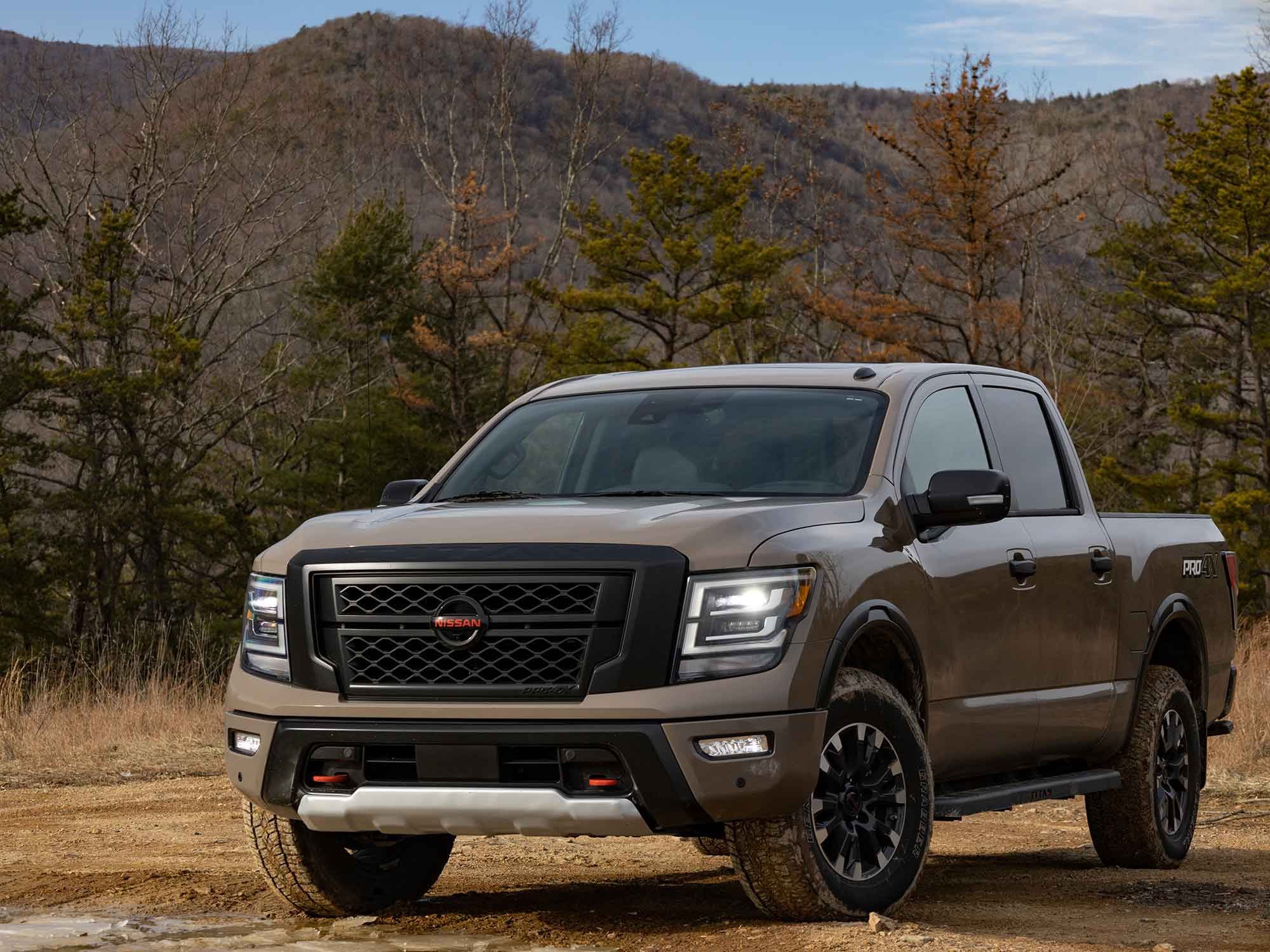 Our 2021 Nissan Titan Pro-4X long-termer continues to impress us with its towing ability, comfort, and all-around competence. (Aaron Richardson/)
When we picked up our 2021 Nissan Titan Pro-4X long-term tester in September, its March return date seemed like a distant star date, a point so far in the future as to be academic. But time has a way of compressing on you, and here we are with scarcely three months left in our time with the big Nissan.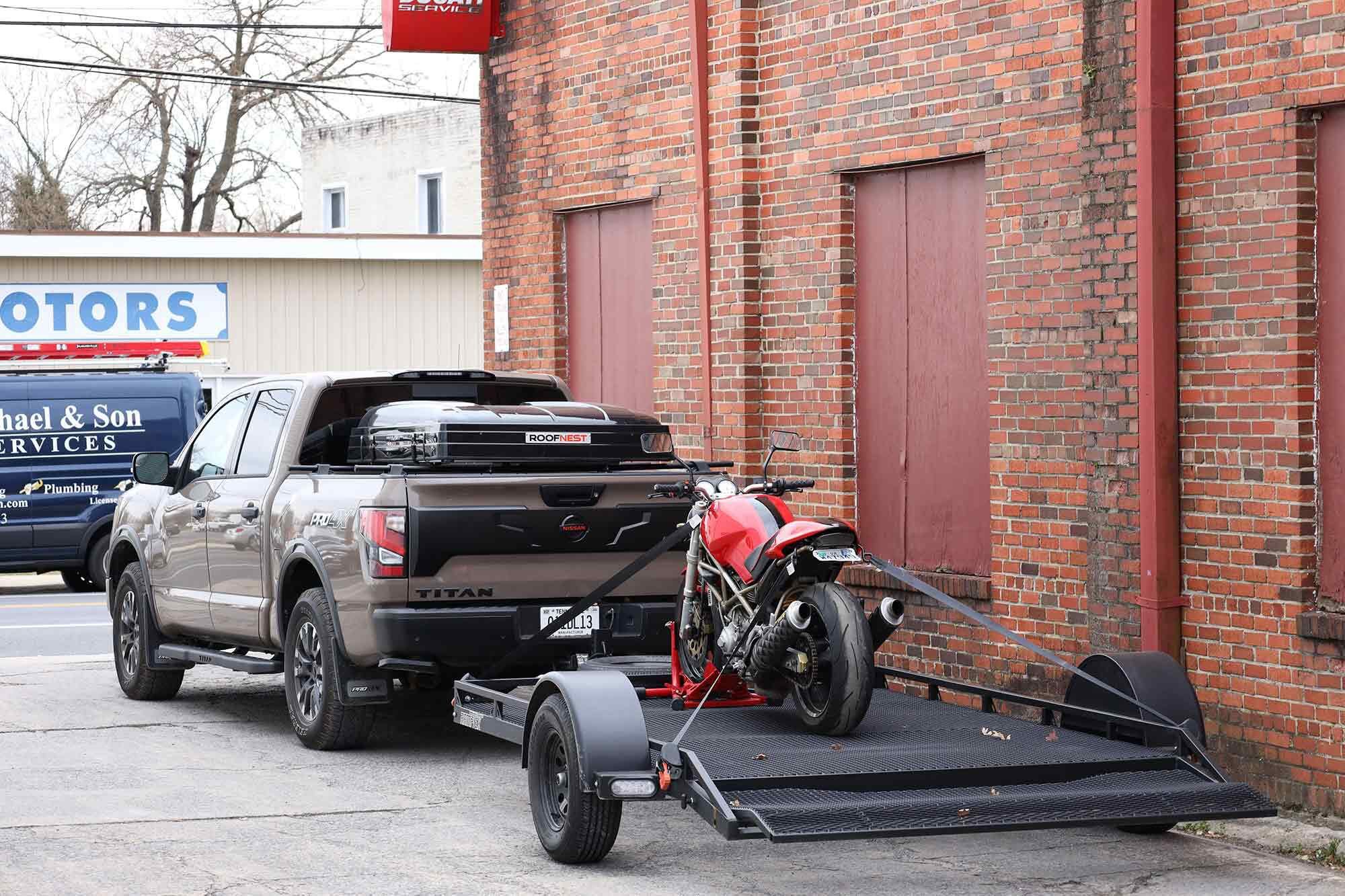 We've sicced our Titan on all sorts of towing duty, even when it meant towing something other than a side-by-side. Here, the big beast is picking up my Ducati from its winter service. (Aaron Richardson/)
The big truck is so good that it has just faded into our daily lives, covering everyday errands and long-haul heavy towing with equal ease. When you have a bunch of miles to cover, as we have said before, the Titan is without parallel. It's hard to overstate how comfy its spacious cabin is on the highway; everything from the stereo to the heated and cooled seats to the visibility to its effortless ability to stay with traffic is marvelous, even when towing a heavy load.
Related: The 2021 Nissan Titan Pro-4X Is a Towing Champ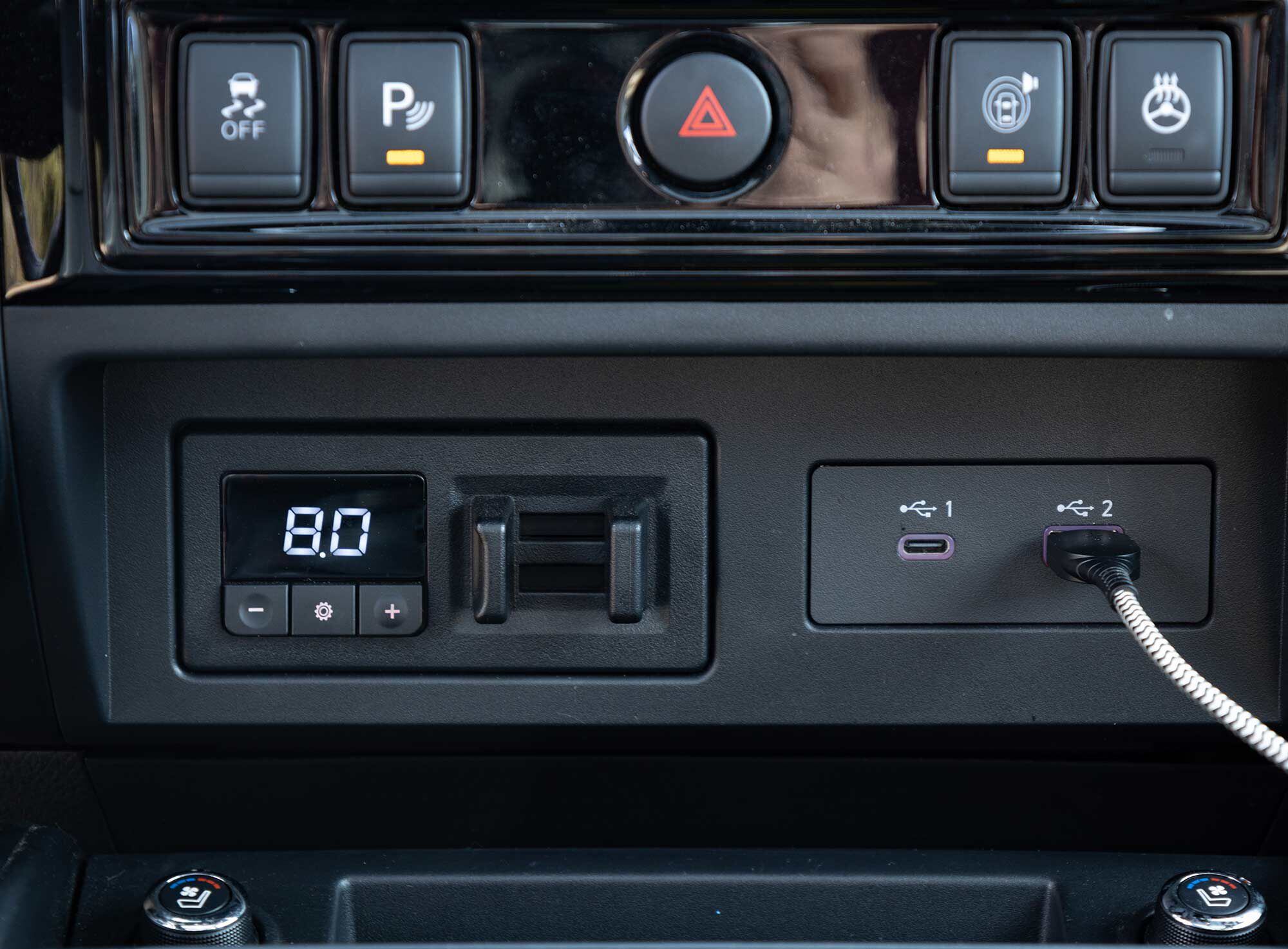 Dragging our big steel car hauler down from speed is no mean feat, so we keep the trailer brake gain pretty high when pulling a two-UTV load. (Aaron Richardson/)
Its ability isn't an accident. Nissan paid attention to details here, such as fitting it with integrated trailer brakes. The system is tucked neatly into the dash under the HVAC controls, unobtrusive but easy to reach. On my personal 2021 Toyota Tacoma, I had to add a brake controller, which meant drilling holes in the dash and adding a bracket that is perfectly placed to snag your kneecap every time you get in. Clearly, someone at Nissan had a similar experience.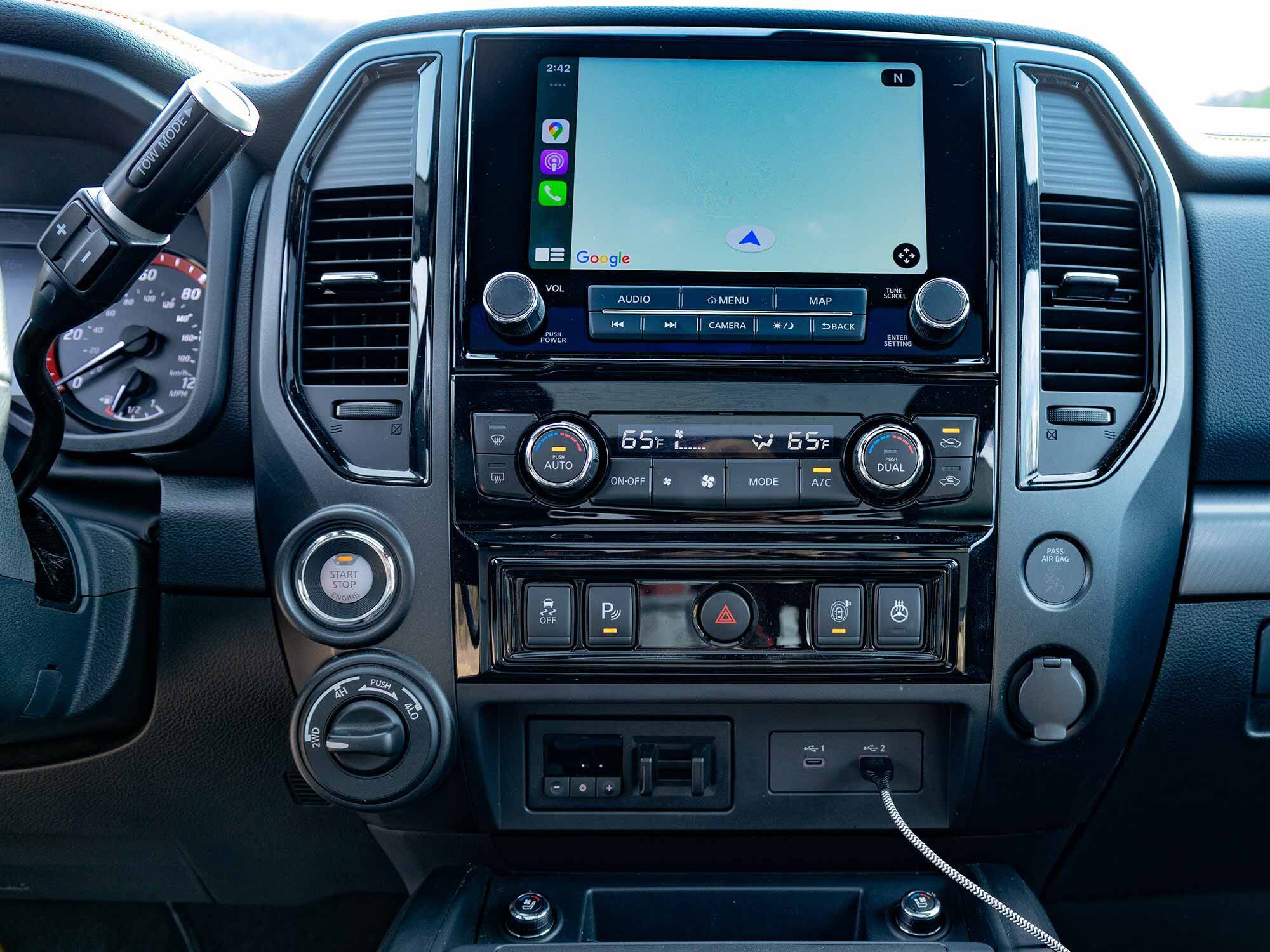 Nestled neatly at the bottom of the center console stack, the optional integrated trailer brake controller on our Titan is one of our favorite features. It's easy to calibrate, easier to use, and you won't bang your knee on it getting into the truck. Can't say fairer than that. (Aaron Richardson/)
Not only is it perfectly placed, it works as well as any aftermarket module we've used. There's a manual slider to help calibrate the amount of braking force you need, but after that the unit is automatic. We set it once with our 22-foot steel-deck car trailer loaded with two UTVs and haven't looked back.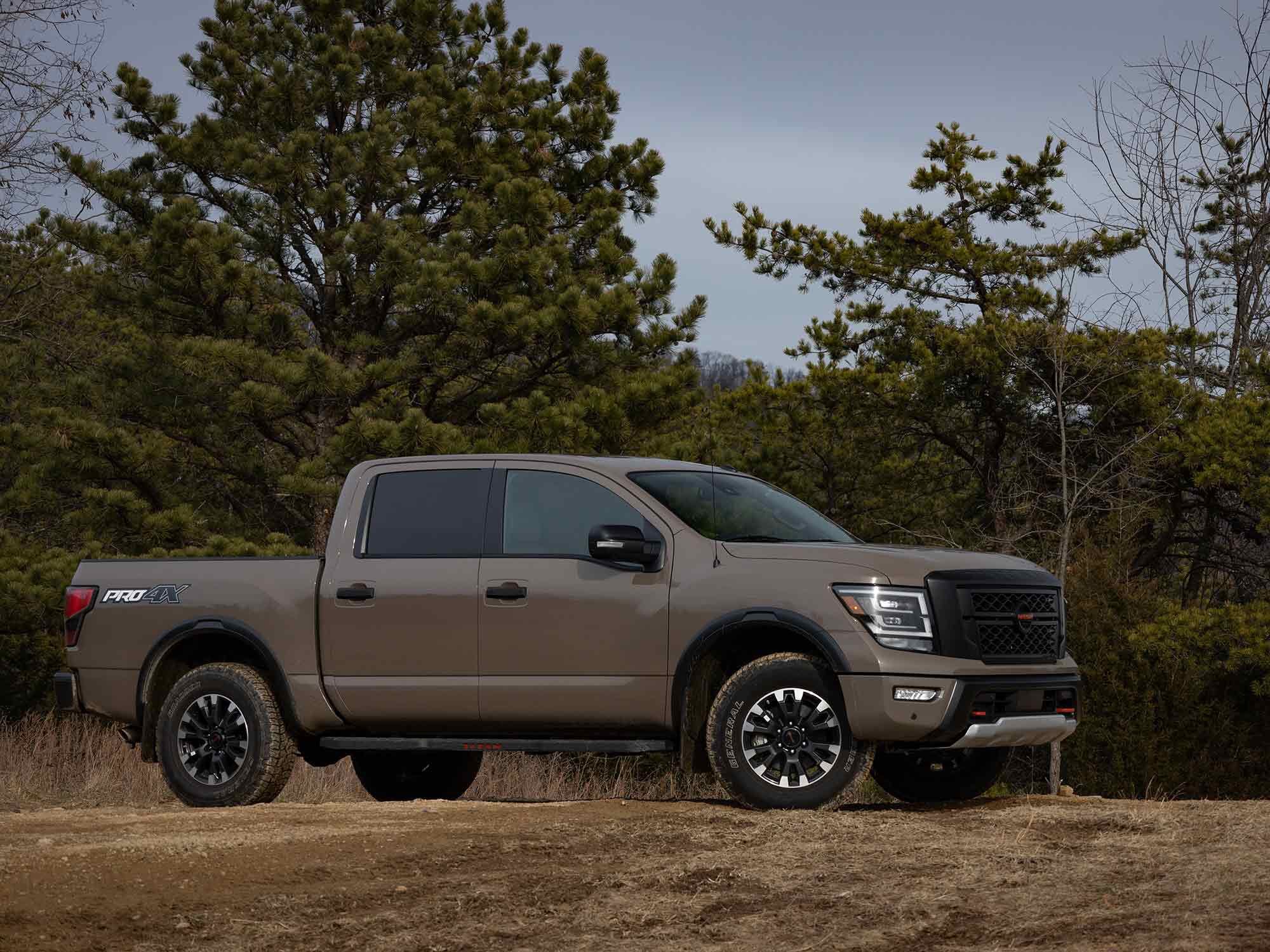 The Appalachian hills in western Virginia are a great place to put the Titan's off-road chops to the test. (Aaron Richardson/)
Quibbles with the truck are few, but they're worth noting again: It is enormous, which makes navigating even spacious parking lots tense, and it sucks back the recommended premium gas like there's a hole in the tank, even with Nissan's nine-speed automatic transmission. We're seeing just north of 16 mpg unladen in mixed driving. Towing a load in the hilly terrain around our offices and that figure easily drops to the low double-digits.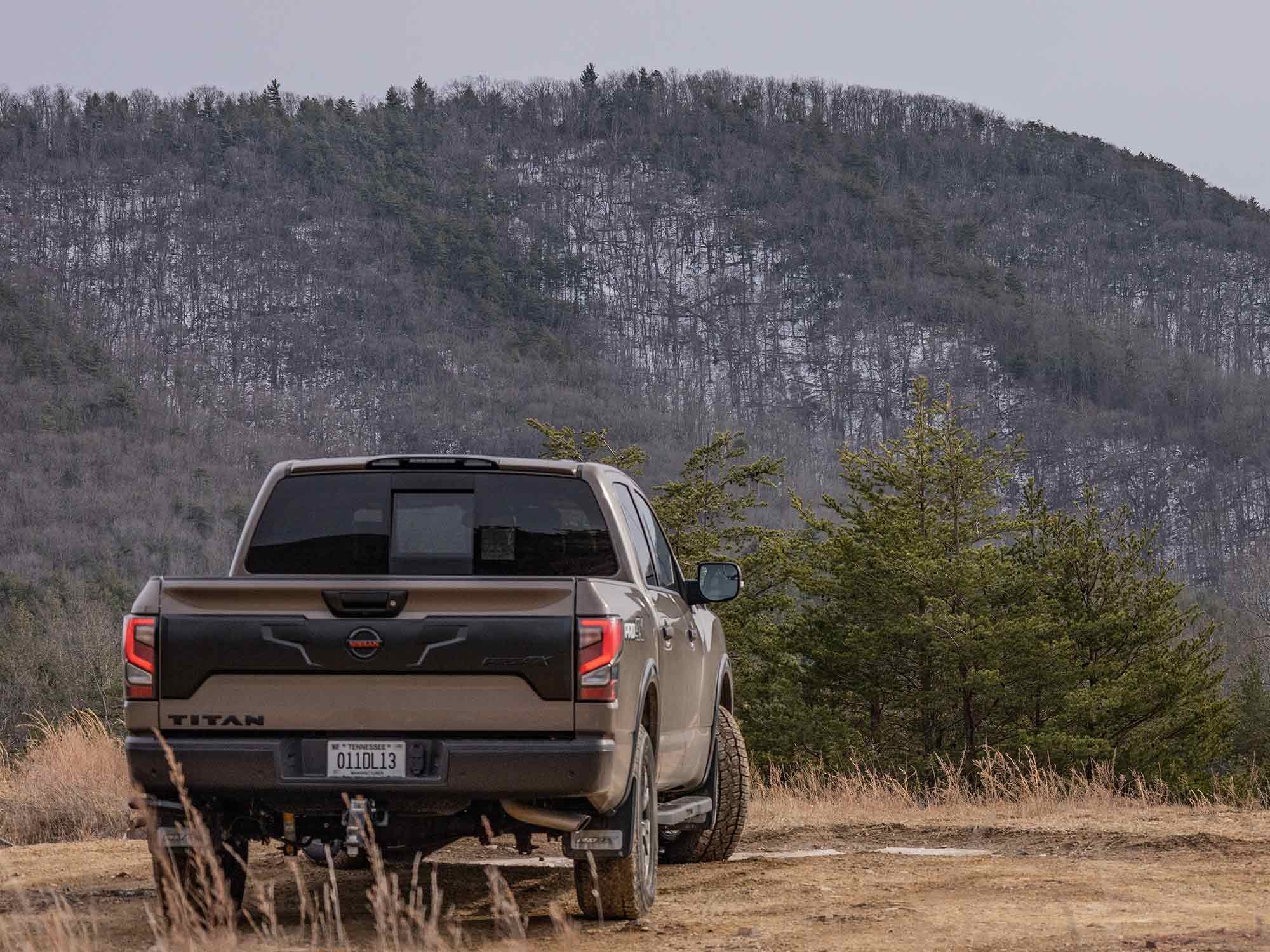 Stay tuned for more from our Titan, as we throw KMC wheels, beefier tires, and some towing upgrades at it in the coming weeks. (Aaron Richardson/)
We're not done with the Titan yet, and have plans to throw on a set of KMC wheels, some beefier tires, and are looking at options to level the ride height when we have the big car hauler in tow. Stay tuned, we have much more to come.
Want to stay up to date on the latest UTV Driver news and reviews? Sign up for our newsletter!