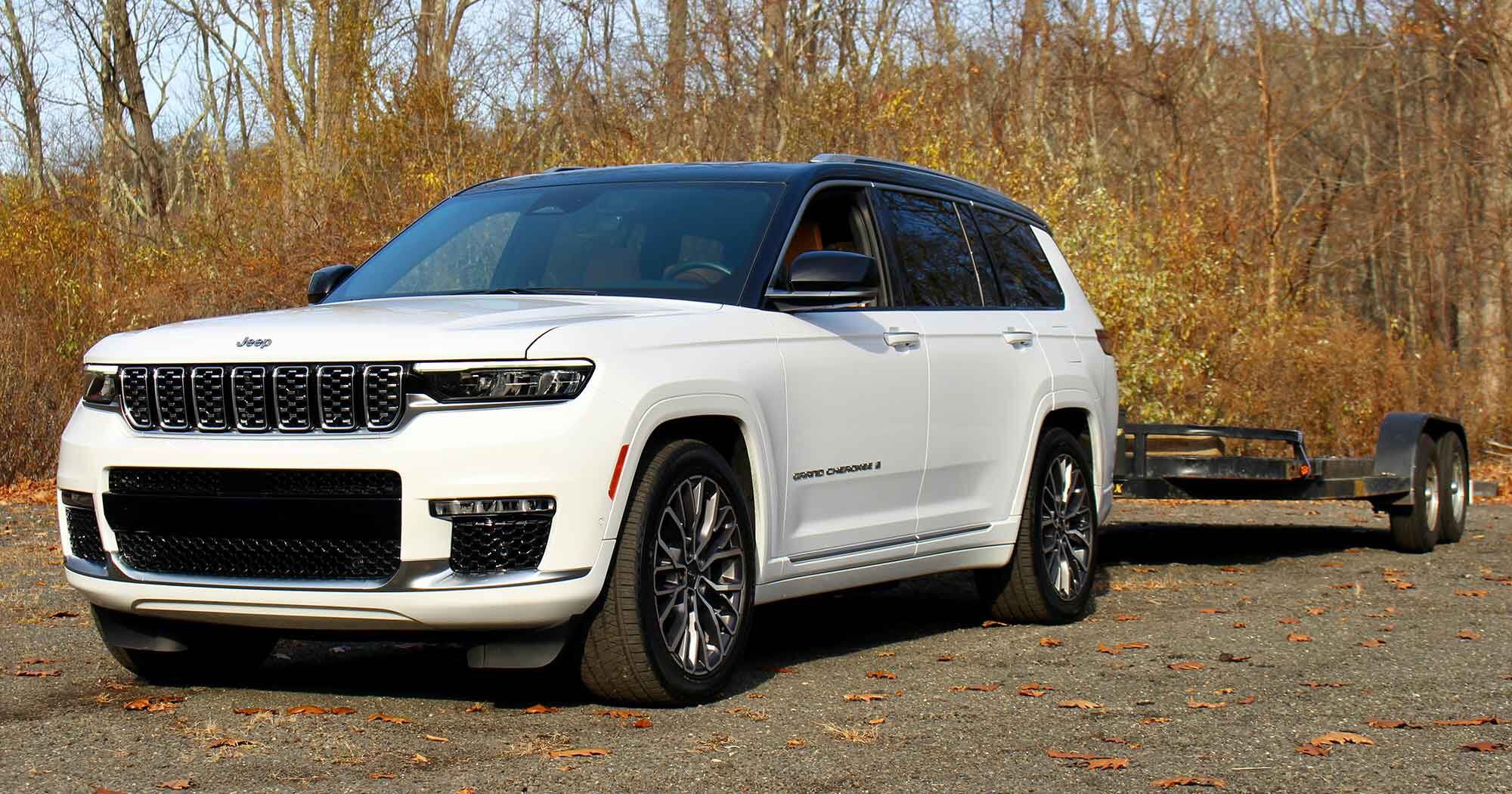 2021 Jeep Grand Cherokee L Summit Reserve 4×4. (Ross Ballot/)
The outgoing WK2-generation Jeep Grand Cherokee was an attractive, comfortable, competent, and capable rig that modernized Jeep's do-it-all SUV. It worked so well that the 2011-2021 Grand Cherokee was the most awarded SUV ever, helping Jeep ride a sales wave that has yet to break. It also meant Jeep had its work cut out for it making the latest-generation WL platform. We tested a 2021 Jeep Grand Cherokee L Summit Reserve 4×4 to see if the effort paid off.

2021 Jeep Grand Cherokee L Summit Reserve 4×4. (Ross Ballot/)
From the base-level, mass-volume trims to the off-road-oriented Trailhawk and even the hellacious 707 hp Trackhawk, the WK2 Grand Cherokee impressed. For the WL, Jeep looked more to luxury SUVs than the mid-level crossovers and SUVs with which the model originally competed. The WL's classy new design is attractive, if a bit fussy. The trademark seven-slot grille is angled forward, making a less cohesive shape than before, a theme that's echoed in the vehicle's back end which is indistinct and anonymous. It's not a bad-looking vehicle, it's just a bit bland.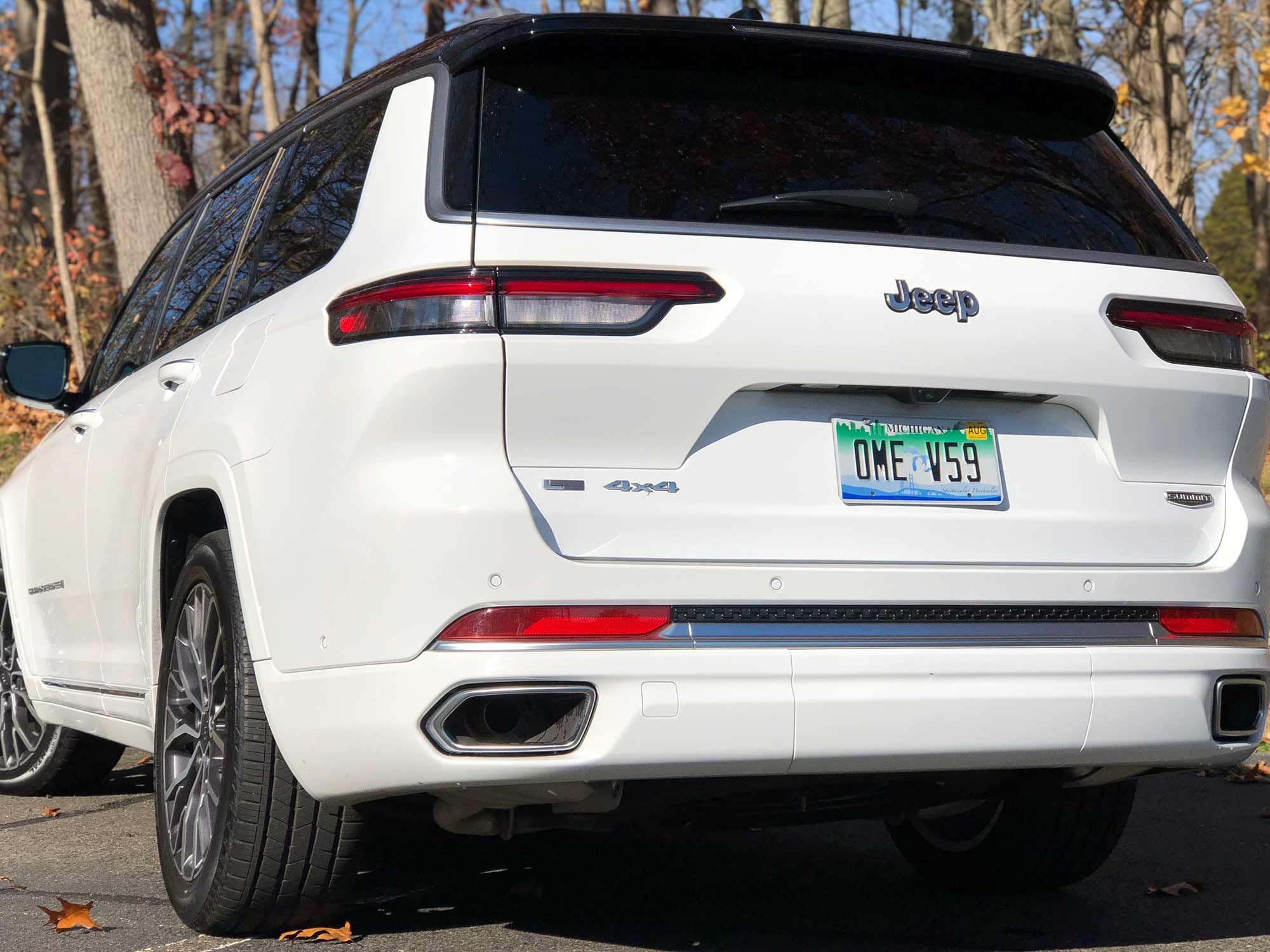 The front of the Grand Cherokee L looks good, but there's not much to write home about at the rear. (Ross Ballot/)
Luckily the dullness stops there. The Summit Reserve's interior is everything the exterior isn't. Lower-tier models have fewer accoutrements, but they inherit fantastic visibility thanks to thin A-pillars and a large greenhouse is there across the range. The seating position is great and the seats are all-day comfortable. The gorgeous quilted Palermo leather seats and nappa trim make for an interior that could easily pull duty in a much more expensive, exclusive vehicle. Think Range Rover, not Wrangler.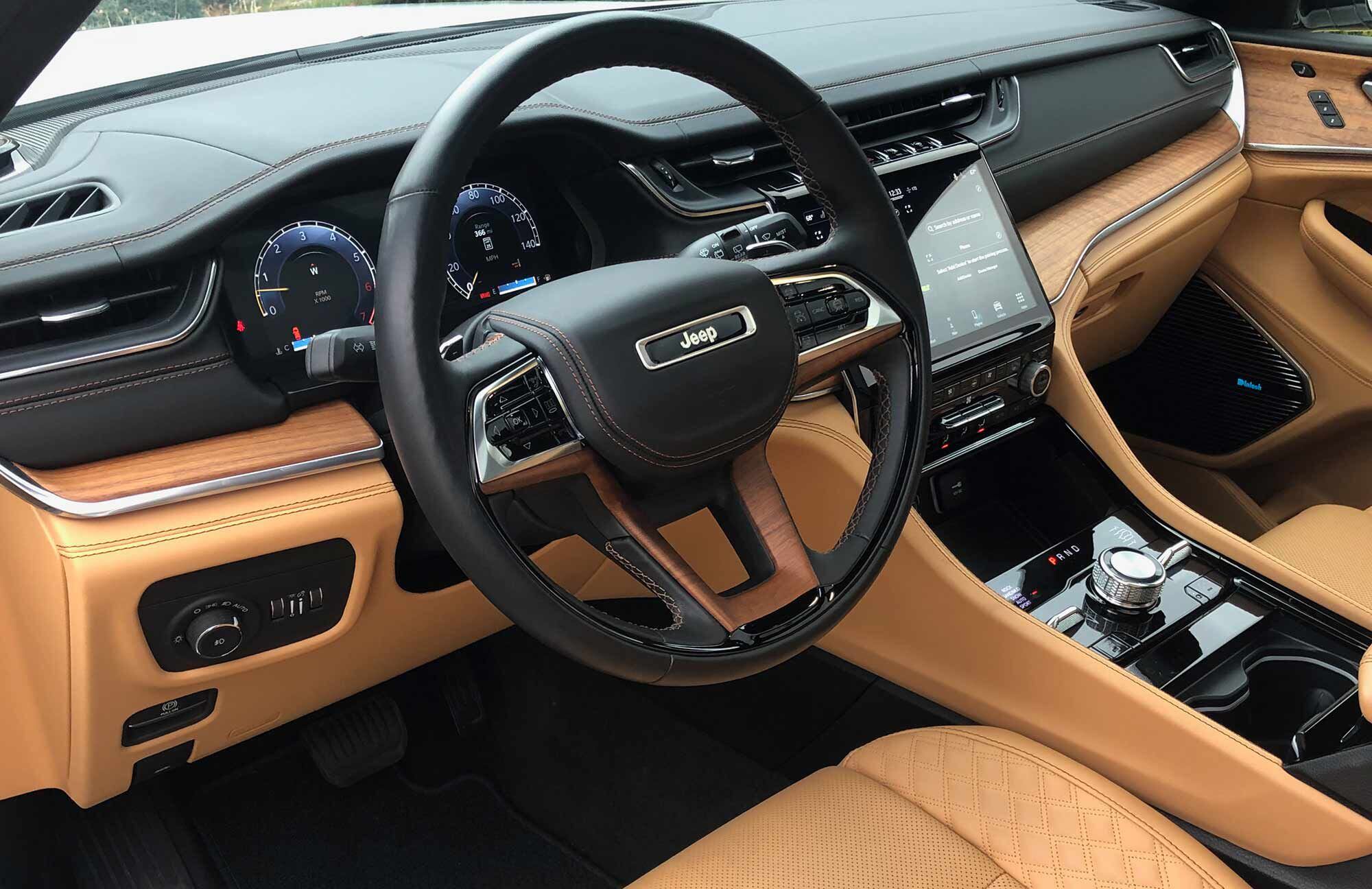 The inside of the Summit Reserve is seriously attractive. (Ross Ballot/)
While some manufacturers cram the largest screen possible into a given space, Jeep showed restraint with the 10.1-inch Uconnect 5 that's crisp and generous but not overwhelming. It's perfectly integrated into the vehicle and a nice piece of tech, to boot. It is both responsive and intuitive. We like its position on the dashboard and that Jeep stuck with physical knobs and dials for the most-used controls, such as volume and climate settings. That improves ease of use and decreases time spent staring at a screen instead of the road.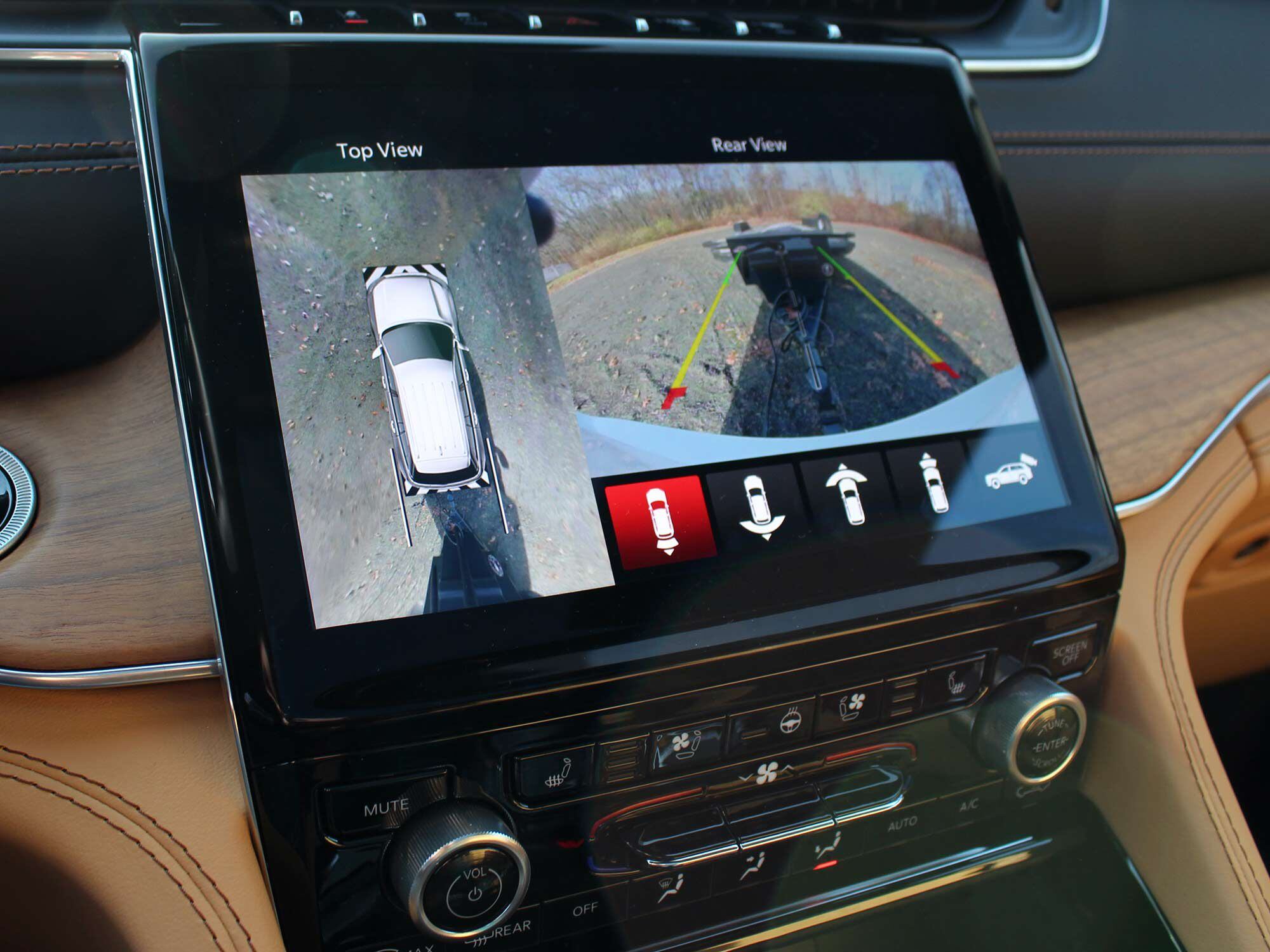 Uconnect continues to be an excellent piece of hardware. (Ross Ballot/)
On the move, the Grand Cherokee L is effortlessly comfortable and easy to spend time in. The 5.7L Hemi V-8 is old at heart but breathes life into the driving experience with seamless power delivery and none of the fussiness that comes with a forced induction engine. The ZF-sourced eight-speed transmission continues to impress, helping the Grand's easygoing powertrain fade into the background, the only reminder being the low rumble of the big engine tickling your ears.
As always, the 5.7L Hemi V-8 is a sweetheart. (Ross Ballot/)
The Grand Cherokee's ride quality punches above its price. The 21-inch wheels are one of the only detriments as the short, stiff sidewalls can be jarring over joints and imperfections. It's a minor gripe as on smoother tarmac the Grand is supple, soft, and easy to crush highway miles in. Thanks to surprisingly direct and weighty steering and a responsive, willing drivetrain, the Jeep also drives like a smaller and nimbler vehicle than it is. It's not a sporty SUV, but it's dynamically impressive, even when up against a supposedly sporty vehicle like the Chevrolet Tahoe RST.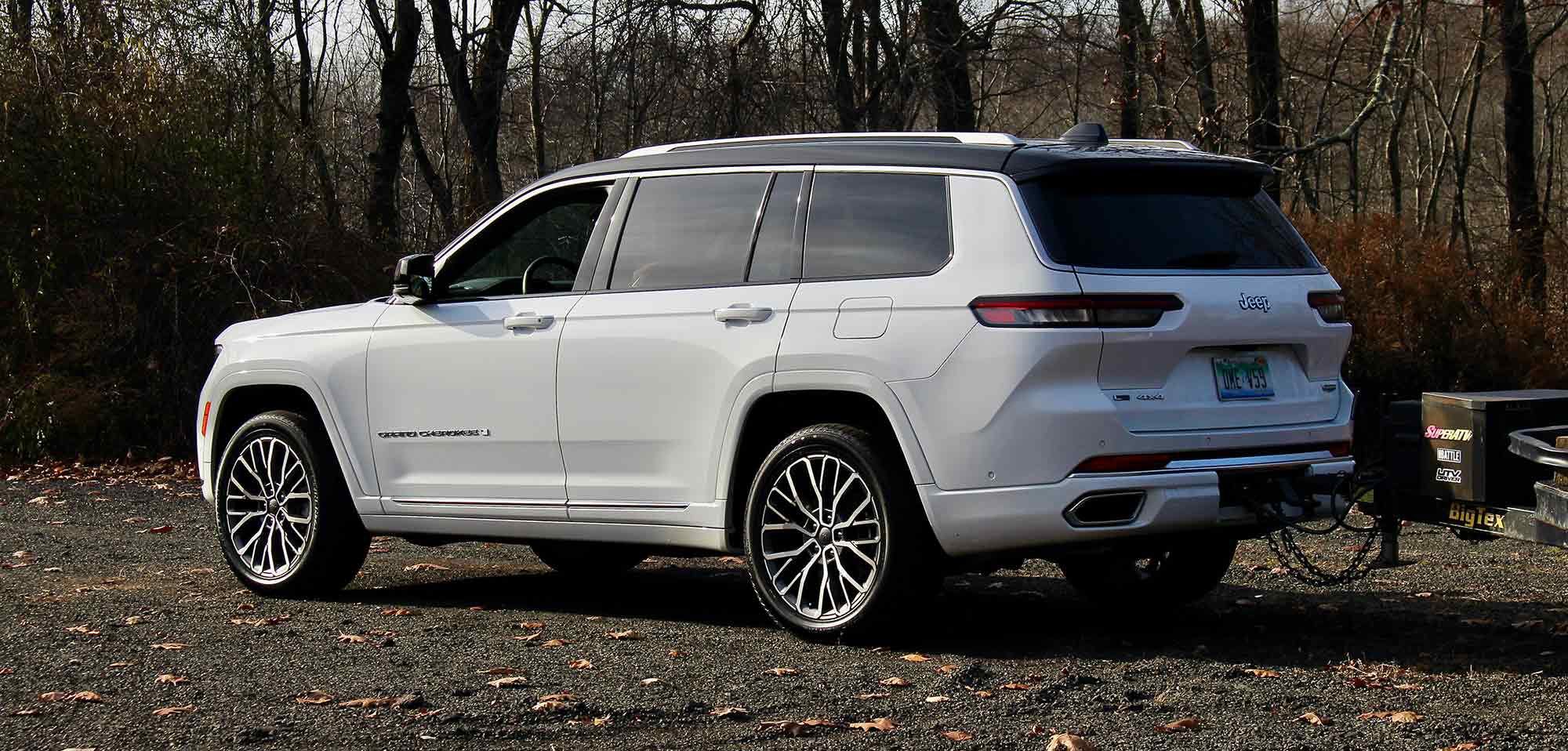 Even towing, the Grand Cherokee L is a pleasure to drive. (Ross Ballot/)
The GCL's 360-degree camera makes lining up a trailer a breeze, and the extended wheelbase means it handles a load with ease. We experienced very little sway, and the solid platform has no trouble slowing a heavy load. If you use a low trailer, budget a drop hitch. We were only able to hook up a low trailer with the suspension in entry/exit mode. The Grand Cherokee L is rated to tow 6,200 pounds, which is fine for one side-by-side, but if you have more to move around, the Wagoneer is rated for 10,000 pounds.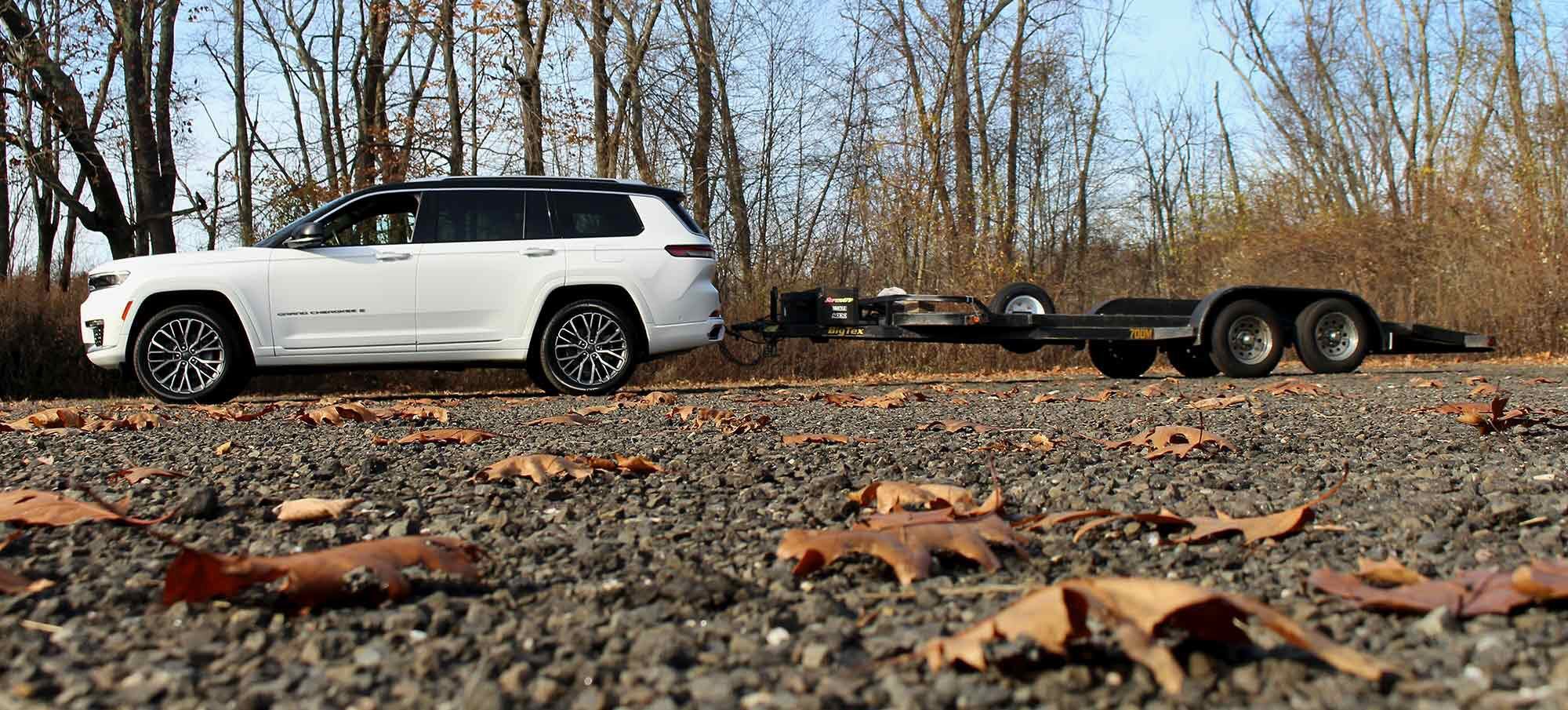 For a comfortable daily driver that can tow a reasonable amount, the Grand Cherokee L is a solid choice. (Ross Ballot/)
Put simply, the WL impressed us everywhere. It's comfortable, luxurious, and nice to drive. Given how much luxury SUVs cost these days, our test unit's price of $67,230 felt appropriate. At this price though, the Grand Cherokee L Summit Reserve's biggest competition lives within its own brand. The Wagoneer is only 10 inches bigger, only slightly less efficient, can tow a lot more, and it starts at $72,440 for a Series II model with 4WD. Making the more than $5,000 jump to the truck-based Wagoneer is a no-brainer in our minds for a three-row Jeep SUV with serious towing abilities. Other options in the Grand Cherokee's realm are the Dodge Durango, Kia Telluride, Hyundai Palisade, and Ford Explorer. In this company, the Jeep is easy to recommend.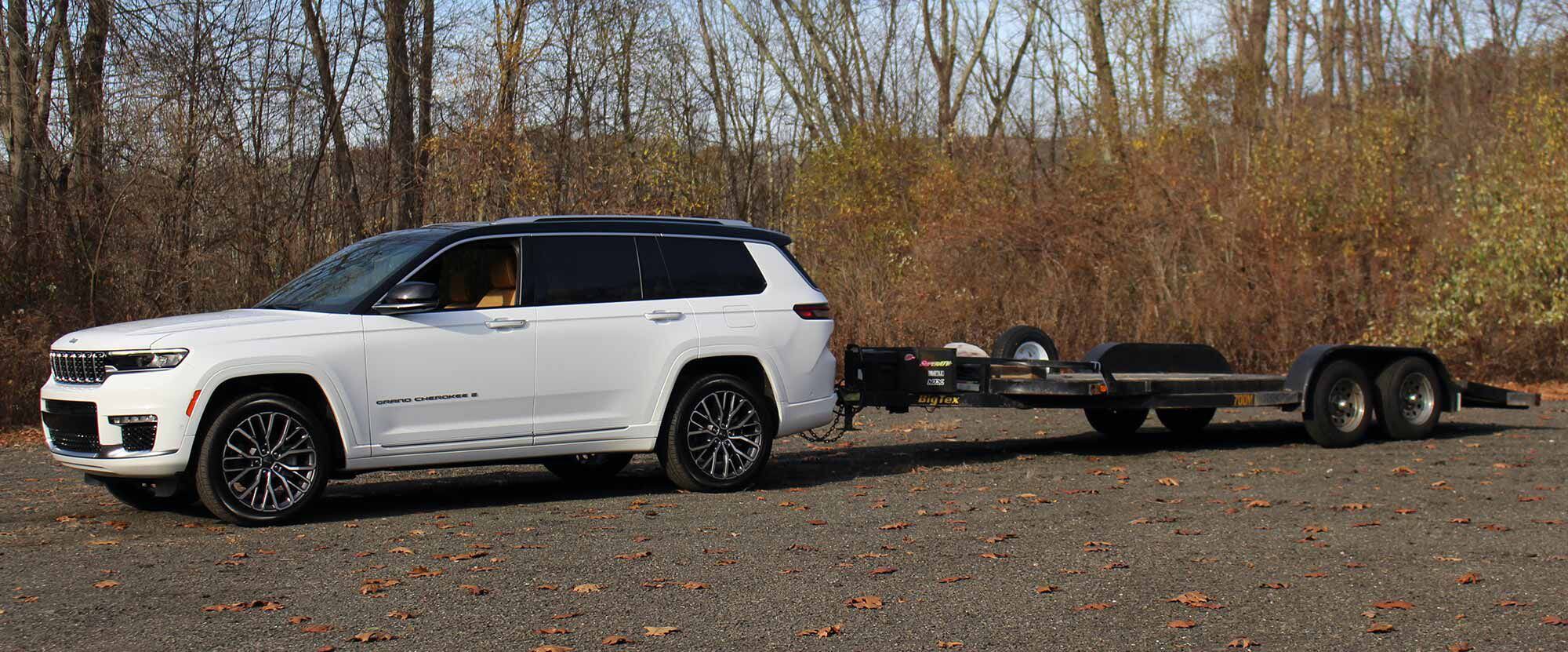 Jeep's 2021 Grand Cherokee L can do it all. (Ross Ballot/)
SUVs are hotter than ever and the number of options reflects this accordingly. Jeep's last Grand Cherokee was partially responsible for the popularity spike, bringing high levels of daily comfort and the promise of adventure tied into the seven-slot grille's DNA. Short of its appearance, Jeep carefully improved on every aspect of the WK2 to curate the WL. The 2021 Jeep Grand Cherokee L is easy to live with, has decent tech, handles both around town and highway duty with ease, and can tow a somewhat heavy ATV- or UTV-laden trailer en route to the trailhead without breaking a sweat. It's a well-rounded SUV that lives up to the brand's promises, and it sets a high bar for what Jeep is capable of. Consider us fans.
2021 Jeep Grand Cherokee L Summit Reserve 4×4. (Ross Ballot/)
2021 Jeep Grand Cherokee L Summit Reserve 4×4 Specs
| | |
| --- | --- |
| MSRP: | $58,995 (base) / $67,230 (as tested) |
| Engine: | OHV, gasoline V-8; 2 valves/cyl. |
| Displacement: | 5.7L |
| Bore x Stroke: | 3.917 x 3.578 in. (99.49 x 90.88mm) |
| Compression Ratio: | 10.5:1 |
| Transmission: | 8-speed 8HP75 automatic |
| Claimed Horsepower: | 357 hp @ 5,150 rpm |
| Claimed Torque: | 390 lb.-ft. @ 4,250 rpm |
| Fuel System: | EFI |
| Steering: | Electric power-assist steering |
| Drivetrain: | Quadra-Trac II 4WD w/ electronic limited-slip differential rear axle |
| Front Suspension: | Short and long arm w/ air suspension |
| Rear Suspension: | Multilink w/ air suspension |
| Brakes, Front/Rear: | Antilock disc brakes |
| Wheels, Front/Rear: | Polished/painted aluminum; 21 x 9 in. |
| Tires, Front/Rear: | All-terrain; 275/45R-21 |
| Length: | 204.9 in. |
| Width: | 77.9 in. |
| Height: | 71.5 in. |
| Wheelbase: | 121.7 in. |
| Towing Capacity: | 6,200 lb. |
| Max Seating Capacity: | 7 |
| Max Ground Clearance: | 10.9 in. |
| Turning Radius: | 38.3 ft. |
| Claimed Wet Weight: | 5,086 lb. |
| Fuel Capacity: | 23.0 gal. |
| Warranty: | 3-year/36,000-mile basic; 5-year/60,000-mile powertrain |
| Availability: | Now |
| Contact: | jeep.com/all-new-grand-cherokee-3-row.html |