Don't see them as simply a rung to a bigger bike, the latest small-displacement bikes offer big bike touches, tech suites, and fantastic looks that punch far above their weight class. Whether just starting out on two wheels, learning a new discipline on two wheels, or just looking to have fun, period, these are our picks for you to explore out of the 2019 and 2020 small-displacement class.
The Alternative All-Rounder: Royal Enfield Himalayan
The Royal Enfield Himalayan is not particularly light, fast, or tech-heavy. However, it is upright, comfortable, and feature-packed for a daily commute. If you're looking for a runabout that will commute with ease and hit fire roads when the mood strikes, the Royal Enfield Himalayan should be on your list.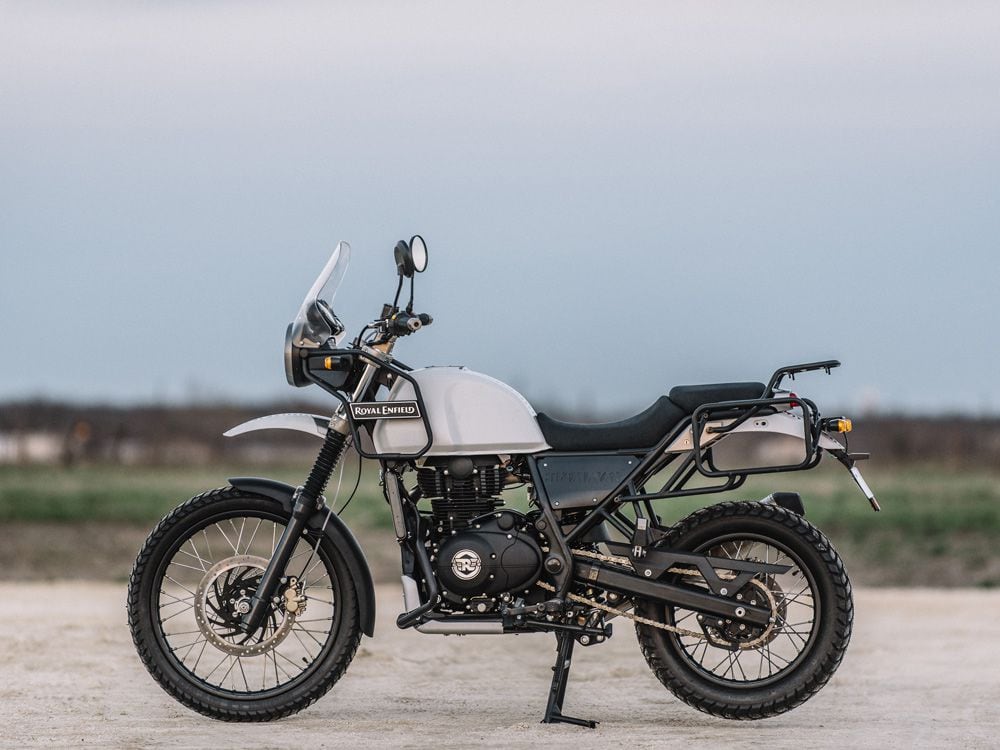 A bargain in the ADV world – The Royal Enfield Himalayan
With a 410cc air-cooled single-cylinder engine, Harris Performance-designed chassis, and $4,499 price tag, the Himalayan is a crazy bargain in the small-adventure-bike class. We've enjoyed it when we swung a leg over it, and we bet you will too.
Neo-Retro Superstars: Husqvarna Svartpilen/Vitpilen 401
Sometimes, you just can't choose between twins. The Husqvarna Svartpilen and Vitpilen share much in common, namely their frame, gearbox, and 373cc water-cooled single-cylinder engine. However, the Vitpilen is a neo-retro café racer, and the Svartpilen is a take on the scrambler formula that can do dirt (albeit not much) on Sunday and street on Monday.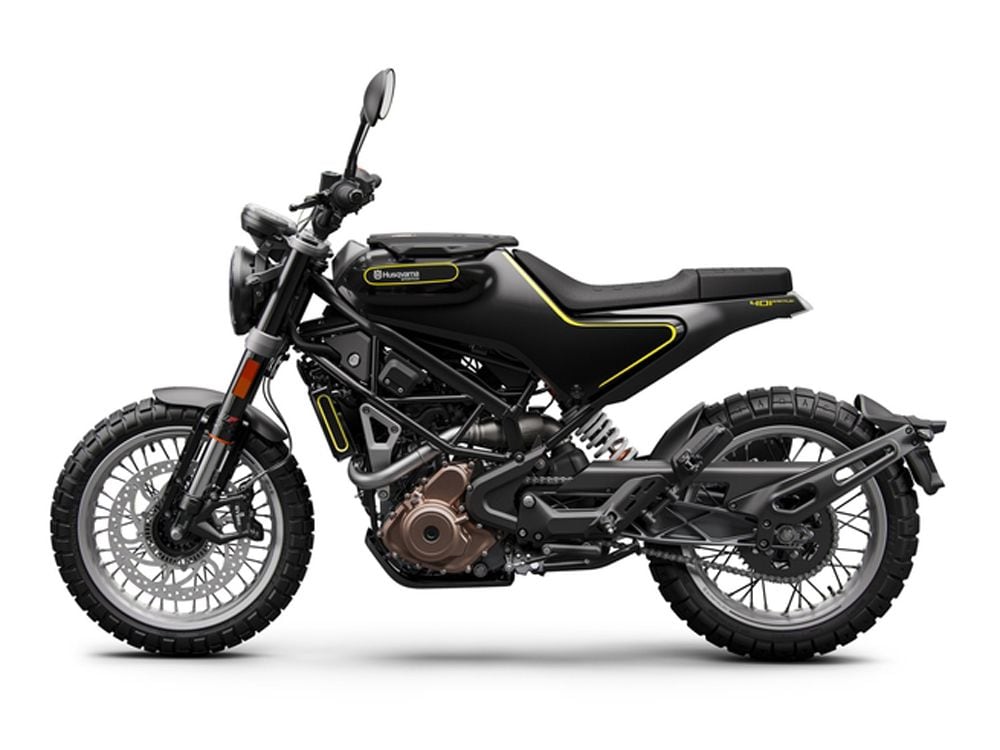 Both the Svartpilen and Vitpilen share the same powerplant with different wrappers.
Both are jaw-dropping to look at in the metal, and feature significant touch-point and styling improvements over their KTM 390 stablemates. And they make tempting options when shopping for a new bike because of both their looks and their light weight. They're also a more expensive small-displacement option at $6,299 apiece, but who said taking supermodel twins home was ever cheap?
RELATED: Honda Grom Off-Road Adventure Fun
Maximum Fun, Minimum Size: Honda Grom
We've ridden them in the city, the highway, inside our own building, off road, and anywhere really we're not supposed to, but that's what makes the Honda Grom special, and why it's on the list. It may be a tiny motorcycle with just a 30-inch seat height, but it's a huge joy.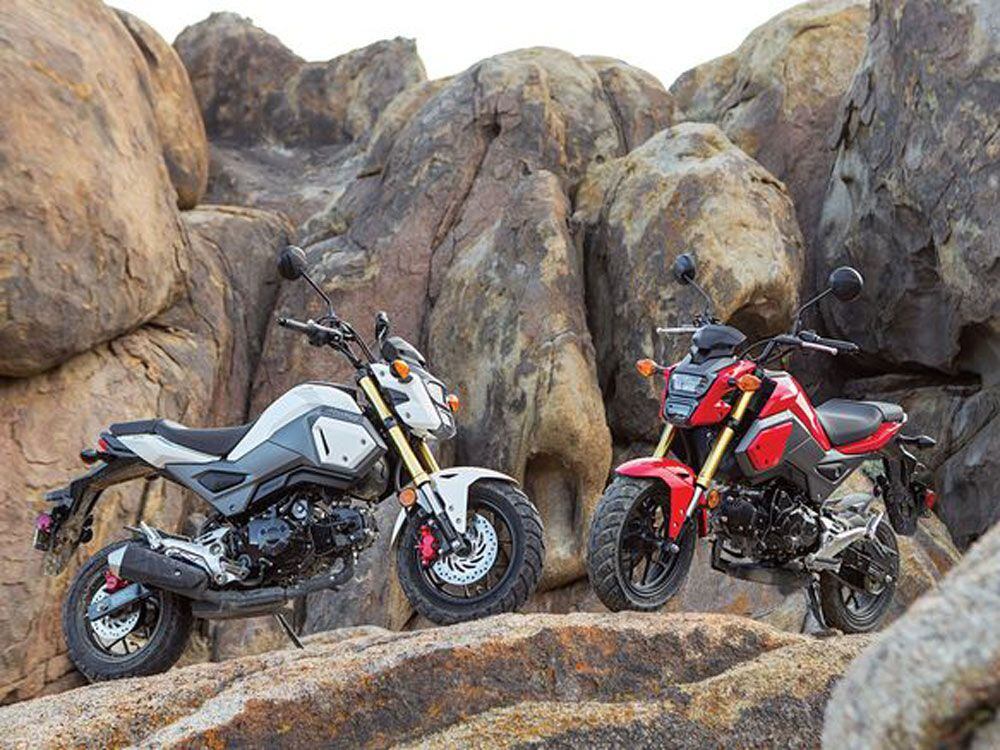 Little bike, big fun – perfectly sums up the Honda Grom. (Jeff Allen/)
Debuting in 2014, the Honda Grom is motorcycling distilled: two wheels, 125cc air-cooled single, and with a single purpose of fun times only. It's been redesigned since then, but fun is still at the forefront, and the market agrees. The Honda Grom is one of the fastest and biggest sellers in the industry, and has launched an armada of parts companies to let you dial in your touches after purchase. Starting at $3,399, the Honda Grom packs big smiles into its small stature.
Trackday Starter: Yamaha YZF-R3
What a time to be alive for starter sportbikes. Torquey twin-cylinder 300cc engines and even 400cc options are starting to trickle into a class not known for power. And although not supersport fast, with strong ties to MotoAmerica, and a joy to ride quickly, the Yamaha YZF-R3 is a staff and club-racing favorite for trackday riders starting out.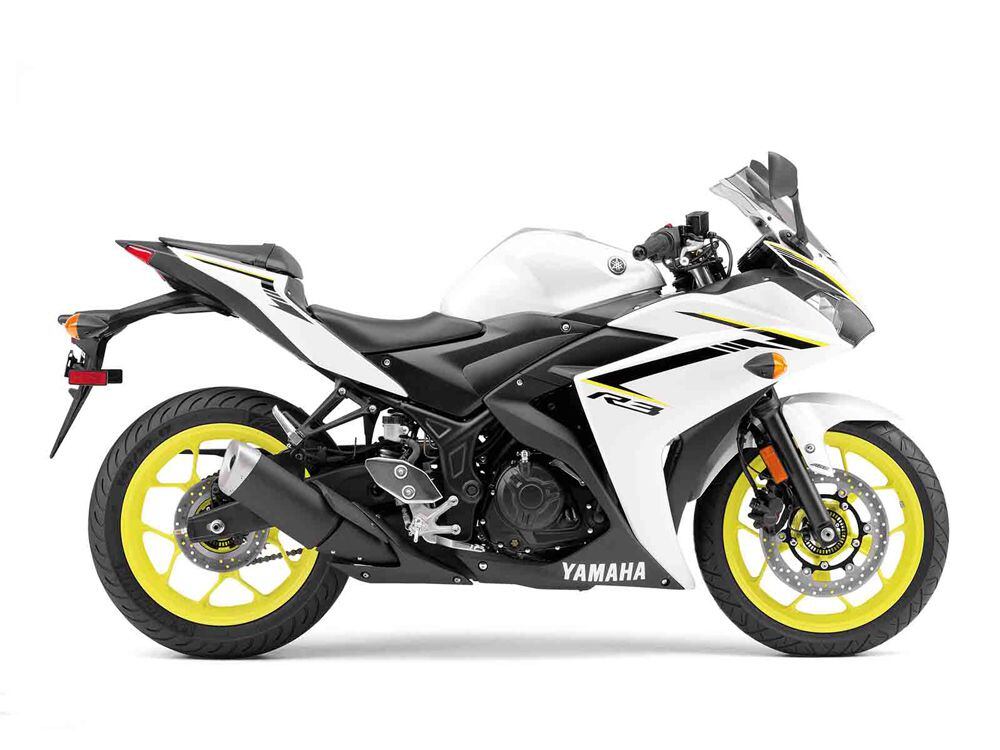 Fun on the track and the street, the Yamaha YZF-R3 is a great choice for new sportbike riders. (Courtesy of Yamaha Motor Corp/)
With 37.4 hp on tap (on the Cycle world dyno), we called it a "genuine entry-level sportbike" upon its debut. It's lived up to those expectations by absolutely dominating podium results in the Liqui Moly Junior Cup Class in MotoAmerica, going toe to toe with bikes with more displacement as well. Starting at $4,499, it's a strong entry-level racing proposition.
Wee Dakar Starter: Honda CRF250L Rally
If your dreams are full of mobbing through wide-open expanses on the way to Dakar glory, we suggest starting small before springing for a rally-ready 450 or big-bore ADV bike. However, while you learn, you can still have the look with the CRF250L.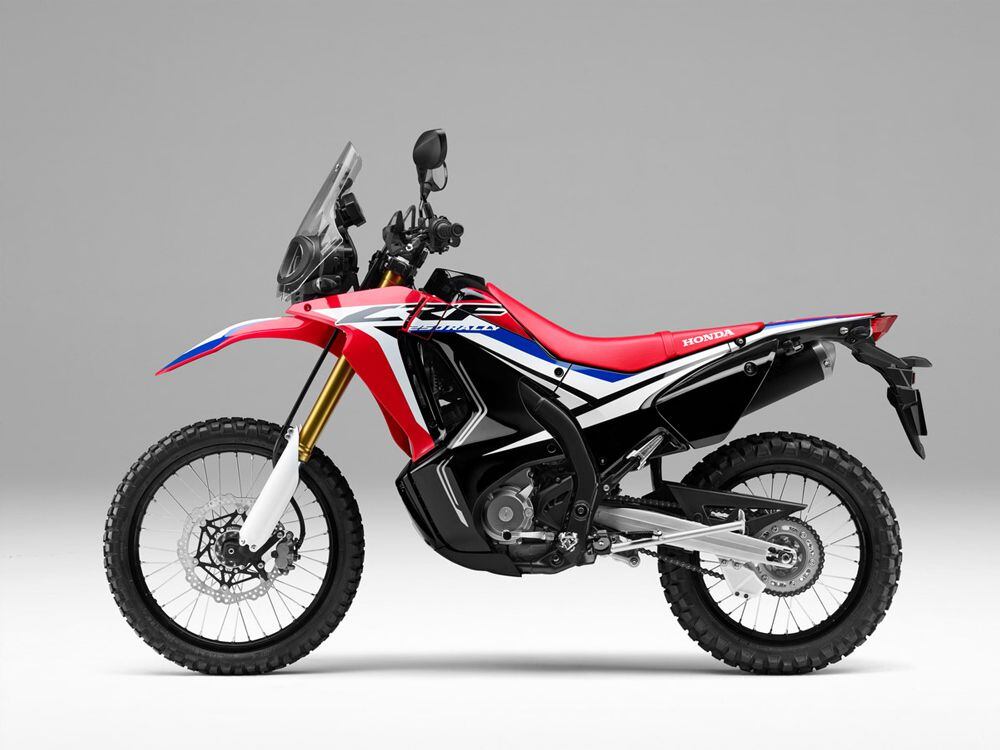 Rally-styling with friendly power. (Courtesy of Honda/)
With a liquid-cooled 250cc single, the Honda CRF250L puts out 20.6 hp on the CW dyno, and weighs a reasonable 342 pounds without ABS. However, the true winner is that rally-inspired fairing that gives you both the look and comfort of a rally-prepped Dakar bike. We found it a fun runabout both on pavement and off. Starting at $5,899, it makes an excellent choice for a daily commuter and dirt training tool while daydreaming about off-road adventures.
Tiny Hooligan: KTM Duke 390
It's good to be bad, or at least look like you're up to no good. Naked bikes of all displacements have stormed the sales charts based on their no-nonsense looks, wheelie-happy demeanor, and day-to-day comfort over sportbikes. The small-displacement class is full of naked options, but the 390 Duke is the rowdiest.
The 390 Duke is one of the most aggressive small-displacement motorcycles available. (Jeff Allen/)
Its liquid-cooled 373cc single, 300-pound dry weight, and 44 hp make it a rorty, torquey option. The KTM single's performance is backed up by some seriously aggressive looks. On top of that, there's a sprinkling of tech with Supermoto mode; this deactivates ABS on the rear brake to aid sliding around. For $5,299, it's the option if you're looking to get aggressive.
Supermoto Starter: Suzuki DR-Z400SM
Supermotos are an internet favorite. By throwing street tires on dirt bikes, you get a package that's flickable, fun, and utterly jumpable. However, when it comes to buying one, there's only a few options from the dealer floor. And for small-displacement seekers, that journey begins and ends with the DR-Z400SM.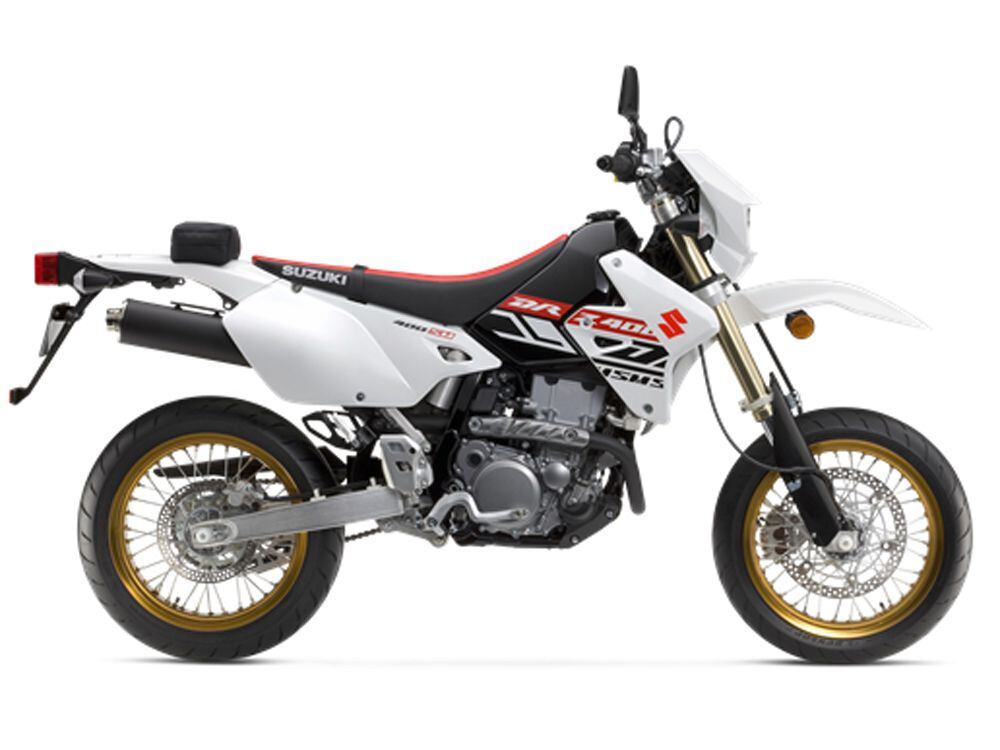 The Suzuki DR-Z400SM is most accessible supermoto. (Courtesy of Suzuki/)
With a liquid-cooled 400cc single and a steel frame, it's based on the DR-Z400S but offers standard supermoto wheels and a larger front brake disc. Friendly power delivery and relatively low seat height and weight make it ideal for first-time hooligans.
But don't think you can't track it, or dice it up with the big bikes with the right set of skills at your next supermoto trackday. Just ask SoCal Supermoto; they know a thing or two about how capable and crashable these bikes are.
Two-Stroke Terror: KTM 125 SX
Looking for the full moto experience? While you could start with a 250cc four-stroke dirt bike, many riders swear by two-strokes. And one brand in particular has taken their loyalty to heart: KTM.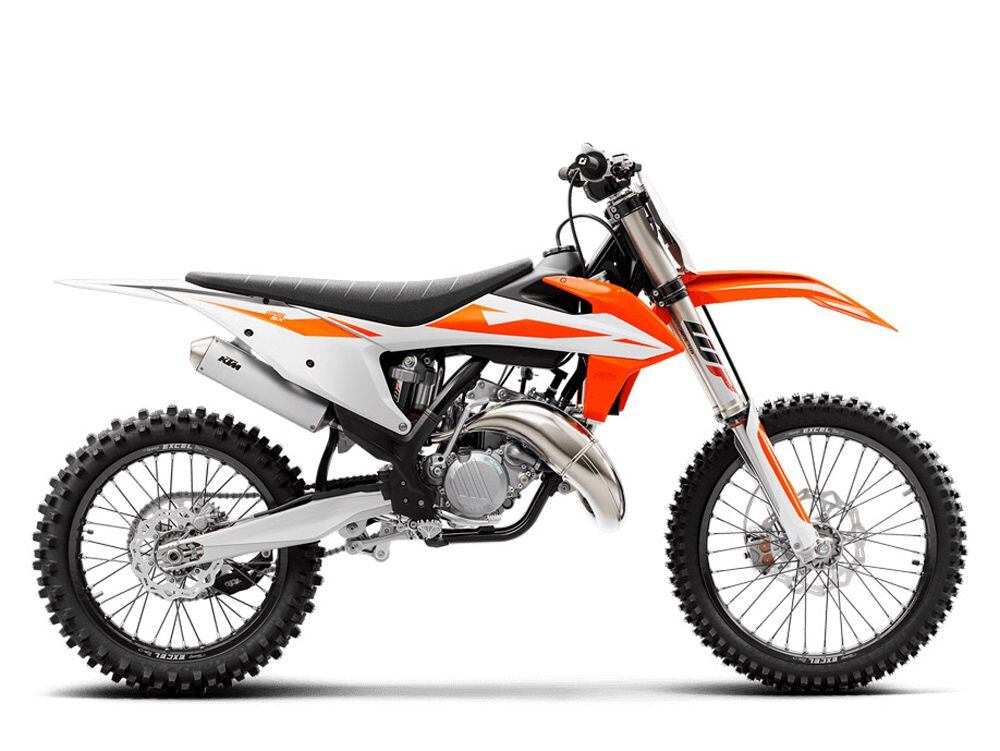 A 125 is a great place to start, especially the KTM 125 SX. (Courtesy of KTM/)
The KTM 125 SX is the small supercross star in the lineup. Lightweight, flickable, but full size, it's the first rung in KTM's extensive two-stroke lineup, that now even includes fuel-injected models. If you're looking for a featherweight first dirt bike, look no further.
Trail Monger: Yamaha WR250R
There are a lot of streetbikes with dirt-friendly talents on this list. However, if you're looking for a true dirt native to slice up trails and hit the pavement in between, the Yamaha WR250R should be on your list.
The Yamaha WR250R is massively popular in dual-sport and ADV crowds. Cycle Worlds' Editor in Chief is even an owner of a pristine 2013 model. (Courtesy of Yamaha/)
Its liquid-cooled 250cc single is a proven powerplant, and the wee WR has an extensive aftermarket community to make the Yamaha as ADV- or performance-minded as you'd like. It's a stalwart for those looking for something lighter than the 650cc options, and doesn't give up much in terms of capability.
Cruiser: Honda Rebel 300 and Rebel 500
Many of the bikes on this list are steps to a future rung of performance. But what if you just want to cruise and have a good time? Small-displacement bikes don't have to be a means to an end but enjoyable for years and years on.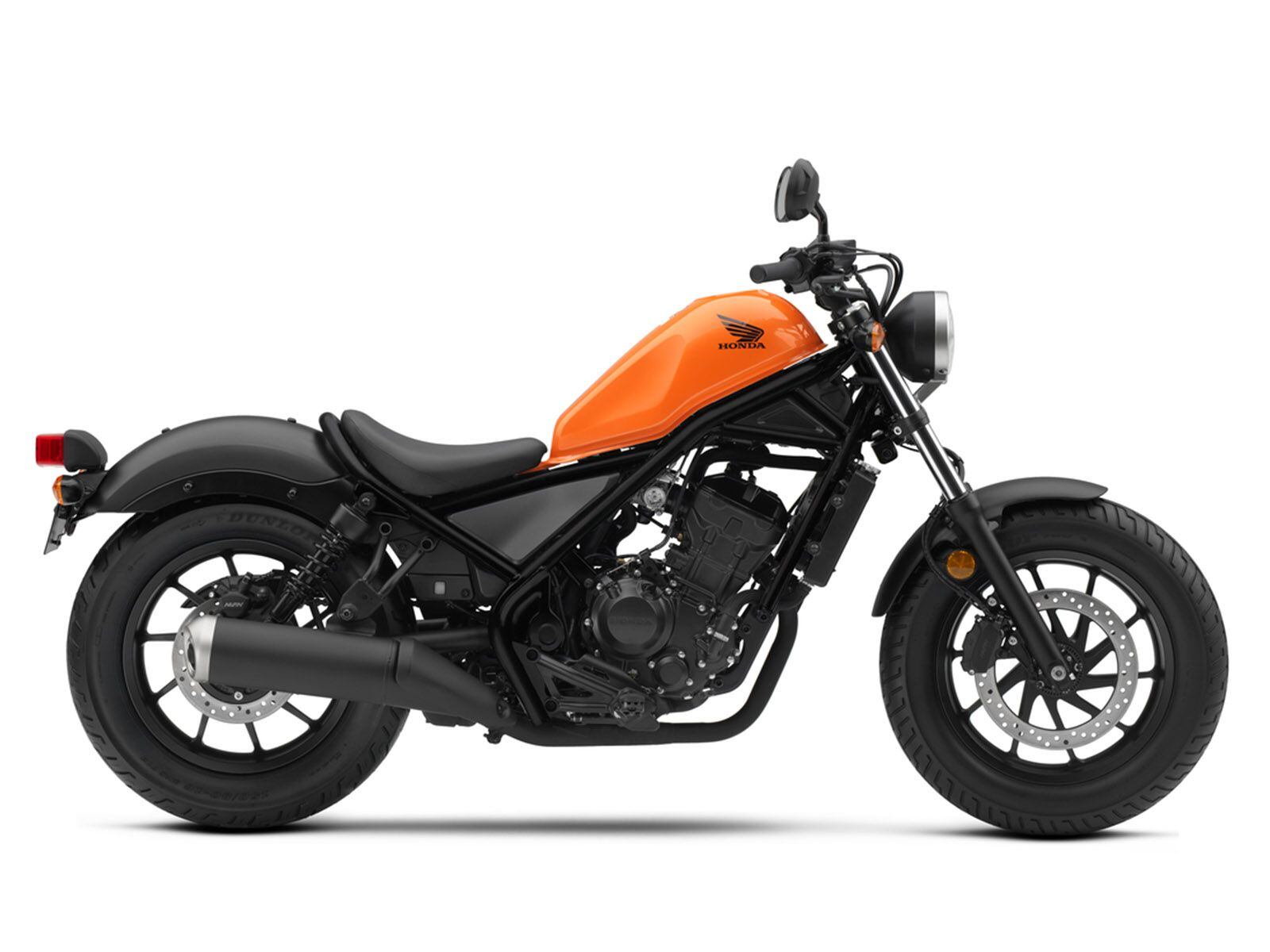 Honda's Rebel is available in 300cc and 500cc displacements. (Courtesy of Honda/)
If you want to keep it small and start cruising. The Honda Rebel is an attractive option. Significantly lighter than middleweight cruisers, it's available in single-cylinder 300cc and twin-cylinder 500cc guise. It's also not obliquely retro, so you don't have to pretend you want to live in the '60s. It's a good fun bike, for a good time.